August 27, 2021
Leawood, Kan. — In the late 1990s, Moira Mulhern, PhD, had a big idea. An expert in community health psychology, Mulhern provided stress management programs for local organizations and hospitals. Studies showed people with cancer found psycho-educational programs extremely valuable, and Mulhern recognized an opportunity to fill a gap in an important service.
"The concept for Turning Point was incubating in my mind for a few years," she remembers. "I thought, 'What if there was a place that offered people these specific skills-based programs and groups?'"
In 2001, Mulhern invited Liz Paugoulatos to help and began calling other friends and colleagues. "It just grew organically, and we developed a phenomenal founding board of directors," Mulhern says.
Helping children and adults navigate illness
Turning Point serves anyone facing serious or chronic illness and their loved ones, not just those who receive treatment through The University of Kansas Health System. Services are free, and healthcare providers across the region recommend Turning Point to patients.
One member of that initial Turning Point team was Annie Seal, a child life specialist. Seal signed on as a facilitator and was instrumental in developing the first children's programs. In 2007, she became the children's program director. "We do so much to help children and their families navigate an illness," Seal says. "We work with them on coping techniques and use play as a teaching tool for kids."
Cathy Pendleton is another of the early Turning Point staff. A clinical social worker with a private psychotherapy practice, Pendleton joined Turning Point in 2002. Her love of program planning led to her role as director of adult programs. "When I started in 2002, we had a single page of program listings. Now we have 10 or more pages!" she says. "And all the programs are so important – I can't pick a favorite."
Pendleton's arrival rounded out Turning Point's initial staff, and programming expanded. The organization moved into a dedicated space in October 2003 at 8900 State Line Road in Leawood, Kansas. Turning Point currently serves about 10,000 people per year, and more than 120,000 have participated in its programs since its inception. The organization employs 8 staff members, and 75 contract program facilitators contribute to programming.
Expansion continues
In 2012, Turning Point became part of The University of Kansas Health System.
"We get a lot of support, and the health system gets a complete continuum of care for its participants' mental and emotional needs during and after their medical treatment," says Mulhern. "We add programs every year to keep it fresh and keep up with the literature on how to best help our participants. I think we'll continue to grow, hopefully even providing services in a broader geographic area. The need continues, and we're here to help!"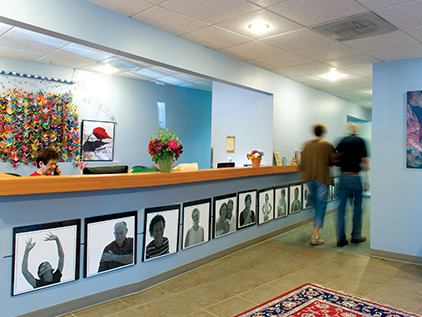 Turning Point
At Turning Point, those living with serious or chronic illness and their families and friends can attend classes and access resources to learn how to live their best life. All programs are free to attend thanks to generous donors.
Get started