Working as a dietitian who counsels pregnant women and new mothers, Dayane Parker was reminded daily of her and her husband's struggle to have a baby.
After trying to get pregnant for 16 months and having testing, the Parkers learned they were unable to get pregnant due to male factor infertility. Research has shown that in approximately 45% of couples with infertility, the male partner is either a primary or contributing cause.
"That's when my OB/GYN referred us to The University of Kansas Health System," Dayane says.
Searching for solutions
In December 2016, the Parkers met Michael Lydic, MD, – a reproductive endocrinology and infertility specialist at The University of Kansas Health System who has performed in vitro fertilization (IVF) for 25 years.
"He has a calming personality and takes time to explain things," Dayane says. "When he shared his clinics' success rate, which was the highest I had heard of, it made me feel good."
One reason Dr. Lydic has a higher success rate at his Overland Park and Gladstone fertility clinics is because he carefully screens each patient – considering age, ovarian function, and more – before recommending the best course of treatment. He also offers customized treatment plans, including in vitro fertilization.
"Consulting with a board-certified specialist and having a semen analysis also can increase success rates," he says. At age 33, Dayane was a good candidate for IVF. Knowing Dr. Lydic had such high success rates, she and her husband decided to go forward with IVF treatment. Dr. Lydic walked the Parkers through the procedure and risks, and he invited them to talk with the clinic's finance team.
"Cost is a big concern for most couples," Dr. Lydic says. "Our financial counselors support our patients every step of the way."
The University of Kansas Health System is a very professional place. Being in the medical field, I feel like they do things the way they are supposed to be done. When I mailed Sebastian's birth announcements, I sent one to Dr. Lydic's clinic, and I said, 'Thank you.' – Dayane Parker
Hormone therapy produces multiple eggs
Dr. Lydic began treatment by putting Dayane on birth control pills to regulate her menstrual cycles. About two months later, he prescribed hormone treatments: four shots a day in the stomach. Dayane administered the shots herself. The hormones would stimulate her ovaries to produce multiple eggs per month.
"Multiple eggs are necessary because not all of the eggs will mature or be viable," Dr. Lydic says.
Dayane produced 45 eggs.
"That's more than we usually get," Dr. Lydic says. "She had extremely good ovarian function. That also made her a good candidate for IVF."
Carrying that many eggs was burdensome. Dayane suffered from bloating and cramping and was forced to curb physical activity, so as not to add stress to her heavy ovaries. Producing so many eggs also put Dayane at risk of ovarian hyperstimulation syndrome – a condition in which the ovaries become unusually large and leak fluid from the bloodstream into the abdomen. To reduce the likelihood of this occurring, Dr. Lydic made a medication change to prevent hyperstimulation and planned to postpone replacing her embryos into her uterus for 1 month versus the traditional 1 week.
The next steps
Once the eggs were ready, Dr. Lydic performed a procedure to retrieve them.
"Typically, the procedure takes about 30 minutes. But mine took longer because I had so many eggs," Dayane says. "They called me about 24 hours later and told me 15 out of the 45 qualified for IVF."
On February 28, 2017, Dayane's eggs underwent intracytoplasmic sperm injection, or ICSI. During the procedure, a hollow needle, containing one of her husband's sperm, was used to permeate one of Dayane's eggs. The needle was advanced through the egg's outer shell and membrane, and sperm was injected. Once the eggs were fertilized, the embryos grew in a lab for 5-6 days and were frozen. In the next cycle, guided by ultrasound, Dayane's best embryo was thawed and implanted into her uterus using guided ultrasound.
The Parkers receive happy news
About 10 days after the embryo transfer, Dr. Lydic conducted a pregnancy test, but Dayane didn't need confirmation she was pregnant. She knew. The Parkers had gotten pregnant on the first try – which is rare, but not impossible.
Dr. Lydic monitored Dayane's pregnancy until he knew the embryo was growing and everything was going well. He then returned Dayane to the care of her OB/GYN.
Embryo preservation offers options
The Parkers elected to freeze the remaining viable embryos in case they decide to have a second child.
Dayane says she chose to be open about the procedure and embryo preservation to educate others.
"IVF is a long process, and it's not fun to go through it by yourself," she says. "I even told my co-workers because if they saw me emotional, they would know."
"If she wants to have a baby at age 40, she can," Dr. Lydic says. "Using her frozen embryos, she will have the same pregnancy rate she did at 33."
Celebrating Sebastian's arrival
After a normal pregnancy, the Parkers' son, Sebastian, was born November 15, 2017, one day before his due date. He is healthy and, according to the proud new mother, "very smart."
"The University of Kansas Health System is a very professional place. Being in the medical field, I feel like they do things the way they are supposed to be done," Dayane says. "When I mailed Sebastian's birth announcements, I sent one to Dr. Lydic's clinic, and I said, 'Thank you.'"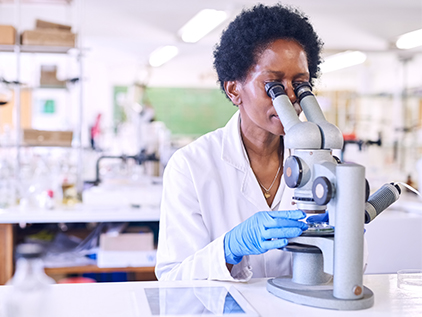 Certified Center of Excellence
Our embryology laboratory is one of only three programs in the nation to be certified as a national Center of Excellence by the American Society for Reproductive Medicine. This means we use strict quality standards to keep embryos and cryopreserved specimens safe.
Learn more