November 22, 2019
Gastric sleeve surgery always had been out of reach for Marla Cantwell, 61. Her health insurance didn't cover it, and the out-of-pocket expense at hospitals near Monett, Missouri, where she lives, was more than $25,000. Then a friend told her about The University of Kansas Health System.
"I was blown away by their cash price of $9,500," says Marla.
The price included a year of care and monitoring from a multidisciplinary team of experts in bariatric surgery, nutrition, psychology and sleep. Suddenly, the procedure became a real option for Marla, who, at 325 pounds, was morbidly obese and deeply self-conscious.
"I would scan a room and ask myself, 'Am I the biggest one here?' and pray for a chair sturdy enough to hold me," she recalls.
Had she tried dieting? Yes. With each new meal plan, Marla's spirits lifted. "This is the 1," she would tell herself. When she didn't lose the weight, her self-image sank. Despite returning to college, earning a master's degree and beginning a successful second career as a school counselor at age 52, Marla saw herself as a failure. The scale dictated her value.
Preparing for bariatric surgery
Once she chose where she could have this surgery, Marla answered the questionnaire on the health system's website and then read about what to expect – and what not to expect – from bariatric surgery. Shortly after, Erin Hosler, clinical nurse coordinator, called Marla to schedule an initial evaluation. That was in April 2019. From there, Marla had lab work, a psychiatric assessment and a mandatory sleep study, where she was diagnosed with sleep apnea. At least 80% of people who are morbidly obese will have associated sleep apnea.
Marla also met with Bernita Berntsen, MD, one of the health system's board-certified bariatric surgeons. Collectively, the team has performed more than 3,000 bariatric surgeries since 2002.
Cash-paying patients are able to skip the 3- to 6-month medically supervised diet, required by insurers, and schedule their procedures almost immediately. Marla's was set for June 10, 2019. Ten days before, she began a mandatory diet to make her liver more supple and easier to move during surgery.
"I expected to be on an all-liquid diet, but the diet they gave me wasn't difficult to follow at all," she says.
The inconspicuous meal plan helped Marla keep her plans for surgery to herself.
"I didn't want to hear people's negative opinions about gastric sleeve surgery being 'drastic' or stories of how someone's surgery had gone wrong," says Marla. "I relied on my faith, the health system's reputation and my sister's success with the same procedure."
During Marla's minimally invasive, laparoscopic procedure, Dr. Berntsen made small incisions to remove a large part of Marla's stomach. The method reduced her stomach from the size of a football to that of a skinny banana. With a much smaller stomach, Marla would eat less, feel full faster and lose weight.
The next day, Marla went home, feeling like she had made new friends during her short stay.
"Everyone I met there, even the people checking me in, was so friendly and kind. I felt personally cared for. The nurses asked me to come back and visit them, and I plan to," says Marla.
Learning a new way to eat
Marla bounced back quickly from the surgery but getting used to a different way of eating and drinking wasn't as easy.
"Some patients will experience nausea if they drink something too close to mealtime or too soon after mealtime, or if they overeat or wait too long to eat," says Dr. Berntsen.
Marla, unfortunately, was 1 of the people who did feel sick to her stomach. She said Dr. Berntsen prescribed an anti-nausea tablet that worked well. Three months after surgery, the daily nausea subsided.
Incorporating the new way of eating and drinking into her day at work as a full-time school counselor was another big challenge.
"I learned to eat every 3 to 4 hours and drink water in between as I can. That schedule keeps my energy up and helps get my protein in," she says.
Marla must eat 60-80 grams of protein daily. But she didn't start eating eggs and other proteins immediately. She had to work them in gradually.
"There are 4 stages to recovery after surgery," says Dr. Berntsen. "Each stage introduces foods back into Marla's diet, beginning with clear liquids, followed by full liquids, like Jell-O, then pureed foods and finally whole foods."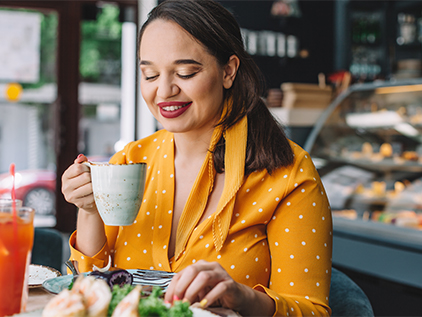 Marla's post-bariatric surgery tips
If you have trouble swallowing the required vitamins and supplements, try vitamin patches.
Separate your food from your family's food, so you won't be tempted by their snacks.
Try new foods 1 at a time. You may not know how your new, smaller stomach will respond.
Losing weight
After 7 months, Marla had lost 100 pounds. She was no longer morbidly obese.
"Most people who have the sleeve procedure lose 60-80% of their excess weight in 2 years," says Dr. Berntsen. "But bariatric surgery isn't a stand-alone weight-loss solution. Our patients also learn coping skills and meet regularly with a dietitian to learn healthy eating habits."
For example, instead of eating to mask her negative emotions, Marla turns to healthier coping strategies. She colors with colored pencils, goes outside to sit in the sunshine, journals or listens to music.
"The coping activities don't eliminate my emotions, but I also don't lose myself to them as I have in the past," says Marla.
Discovering life after bariatric surgery
Marla's daughters have promised to take her shopping for clothes when she reaches her goal weight. But Marla isn't focused on a number. Her goal is to be healthier – to sleep without a CPAP machine, to no longer need blood pressure medication and to have more energy to enjoy her family and her first grandchild.
"Before surgery, I was alive, but I felt like I had no life," says Marla. "I missed out on so many things."
Today, she is enjoying a life of self-discovery.
"On Labor Day weekend, I rode in a 4-wheeler and conquered my fear of riding in a speedboat," she says, adding that she swam in the lake and then climbed back into the boat by herself. "I'm finding out I have quite an adventurous spirit. Underneath all this was a girl who just wanted to have fun!"
Jessica Lovell: With me this morning is bariatric surgeon Dr. Jennifer McAllaster. Always great to have you.
Dr. Jennifer McAllaster: Good morning, thanks for having me.
Jessica: You bet. OK, and joining us virtually from Springfield, Missouri, is Marla Cantwell. She had gastric sleeve 2 years ago. You're going to love Marla; she is very inspirational, you're going to love her story.
Right now though, I want to share these quick stats from the National Institutes of Health survey. It had a lot of data, but here are 4 facts that really stood out to me. One in 3 adults are considered to be overweight. Two in 3 adults are considered obese. One in 13 adults are considered extremely obese. Get this, 1 in 6 children between the ages of 2 and 19 are obese.
Now, 2 years ago, Marla, you would've been among those statistics, but not today because you underwent a gastric sleeve procedure. So before we talk about that though, I do want to ask you something. You are joining us from Springfield, Missouri. I just want to find out, how is the COVID spike down there impacting you?
Marla Cantwell: Well, personally with the spike, I've gone back — and I am fully vaccinated, but I've gone back to double masking. I'm ordering my groceries and picking them up at the local grocery store again, I'm staying home more. I guess the biggest impact is I stopped going to my local recreation center because I love swimming laps, that's my — So I'm back to working out at home and walking outside.
Jessica: Yeah, so you're making adjustments as those numbers go up?
Marla: Yes, yes.
Jessica: Thank you for sharing that. So onto food, so some people use food during the pandemic as we know, as comfort. We all did it in some way or another. You had a sleeve 2 years ago. Was the pandemic challenging for you from a food perspective?
Marla: I say no, not really, just because I had my surgery in June of 2019. So by the time COVID hit in spring of 2020, I already had those established routines for eating and exercising, that helped. I was having such great success and I determined I am not going back to my old eating habits. Having healthy coping skills was key for me, and with all that downtime, I had the opportunity to connect more with family and friends that gave me support, so — Oh, and I paid cash for my procedure, so that's a great motivator, friends.
Jessica: That's right, you're getting your money's worth, [inaudible 00:07:45]. Well, and you did all that hard work, so good for you, I love that. It's not always so easy for everyone. Tell me, Marla, how much weight did you lose?
Marla: 180 pounds in 13 months.
Jessica: You've got to be kidding me? That's amazing.
Marla: No.
Jessica: OK, so you're on this quest to lose a substantial amount of weight. What sent you to get a medical intervention for weight loss?
Marla: One of the first things I did was think about my whys. Why did I want this surgery? That's so important to figure out your whys. I still have my list, and I still go back and read it. So foremost for me was to get healthy, I wanted to be healthy. I had high blood pressure, not anymore. I had sleep apnea, not anymore. A family history of diabetes and cancer and heart conditions. I was obese from age 5, age 5, until I had this surgery at age 61. Never a healthy weight all those years. So my weight limited me my whole life. I was ready for a change, ready, yeah, and a new grandbaby.
Jessica: Exactly, I was—
Marla: Became a grandmother for the first time; that was a great motivator too.
Jessica: I was waiting for that grandbaby to come in there. So [crosstalk 00:09:06] I think what you're telling me though is that you're never too old to have a good quality of life.
Marla: Exactly, exactly.
Jessica: Now you got more years.
Marla: You are never too old.
Jessica: All right, so I want to get back with you here in just a moment because you've got some great tips that I want you to share with our viewers, because I think we all love to have some good takeaway tips. So, don't go anywhere.
Marla: All right.
Jessica: I want to bring in though, Dr. Jennifer McAllaster. Good morning to you.
Dr. McAllaster: Good morning.
Jessica: OK, so do you see a lot of patients like Marla? Is her success rate pretty typical? Talk to us about that.
Dr. McAllaster: Yes, well I have to say that seeing patients like Marla is the best part of my job. How rewarding to be able to help patients and give them a tool that they then make successful, and have such wonderful life changes, and to be able to do the things she now does, and to be able to be an active grandmother with her new grandchild. It's just, that's wonderful.
Is it typical? Yes, these operations are very successful. I will have to say Marla is a superstar, so she's done phenomenal with her operation. On average when we talk about these operations, we use a term called percent excess weight loss. So of someone's excess weight, above what we would consider the ideal, how much weight did they lose? So these are averages, but with the bariatric operations, that percent excess weight loss ranges from about 55 up to 80%. If you look at total body weight loss, that ends up being about 25 to 30%, so we use different terms.
But certainly Marla is crushing it and doing wonderfully, but on average, yes, these operations, patients can have much success. But you heard all the keys in her story, how the operation's a tool, but she's doing all those other things. She's planning ahead with her grocery shopping, she's now doing it carefully in her home environment, to plan ahead and do her grocery shopping. She's not being the victim of those circumstances and just eating whatever is on the shelf and not thinking about it. She did all the activity, she exercised, and she's doing all those things to make this a long-lasting success.
Jessica: I was about to say, long-term process.
Dr. McAllaster: Long-term process, absolutely.
Jessica: How did the pandemic impact your patients?
Dr. McAllaster: Well, the pandemic was difficult for everyone but especially our patients who oftentimes like Marla describes — the key to success is that patients have to realize they have to be very mindful about this process. It takes planning; you have to plan out your meals. We try to tell patients, don't eat on a whim, don't pick food decisions when you're stressed, plan all that ahead of time.
Patients had established new lifestyles to where they were more active, rather than taking the bus to get into work or using the elevator, they walked, they took the stairs, so they increased all of that. So then when patients were staying at home, it took them out of that routine, that routine is what helped them be successful. So then when they're at home, they're not getting that activity, they're not walking to work, they're not even getting to their car to go to work. So we didn't have that automatic activity that they had built into life.
Then the saying, "out of sight, out of mind," is very true when it comes to food choices. So when people were working from home right next to the kitchen, it was very easy to just mindlessly eat. So all those systems they had developed to be mindful and develop a strategy for success went out the window. But the key is now it's an important time not only for bariatric patients but for everyone to realize, how do I function best? What was that strategy that made me successful? So really using that as just another tool then for the future of when life throws us a hurdle and it takes us out of our normal routines. What have we learned from this? What do we need to do to get that activity back? What do we need to do to be able to make those smart food choices? Really, not seeing this as a failure during the pandemic, but this was an important lesson on what we need to do when life isn't exactly as we planned for.
Jessica: The new challenge.
Dr. McAllaster: Absolutely.
Jessica: So you saw those stats that we put up here just a few moments ago. What do you think the pandemic is going to result in, as far as more people overweight? What are those concerns for you?
Dr. McAllaster: Well the concern's not only in regard to the pandemic, but in general. Just every year and every decade, our overweight and obesity rates continue to incline. Those numbers have just gone up and up and up. So clearly with advancements in technology and medications, hopefully we can help with that, but it needs to be broad, over sweeping change of food choices for children, more activity for children and adults, so—
Jessica: Talk about the risks of these type of interventions. These are not to be taken lightly.
Dr. McAllaster: Absolutely.
Jessica: A lot goes into the planning and with these patients, talk to us about that as well.
Dr. McAllaster: Yeah. So when we're planning for bariatric operations, you're right, they're not for everyone. Some patients may have medical reasons that they just may not be considered fit for surgery. That's rare but that does happen, or prior surgical issues that they may not be an ideal candidate. That's where some of the advancements in the medications to help treat obesity come into play, and the lifestyle modifications that come into play.
But otherwise for patients who we would consider ideal candidates, we oftentimes look at, what do insurance companies cover? That's where we start those standards, and so—and unfortunately not every insurance company covers that. So we have stories like Marla who maybe didn't have that insurance coverage likely but still knew this was a successful treatment, so we do have cash pay options for those patients who would otherwise be good surgical candidates, but they just don't have the insurance coverage for it.
But in general, we use BMI criteria. So BMI is just a number that we can correlate someone's weight with their height. So in general for insurance coverage, it's a BMI above 35 if they have comorbidities or other illnesses that are caused by the obesity. So that's high blood pressure, high cholesterol, hypertension, diabetes, those kind of things, or a BMI solely above 40. So those are just the general insurance criteria. Now, every insurance is a little different so those are very broad terms, but those are the general criteria.
What we know is that there may be patients who don't fit that criteria. So maybe diabetic patients who have a BMI of 33. We know they still may be successful, but unfortunately, insurance just may not cover that. We want to make sure that patients are in the best state physically, so that they've been optimized by their physicians so that we know they can do well with the operation. Then also in the best state mentally. These operations, it's a big choice, it changes our relationship with food. So we want to make sure before surgery that patients are at their best spot to make healthy lifestyle changes and really be able to use this tool well.
Jessica: So Marla had the gastric sleeve, but so did you.
Dr. McAllaster: I did, yes. I'm very open with my patients that yes, I'm not only a bariatric surgeon but also a bariatric patient. I find most of us patients have similar stories to where I had tried everything and I would lose and then I'd regain more. I would lose, and I would regain more. So for me surgery was the right choice. I had been a bariatric surgeon for years, I knew it was safe. I saw patients who did well and I saw what they did to do well. So for me it was the tool that I needed, and that's the key, is that it's a tool. It came with a whole lot of lifestyle changes to make that tool work and make it a success long-term.
Jessica: You were 5 years out.
Dr. McAllaster: Yes, 5 years out.
Jessica: So 5 years of work?
Dr. McAllaster: It is 5 years of work, and that's what we always have that discussion before surgery is that I would love to tell myself and I would certainly love to tell my patients that you will never have to worry about your weight again, but unfortunately that's just not true. Obesity is a chronic and difficult-to-treat disease, and it's something that we're always going to have to focus on and really transition now into the maintenance of it like Marla's in now and doing wonderfully with.
Jessica: OK, I want to ask you about the new FDA-approved new weight-loss medication. This just happened last month; this is the first drug approved for weight loss since 2014. It's called Wegovy, Wegovy.
Dr. McAllaster: Wegovy, yes.
Jessica: Ah, got it, all right. Pretty darn close. OK, so it was approved for chronic weight management in adults with obesity, ranked as a BMI of 27 or higher with at least one weight-related condition like high blood pressure, type 2 diabetes or high cholesterol. The release goes on to talk about patients, they need to exercise, of course, to reduce their calories. Those of the study lost between 6% and 12% of their body weight. Is 6% to 12% significant when it comes to better health? I would imagine so.
Dr. McAllaster: It is, it absolutely is. So in fact, what the studies have shown is that really even at that 5% of total body weight loss is where we see significant improvements in overall health, cardiovascular health, blood pressure, even diabetes control. So yes, 6% to 12% is a wonderful number.
Jessica: Just quickly before we get to community questions, how does the medication work, and any risks?
Dr. McAllaster: Yes, so this medication, it belongs to a group of medications that are called GLP-1 Agonists. So a long word, but basically it stimulates a hormone that we naturally have in our gut, in our intestine. So this works, it is an injectable medication, meaning patients do have to inject it into the subcutaneous tissue in the body. This is once weekly, so there had been previous weight loss medications that work in a similar fashion that were once daily. So with this, you have the benefit of a once weekly injection vs. a once daily. Then this indication, again, this similar medication, they've been on the market for a while. The benefit of this is that these studies were looking specifically at weight loss, so now it has that indication so hopefully insurance will come along with it. It's a higher dose than what some of these medications were before.
Now, are there risk of this? Yes, so this is a medication that works on our intestinal tract, but it also has effects on the brain. So it helps with that, decreasing that appetite stimulation, it makes you feel full longer, it slows the emptying of the stomach so that we feel full longer, and it actually stimulates the pancreas to make more insulin and then it decreases the other tissues of our body that make sugar other times when we're not eating inappropriately. So not only does it help with weight loss, it helps with those drives that make us want to eat more when we're trying to lose weight. It also does have improvement in diabetes management as well.
But there are potential concerns with any medication. So certainly this is something that you need to discuss with your physician because again like any of these treatments we've talked about, it's not a magic cure, it's not a magic bullet. It takes those all-over lifestyle changes, and that's something that really needs to be done in coordination with your physicians. Patients will be much more successful if they're doing this as a comprehensive plan.
There's also other medications for weight loss that may be better for certain patients. So specifically for the GLP-1 Agonist, although it's rare, they can potentially increase the risk of certain thyroid cancers, what we call medullary thyroid cancers. We've seen that more in animal studies, not necessarily human studies, but it is something to be aware of. Then also going along with that, a rare condition called medullary endocrine neoplasia, so patients with that need to be very cautious with these type of medications.
More common side effects though, tend to be GI side effects. So nausea, dyspepsia, vomiting, can cause diarrhea or constipation. A little more concerning, risk of pancreatitis or inflammation of the pancreas. It can increase the risk of gall bladder disease as well. So there certainly are things that we need to be watchful of.
Jessica: A lot of great information, thank you, Dr. McAllaster.
Patient testimonial: As with all treatments, individual patient results vary. It is important to discuss your treatment options with your healthcare provider.