November 22, 2019
Gastric sleeve surgery always had been out of reach for Marla Cantwell, 61. Her health insurance didn't cover it, and the out-of-pocket expense at hospitals near Monett, Missouri, where she lives, was more than $25,000. Then a friend told her about The University of Kansas Health System.
"I was blown away by their cash price of $9,500," says Marla.
The price included a year of care and monitoring from a multidisciplinary team of experts in bariatric surgery, nutrition, psychology and sleep. Suddenly, the procedure became a real option for Marla, who, at 325 pounds, was morbidly obese and deeply self-conscious.
"I would scan a room and ask myself, 'Am I the biggest one here?' and pray for a chair sturdy enough to hold me," she recalls.
Had she tried dieting? Yes. With each new meal plan, Marla's spirits lifted. "This is the one," she would tell herself. When she didn't lose the weight, her self-image sank. Despite returning to college, earning a master's degree and beginning a successful second career as a school counselor at age 52, Marla saw herself as a failure. The scale dictated her value.
Preparing for bariatric surgery
Once she chose where she could have this surgery, Marla answered the questionnaire on the health system's website and then read about what to expect – and what not to expect – from bariatric surgery. Shortly after, Erin Hosler, clinical nurse coordinator, called Marla to schedule an initial evaluation. That was in April 2019. From there, Marla had lab work, a psychiatric assessment and a mandatory sleep study, where she was diagnosed with sleep apnea. At least 80% of people who are morbidly obese will have associated sleep apnea.
Marla also met with Bernita Berntsen, MD, one of the health system's board-certified bariatric surgeons. Collectively, the team has performed more than 3,000 bariatric surgeries since 2002.
Cash-paying patients are able to skip the 3- to 6-month medically supervised diet, required by insurers, and schedule their procedures almost immediately. Marla's was set for June 10, 2019. Ten days before, she began a mandatory diet to make her liver more supple and easier to move during surgery.
"I expected to be on an all-liquid diet, but the diet they gave me wasn't difficult to follow at all," she says.
The inconspicuous meal plan helped Marla keep her plans for surgery to herself.
"I didn't want to hear people's negative opinions about gastric sleeve surgery being 'drastic' or stories of how someone's surgery had gone wrong," says Marla. "I relied on my faith, the health system's reputation and my sister's success with the same procedure."
During Marla's minimally invasive, laparoscopic procedure, Dr. Berntsen made small incisions to remove a large part of Marla's stomach. The method reduced her stomach from the size of a football to that of a skinny banana. With a much smaller stomach, Marla would eat less, feel full faster and lose weight.
The next day, Marla went home, feeling like she had made new friends during her short stay.
"Everyone I met there, even the people checking me in, was so friendly and kind. I felt personally cared for. The nurses asked me to come back and visit them, and I plan to," says Marla.
Learning a new way to eat
Marla bounced back quickly from the surgery but getting used to a different way of eating and drinking wasn't as easy.
"Some patients will experience nausea if they drink something too close to mealtime or too soon after mealtime, or if they overeat or wait too long to eat," says Dr. Berntsen.
Marla, unfortunately, was one of the people who did feel sick to her stomach. She said Dr. Berntsen prescribed an anti-nausea tablet that worked well. Three months after surgery, the daily nausea subsided.
Incorporating the new way of eating and drinking into her day at work as a full-time school counselor was another big challenge.
"I learned to eat every 3 to 4 hours and drink water in between as I can. That schedule keeps my energy up and helps get my protein in," she says.
Marla must eat 60-80 grams of protein daily. But she didn't start eating eggs and other proteins immediately. She had to work them in gradually.
"There are 4 stages to recovery after surgery," says Dr. Berntsen. "Each stage introduces foods back into Marla's diet, beginning with clear liquids, followed by full liquids, like Jell-O, then pureed foods and finally whole foods."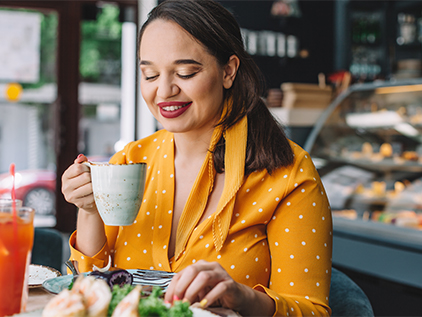 Marla's post-bariatric surgery tips
If you have trouble swallowing the required vitamins and supplements, try vitamin patches.
Separate your food from your family's food, so you won't be tempted by their snacks.
Try new foods one at a time. You may not know how your new, smaller stomach will respond.
Losing weight
After 7 months, Marla had lost 100 pounds. She was no longer morbidly obese.
"Most people who have the sleeve procedure lose 60-80% of their excess weight in 2 years," says Dr. Berntsen. "But bariatric surgery isn't a stand-alone weight-loss solution. Our patients also learn coping skills and meet regularly with a dietitian to learn healthy eating habits."
For example, instead of eating to mask her negative emotions, Marla turns to healthier coping strategies. She colors with colored pencils, goes outside to sit in the sunshine, journals or listens to music.
"The coping activities don't eliminate my emotions, but I also don't lose myself to them as I have in the past," says Marla.
Discovering life after bariatric surgery
Marla's daughters have promised to take her shopping for clothes when she reaches her goal weight. But Marla isn't focused on a number. Her goal is to be healthier – to sleep without a CPAP machine, to no longer need blood pressure medication and to have more energy to enjoy her family and her first grandchild.
"Before surgery, I was alive, but I felt like I had no life," says Marla. "I missed out on so many things."
Today, she is enjoying a life of self-discovery.
"On Labor Day weekend, I rode in a 4-wheeler and conquered my fear of riding in a speedboat," she says, adding that she swam in the lake and then climbed back into the boat by herself. "I'm finding out I have quite an adventurous spirit. Underneath all this was a girl who just wanted to have fun!"
Patient testimonial: As with all treatments, individual patient results vary. It is important to discuss your treatment options with your healthcare provider.