Skip Navigation
Bariatric and Weight-Loss Surgery Services
Sleeve Gastrectomy
Being overweight or obese can increase your risk of serious medical conditions, including heart disease, cancer, diabetes, metabolic syndrome and more. Sleeve gastrectomy is a surgical procedure that can help treat those who have weight-related disease. At The University of Kansas Health System, we offer sleeve gastrectomy to help you lose weight and reach your health goals.
What is sleeve gastrectomy?
Sleeve gastrectomy is a type of bariatric weight-loss surgery that was first performed in 1988 as a part of the more invasive duodenal switch procedure. The sleeve is the portion of the operation that permanently changes the size of the stomach to about 15% of its original size. The remaining stomach is a small, tubular pouch that holds considerably less food.
Who can have sleeve gastrectomy?
Sleeve gastrectomy may be an option if you have a BMI that is higher than 40, or if you have a BMI that is 35 or above and a weight-related health problem, like high blood pressure.
How does sleeve gastrectomy work?
Sleeve gastrectomy reduces the amount of food you can consume. It also affects hormones in the gut that can help you feel less hungry. These hormones impact blood sugar, often improving weight-related conditions like type 2 diabetes. Sleeve gastrectomy results seem to be as effective as Roux-en-Y gastric bypass for weight loss and remission of diabetes, based on short-term studies.
Benefits and risks of sleeve gastrectomy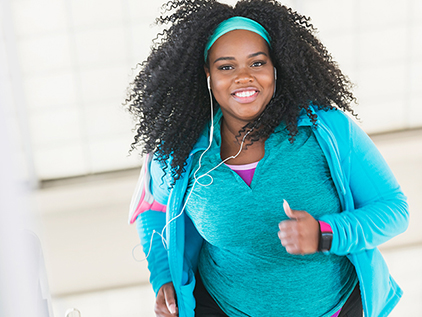 Take the first step. Watch the video now.
Those interested in weight-loss surgery are encouraged to watch our online seminar before scheduling a consultation with a weight-loss surgeon at The University of Kansas Health System.
View the online seminar
What happens during sleeve gastrectomy?
Once you have fulfilled insurance requirements, been approved and consulted with your surgeon, you are ready to schedule your surgery. The office staff will work to schedule your surgery within the next few weeks.
You will see the surgeon 10-14 days before surgery. During this time, you will have a final checkup, be able to ask questions and make sure you understand your instructions for your preoperative diet and what medications to continue or stop prior to surgery. You will also have an appointment with the presurgical clinic nurse. This will prepare your medical record for the day of surgery, verify the results of any lab work and ensure that any specialty consults (cardiology, etc.) are included in your record. Additionally, staff will inform you on what to expect the day of surgery so you will feel more comfortable each step of the way.
The nurse will tell you what to bring to the hospital and what to leave at home. The nurse will also review your medications to make sure you know what to discontinue and when, and what medications you should take the day of surgery. Make a list of all prescription medications, over-the-counter medications and any herbal or vitamin supplements you are using. Bring the list with you to the hospital.
Most people who have this surgery spend 1 night in the hospital and go home the next day. You may have to stay at the hospital for a few days after the procedure. Your diet after the surgery will start with clear liquids. You will then transition to soft foods until your body can adjust to solid foods again. You will feel full very quickly after eating a small amount of food.
Sleeve gastrectomy may lead to a weight loss of more than 50% over 3-5 years, but the weight-loss process is usually slower when compared with gastric bypass surgery. Sleeve gastrectomy is more successful when it is a part of a long-term healthy lifestyle plan that includes exercise and a diet recommended by your physician and healthcare team.
Why choose us for sleeve gastrectomy
At The University of Kansas Health System, we use the most up-to-date and minimally invasive techniques in all of our bariatric procedures. This reduces pain after surgery and speeds healing. With more than 1,650 bariatric surgeries performed since 2002, our board-certified physicians work with a multidisciplinary team to provide comprehensive services to support you through your entire weight-loss journey.
Related links