Skip Navigation
Dining
We work to make sure that you have plenty of dining options at The University of Kansas Health System. That's why we provide several restaurants and cafés throughout our main campus. Our dining services can accommodate many dietary restrictions and preferences, and are open during convenient hours. Whether you're a patient or a visitor, you can expect an excellent dining experience.
Due to COVID-19, we have made temporary changes to our dining services throughout the health system. Learn more about this and other service changes.
Your dining options
Bell Café: Located on the main hospital's ground floor, the cafeteria is open 6:30 a.m.-8 p.m. Monday-Friday, and 7 a.m.-6:30 p.m. weekends and holidays. It serves hot meals, sandwiches, salads, snack items and drinks. Vending machines are available 24 hours a day.
D&G Café on 39th

:

Located on Level 1 of Cambridge Tower A, D&G Café offers smoothies, pizzas, salads and made-to-order meals 24 hours a day, 7 days a week.
The Roasterie Café: 3 convenient locations on campus offering coffee, tea and snacks. Breakfast and lunch items are available at The Center for Advanced Heart Care location.


Center for Advanced Heart Care, ground floor: 6:30 a.m.-8 p.m. Monday-Friday
Medical Pavilion, Level 1: 7 a.m.-4 p.m. Monday-Friday
Cambridge Tower A, Level 2: 5:30 a.m.-5 p.m. Monday-Friday

Room service: Visitors can order a guest tray from a patient room for a nominal charge.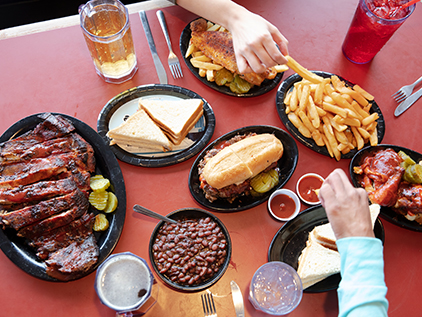 Dining in Kansas City
Visiting from out of town? Kansas City offers a diverse dining scene that includes everything from its signature barbecue to intricate, coursed meals.
Learn more
Related links