Skip Navigation
The University of Kansas Health System is a destination for world-class healthcare. People travel to us from around the world for innovative treatments and clinical trials that are often not available anywhere else.
Whether it's your first visit or a follow-up, we offer many convenient ways to make a medical appointment with a doctor, nurse or specialist. We have health system locations throughout Kansas and serve patients statewide, as well as those in Kansas City, Missouri, and beyond. From primary care, to specialty care, to urgent care, we are here to help you thrive.
Explore appointment information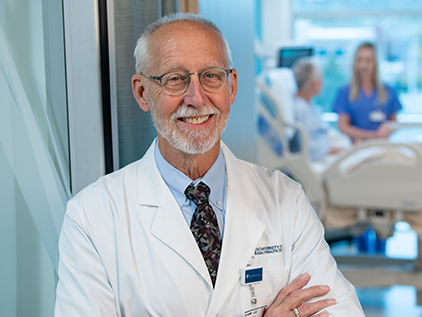 Find a doctor
Our doctors are some of the most respected in the country. And with more than 1,000 doctors spanning over 200 specialties, we have someone who's right for you.
Search doctors
Appointments FAQ
Appointment availability varies depending on the appointment type (telehealth, in-person, urgent care), as well as which health system location and department you need. Our call center staff can help you decide which appointment type is right for your needs and help you make an appointment that works for you. Call 913-588-1227 to speak with a scheduler.

We have health system locations throughout Kansas. For those who are out of town, or who would rather be seen from the comfort of their home, we offer convenient telehealth appointments.

We accept many major medical plans, as well as Medicare and Medicaid. Insurance will be verified during your first appointment. If The University of Kansas Health System is not a participating provider, you may still be able to receive treatment here. Your insurance company may help with authorization.

We also offer convenient financing options, as well as financial counselors. To speak with a financial counselor, call 913-588-7850.

We will remind you of your appointment a few times by phone, text, MyChart message or email. The reminders will include a number to call if you need to change your appointment. If you need to cancel or reschedule, call your clinic 24 hours before your appointment time. If you're running late, call your provider's office. They will help you reschedule or let you know if you can be seen a little later.

Please bring the following:

Photo ID
Insurance card
Payment for any copays or balances

Masking is optional but recommended in most care settings. Some areas require masking, such as those where immunocompromised patients receive care. Areas that require masking will be clearly marked.

Our staff will wear masks when it is best for patient safety. If you want members of your care team to wear masks, simply ask.

MyChart is a great way to use your mobile device or desktop computer to communicate with your care team, see your lab results, pay your bill, get your medical records and keep tabs on your health. Use the messaging feature to send follow-up questions or request prescription refills. You can expect a response within 1 business day. For more urgent matters, call your provider's office directly.

We can offer your appointment in your preferred language at no cost to you. Please indicate your preferred language at the time you schedule your visit so we can reserve a qualified translator. American Sign Language interpreters require 48 hours' notice to attend appointments in person. Telehealth consultations are available in English and Spanish. We can translate visits in all other languages by audio consultation.

Maintaining consistent care is important to your overall health. We offer options to support appointment availability and improved patient outcomes. To cancel or reschedule, call the office directly, reply to text messages where available or respond to our phone call reminders. You may also manage some appointments directly in MyChart. Canceling or rescheduling appointments with ample time ensures we can provide quality care to more patients with a great patient experience.

Failure to cancel and/or reschedule your appointment by noon the day before your appointment is scheduled to occur will be considered a no-show or late cancellation. In the event of a no-show or late cancellation, your care team may share the no-show policy with you, including notifications via MyChart or mail. Three or more no-shows or late cancels in a specialty within a 12-month period could result in suspension or discontinuation of services within that specialty.

When you have a conflict, ask about other days, times and locations. Staff may also help guide you to a same-day sick, urgent care, telehealth or a select survey-based e-visit. If you're running late, call your provider's office. They will help you reschedule or let you know if you can be seen a little later.

We want to make your experience with us as smooth and efficient as possible. We offer several ways to speed check-in for less time at the front desk and faster preparation in exam rooms to get you ready to see your provider. You can complete most of the check-in process in advance in MyChart (whether or not you have a MyChart account) by following prompts we provide by text and email 7 days before your visit. Didn't get it all done before visit day? Not to worry. Many of our offices offer devices to help you complete remaining tasks before you're seen – or you can continue on your own device.

MyChart users can also enable their smartphones to tell us "I'm here!" upon arrival. Go to Account Settings in the main MyChart menu in the mobile app, and toggle the Appointment Arrival function to the on position. Alert us when you arrive and we'll get prepared for you!
We are seeing patients for primary and specialty care needs. Call 913-588-1227 to make an appointment today.
Related links