Skip Navigation
The University of Kansas Health System Sports Medicine and Performance Center offers adult fitness and sports performance classes, specialized injury prevention classes, sports nutrition consultations and physical therapy. Sign up online, email sportsperformance@kumc.edu or call 913-239-0646 to schedule a class.
Fitness classes
Sports performance classes
Injury prevention classes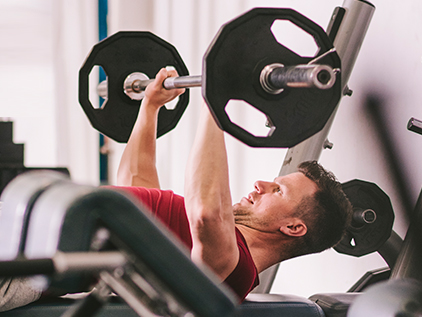 Sign up for a class
We offer sports performance and adult fitness classes for athletes of every age. Call 913-239-0646 to schedule a class.

Sign up online
Metabolic performance assessments
Metabolic performance testing, also known as VO2 max, measures the highest amount of oxygen your body uses during exercise, specifically at maximum exertion. A performance assessment includes a comprehensive evaluation by a trained professional. It identifies your baseline performance, ventilatory threshold and maximum heart rate response. It also provides recommendations for heart rate-based training thresholds and identifies benchmarks to enhance your training goals.
Sports nutrition consultations
Sports nutrition consultations are available for athletes interested in learning more about the benefits of proper nutrition. Consultations can be tailored to your individual goals and are conducted by a certified sports nutritionist. Call

913-574-4878

to schedule an appointment.

Will Arens, MEd, CSCS
Strength coach

Will has a master's degree in education and is a certified strength and conditioning specialist. He is responsible for helping athletes of all ages achieve their goals. He focuses on correcting movement inefficiencies by addressing strength deficits, mobility and stability issues.

Kelsey Ngeh
Fitness program and personal training instructor
Kelsey has a bachelor's degree in exercise science and kinesiology. She has worked in the fitness industry for 20 years. She is passionate about helping clients of all ages and fitness levels improve core strength and balance and reduce chronic pain. She specializes in biomechanical movement patterns, which allow people to move better, decrease pain from aging and injury and improve exercise results.

Ryan Sloop, MS, LAT, ATC, CSCS
Program and facility coordinator
Ryan has a master's degree in advanced athletic training. He is a certified athletic trainer and certified strength and conditioning specialist. He works with athletes of all ages and backgrounds. He also leads the golf fitness and injury prevention program. He is Titleist Performance Institute (TPI) level 1-certified and K-vest level 1-certified.
Location
1. Sports Medicine and Performance Center

8302 W. 125th St.
Overland Park, KS 66213

Mon

8:00 a.m. - 5:00 p.m.

Tues

8:00 a.m. - 5:00 p.m.

Wed

8:00 a.m. - 5:00 p.m.

Thur

8:00 a.m. - 5:00 p.m.

Fri

8:00 a.m. - 5:00 p.m.

Sat

Closed -

Sun

Closed -
To learn more on sports performance classes, call 913-239-0646.
For more on physical therapy services, call 913-574-4878.