Skip Navigation
Why Choose Us
Whenever a national leader visits Kansas City, The University of Kansas Health System's Tracy McDonald, program director, trauma and acute care surgery, is consulted well in advance.
As the region's only nationally verified Level I Trauma Center, the hospital often goes on standby when top-level elected officials and government dignitaries visit the Kansas City metro area. The hospital is also the official injury treatment and healthcare provider for Kansas Speedway, the Kansas City Royals and Kansas City Chiefs.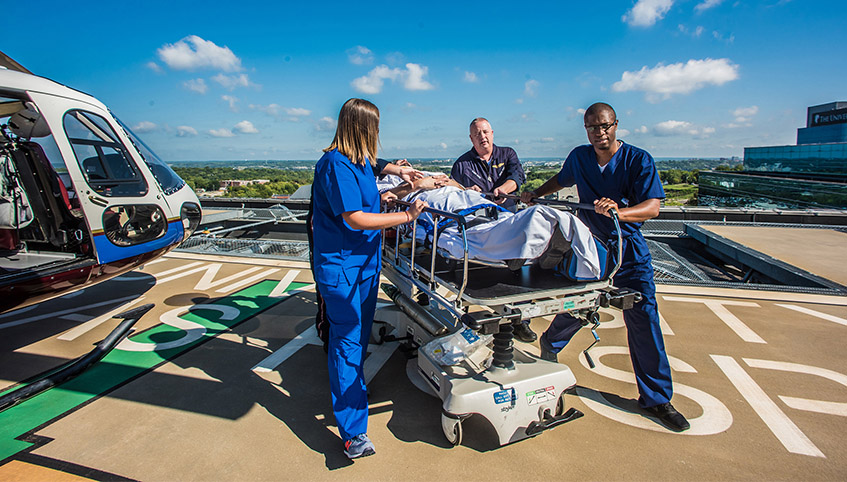 Caring for more patients
The trauma center treats and cares for high volumes of trauma and burn patients each year. The hospital's Gene and Barbara Burnett Burn Center is the region's only adult and pediatric burn care facility accredited by the American Burn Association.
"The top national verification puts our trauma program among the best in the country," McDonald says. "We are prepared around the clock to handle the full range of trauma incidents – everything from multi-vehicle traffic accidents to violent crimes to mass-casualty emergencies such as explosions and natural disasters."
Highest standard of care
Specifically, the Level I distinction recognizes the trauma center's ability to provide the highest possible standard of care for the most severely injured patients and those with complex, multisystem injuries. The program is the region's largest; the trauma center treats nearly twice as many patients each year as the next-largest facility.
The multidisciplinary trauma team's physician specialists include trauma surgeons, emergency medicine physicians, neurosurgeons, orthopedic traumatologists and orthopedists, plastic surgeons, radiologists, pediatric critical care specialists and others. Trauma nurses, therapists, nutritionists, neuropsychologists, case managers, care coordinators and others round out the team.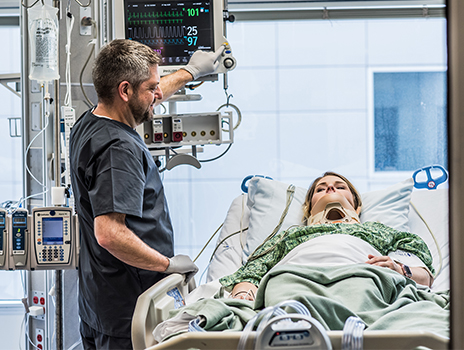 Level I Trauma Care: A crucial difference
All trauma centers are not the same. In fact, more than 90% of U.S. trauma centers lack the on-site multidisciplinary trauma surgeons, critical care physician specialists and other resources the American College of Surgeons (ACS) deems necessary to provide optimal care to injured patients.
Level I Trauma Centers have the resources to provide total care. The University of Kansas Health System offers the region's only ACS nationally verified Level I Trauma Center; the next-closest Level I facility in Kansas is nearly 200 miles away. Fewer than 8% of U.S. trauma centers currently hold this distinction. The hospital received ASC's top verification in 2000 and has held it continuously ever since.
Related links