Skip Navigation
Critically injured patients have access to a full spectrum of care. Our trauma team can mobilize on a moment's notice, when seconds matter. Specialists include trauma surgeons, emergency medicine physicians, neurosurgeons, orthopedists, plastic surgeons, radiologists, nurses and respiratory therapists.
Our coordinators ensure a smooth flow of care for patients and their families, from arrival through discharge and follow-up care. Patients benefit from this higher level of care from the time they enter our trauma center and throughout their stay.
Level I Trauma Center
The University of Kansas Hospital is the region's most experienced nationally verified Level I Trauma Center, designated by the American College of Surgeons. We received Level I verification in September 2000. This recognizes our ability to provide round-the-clock care for patients with the most serious trauma injuries, from admission through rehabilitation and follow-up care.
Only a limited number of trauma programs in the U.S have received the ACS Level I rating, the highest rating a program can achieve.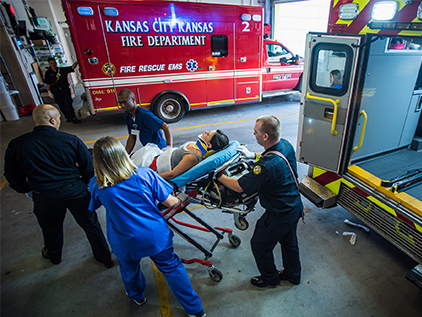 Among the best in the nation
The Level I distinction recognizes our trauma center's ability to provide the highest possible standard of care for the most severely injured patients and those with complex, multisystem injuries.
The University of Kansas Health System trauma program is the region's largest. Our trauma center treats nearly twice as many patients each year as the next-largest facility.