Skip Navigation
We provide the highest level of emergency care for adult and pediatric trauma, burns and other serious emergencies. Our board-certified emergency medicine physicians specialize in trauma care and work together with our trauma surgeons to handle any medical emergency.
Because we are a Level I Trauma Center, a nationally accredited chest pain center and an Advanced Comprehensive Stroke Center, patients receive the highest level of care in our emergency department. This includes critically ill patients who may be experiencing:
Trauma care
Our highly trained trauma surgeons are on site 24/7. These critical care specialists are board-certified intensivists and provide the most advanced and comprehensive care to critically injured patients. As the region's most experienced nationally verified Level I Trauma Center, we specialize in high-acuity patients with complex, multisystem injuries including:
Burns – chemical, electrical, flame and scald
Car accidents
Falls
Gunshot or stab wounds
Emergency surgery
Our team in emergency general surgery, also called acute care surgery, serves patients and collaborating care teams assessing an emergency diagnosis. The team cares for patients upon arrival, through surgery and hospitalization, to postoperative follow-up care appointments. As a high-volume center, our 9 double-board-certified physicians treat more than 2,400 emergency general surgeries each year at our Main Campus in Kansas City, Kansas. Urgent surgical consultation may include the following conditions:
Cholecystitis (gallbladder problems)
Skin infections
Small bowel obstruction
Perforated peptic ulcer
Gastrointestinal bleeding
Ischemic bowel
Severe pancreatitis
Hernias (abdominal and groin)
And more
The health system is one of the nation's first pilot centers to go through the American College of Surgeons Emergency General Surgery Verification Program.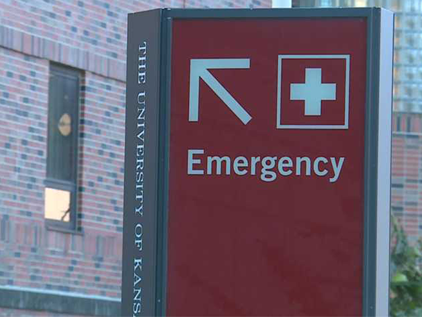 Entrance and parking
The emergency department is accessible from the main hospital location at 4000 Cambridge St. in Kansas City, Kansas. Parking is available in the P3 parking garage across from the heart center.
Visiting the emergency department
The safety of patients, guests and staff is our priority. We screen for health symptoms upon entry and require everyone to pass through a metal detector. Please limit guests to 1-2 per patient. Guests with fever or cold- or flu-like symptoms or who are COVID-19 positive may not accompany a patient into our facilities. Patients may not be seen in the order of arrival. We address the most urgent medical needs first. We often experience high volumes that may entail longer wait times. Learn more about the health system visitor policies.
ED waiting time
We assess each patient's vital signs and condition within the first 5 minutes of arrival at the ED. Anytime you visit the ED, your wait to receive care depends on a number of factors.
Your diagnosis and condition seriousness
Patient volume
Condition of other patients
To help reduce waiting time and speed up the process for noncritical events, we established a rapid evaluation, assessment and treatment area, or REACT.
Time-critical diagnosis
Experience counts when minutes matter. Our emergency and trauma teams include regional EMS professionals who are an essential part of our emergency and trauma teams. Emergency responders begin care and activate the appropriate rapid response team while they're on the way to our hospital. Doctors and nurses at The University of Kansas Health System are ready 24/7 to provide a full spectrum of care for critical patients.
Our team of trauma surgeons, emergency medicine physicians, neurosurgeons, orthopedists, plastic surgeons, radiologists, nurses and respiratory therapists can mobilize on a moment's notice. We're the region's most experienced nationally verified Level I Trauma Center, designated by the American College of Surgeons. Only select trauma programs in the United States have earned the ACS Level I rating, the highest ranking a program can achieve. We received our Level I verification in September 2000.
Together, we are equipped to care for time-critical diagnoses that include:
Time lost is brain lost. Strokes are the No. 1 cause of long-term disability and among the leading causes of death in the U.S. Stroke is treatable if you and your doctors act quickly. We have the resources, staff and training to provide the highest quality care for stroke patients. Our health system was among the first 5 healthcare facilities in the nation – and the only 1 in the region – named an Advanced Comprehensive Stroke Center by The Joint Commission.

The deadliest form of heart attack, STEMI (ST-elevated myocardial infarction), requires prompt, advanced care. Our highly trained, dedicated heart attack team works together with EMS professionals, who can activate our STEMI team from the ambulance or helicopter. This greatly increases your chances of survival. Our health system is an accredited Chest Pain Center recognized by the Society of Cardiovascular Patient Care.

Doctors and nurses provide comprehensive inpatient and outpatient care for patients with complex burns and wounds. Our multidisciplinary burn care team comprises board-certified plastic surgeons, general surgeons, internal medicine specialists, dermatologists, nurses, physical therapists, nutritionists and other medical professionals.

We are the region's only adult and pediatric burn care facility accredited by the American Burn Association and American College of Surgeons.
Nonemergency resources
If you have any doubts about your or a loved one's injury or condition, don't hesitate. Call 911 immediately.
When you need to see a doctor right away but don't require a trip to the emergency department, our urgent care offices offer convenient hours and locations. Nonemergency conditions may include:
Sore throats
Coughs
Fever
Rashes
Minor injuries
Vomiting
Poison Center
Our Poison Center provides information on all types of poison, including poisonous chemicals, plants and snakes. We're available 24/7 from anywhere in the state of Kansas and throughout the Kansas City metropolitan area. Call our hotline at 800-222-1222.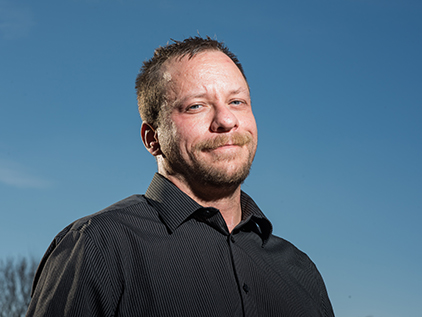 Advanced trauma care saves lives
A motorcycle accident left Jake Moore clinging to life. The trauma care, orthopedics and neurosciences specialists at the region's most experienced Level I Trauma Center collaborated to help Jake make a dramatic recovery.
Read Jake's story

Still the best
Our hospital continues to rank as the best in Kansas City and in Kansas according to U.S. News & World Report.

Magnet-recognized
The University of Kansas Hospital has been designated a Magnet® facility by the American Nurses Credentialing Center since 2006.

Respect for all people
Named a leader in LGBTQ+ Healthcare Equality by the Human Rights Campaign.