Skip Navigation
Autism spectrum disorder (ASD) is a developmental condition that affects behavior, communication and social functioning. Autism symptoms typically appear within the first few years of childhood, and last throughout a person's lifetime. Because autism is a spectrum disorder, symptoms can range from mild to severe. Autism symptoms can also change with time.
There is no cure for autism, but accurate diagnosis and early intervention can greatly improve quality of life for those living with autism spectrum disorder. The University of Kansas Health System focuses on a multidisciplinary approach to autism treatment, including support for families of those with autism.
What is autism?
Autism spectrum disorder begins in early childhood, and can include language delays, unusual behavior patterns, and social function challenges. Over time, even mild autism symptoms cause issues at school, work or in personal relationships.
Most people with autism are diagnosed in childhood. Sometimes symptoms do not include noticeable developmental differences or are mild enough to be missed, in which case autism may not be diagnosed until later childhood or even adulthood.
Types of autism spectrum disorder
The types of autism that doctors currently diagnose used to be considered separate disorders. Today, specialists categorize autism as a spectrum disorder that includes several different forms of autism:
Asperger syndrome symptoms fall toward the milder end of the autism spectrum. Because of this, Asperger symptoms may not be diagnosed until adulthood.

Atypical autism, or Pervasive Developmental Disorder – Not Otherwise Specified (PDD-NOS) includes those people who meet some criteria for other types of autism, but not all. As with Asperger syndrome, autism symptoms for those with PDD-NOS may be mild.

Autistic disorder is sometimes referred to as "classic" autism. Symptoms typically include intellectual disability as well as significant communication and behavioral limitations.

CDD, also known as Heller's syndrome or disintegrative psychosis, is the development of autism symptoms after the age of 3. The primary characteristic of CDD is seemingly normal early childhood development followed by rapid regression.

High functioning autism is similar to Asperger syndrome, but is usually diagnosed earlier due to the presence of early childhood language delays.
Autism symptoms and risks
Autism symptoms are most often seen during early childhood development and can sometimes be observed as early as infancy. Different symptoms are seen in various combinations from person to person, as well as showing differences in severity. Not every person on the autism spectrum will show every symptom, and no 2 people with autism will behave exactly alike.
There are several signs that doctors commonly see in autism spectrum disorder:
Coordination problems
Differences in speech development, including delayed speech
Flat, monotonous or abnormal tone of voice
Intense focus on a single object or topic
Learning disabilities
Not engaging in interactive play
Poor eye contact or avoiding eye contact
Problems expressing and recognizing emotions, including inability to correctly interpret facial expressions
Problems with social interactions, such as missing social cues
Problems with two-way conversation
Problems with verbal and nonverbal communication
Repetitive movements or ritualistic behaviors
Resisting touch, cuddling or being held
Self-harming behaviors
Socially withdrawn
Autism spectrum disorder also often occurs in combination with other health conditions:
Anxiety
Bipolar disorder
Depression
Digestive disorders
Epilepsy or seizures
Immune system disorders
There is no known cause for autism spectrum disorder. Both genetic factors and environmental factors can contribute to autism. Boys are more likely to develop autism than girls, and autism is more likely to affect siblings in the same family.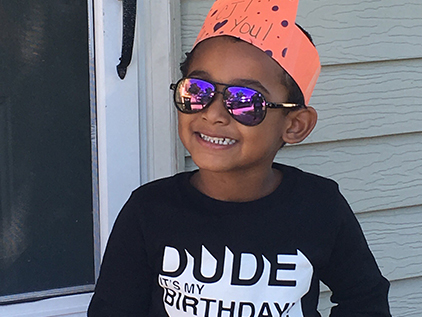 Autism evaluations for military families
For military families concerned their child may have autism, The University of Kansas Health System offers a weekly autism diagnostic and evaluation clinic in Kansas City. Learn more by calling 913-588-6300.
Read one family's story
Autism spectrum disorder treatment
Early intervention is critical to create the best autism treatment plan. Because autism affects a range of communication, behavioral and social skills, our team adopts an individualized approach to treating autism spectrum disorder.
Typically, a combination of different treatments works best for most people with autism, depending on their symptoms:
Communication therapy
Occupational therapy
Speech therapy
Family therapy is typically part of autism treatment as well, to help family members understand better how to better interact with their autistic loved one.
Your doctor may also prescribe medications to help control certain symptoms related to autism, such as anxiety. However, there is no medication that will help improve the core symptoms of autism.

Still the best
Our hospital continues to rank as the best in Kansas City and in Kansas according to U.S. News & World Report.

Magnet-recognized
The University of Kansas Hospital has been designated a Magnet® facility by the American Nurses Credentialing Center since 2006.

Respect for all people
Named a leader in LGBTQ+ Healthcare Equality by the Human Rights Campaign.