Skip Navigation
We provide care for the wide spectrum of lower extremity and foot and ankle conditions and injuries, from the very common to the very complex.
This includes diagnostic, surgery and rehabilitative services across a broad range of conditions:
Acute injuries, including sports-related injuries
Arthritis and other chronic or degenerative conditions
Bunions
Congenital disorders
Foot deformities
Our surgical team specializes in particularly complex reconstructions and has been recognized among the top foot and ankle resources in the region.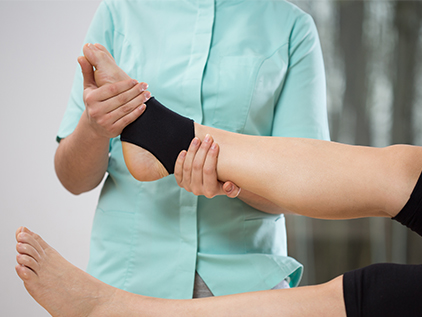 More Achilles injuries?
Dr. Bryan Vopat, orthopedic surgeon at The University of Kansas Health System Sports Medicine and Performance Center, discusses whether Achilles tendon injuries are increasing in athletes, or if it just seems that way. Even though it's your body's largest, strongest tendon, it can be sensitive to harm.
Learn more
Common procedures
Achilles tendon repair
Ankle arthroscopy
Cartilage restoration procedure
Foot and ankle reconstruction
Nerve decompression
Sports medicine arthroscopy
Common conditions treated
Achilles tendinitis
Ankle pain, ankle injuries and ankle fractures
Bunions
Chronic exertional compartment syndrome
Complex fractures of foot and ankle
Degenerative joint disease
Foot pain, foot injuries and foot fractures
Hammer toe
Joint pain
Joint problems
Lisfranc injuries
Nerve pain, pinched nerve
Osteoarthritis/degenerative joint disease
Peripheral neuropathy
Sports-related injuries to the ankle and foot
Sprained ankle
Stress fracture
Tendinopathy
Work-related lower extremity injuries
Our experts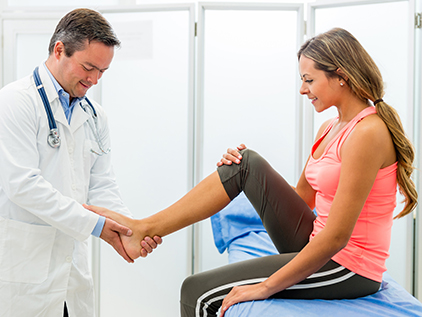 Lisfranc injuries
Bryan Vopat, MD
, an orthopedic sports medicine physician at The University of Kansas Health System Sports Medicine and Performance Center, explains Lisfranc injuries – an injury to a ligament on the bottom of your foot. While it's a small part of the body, the injury can cause major problems for athletes.
Learn more about Lisfranc injuries