Skip Navigation
Rehabilitation is a key component of recovery for those with injuries or conditions that affect mobility, function or speech. At The University of Kansas Health System, we offer a complete range of rehabilitation services. Our programs provide comprehensive, compassionate and customized care to help you reach your goals.
The University of Kansas Health System provides comprehensive rehabilitation services for people in Kansas City, Overland Park and the surrounding areas.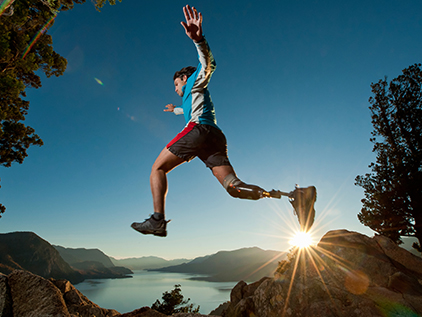 Rehabilitation Medicine
If you are experiencing joint or back pain, complications from sports injuries, stroke or traumatic brain injuries, we can help.
Our experts combine the latest leading-edge research and therapies to restore function and decrease pain. Some of the methods we use include medication, physical therapy, occupational therapy and nonsurgical interventions (joint injections, for example).
To learn more about our treatment of the entire spectrum of musculoskeletal and neurological disorders, please call today.
Our rehabilitation services
Our rehabilitation patients throughout the region receive comprehensive, award-winning care. Our care teams work together to develop personalized rehabilitation plans for each patient based on their needs and goals with input from a variety of specialists.
Physical therapy
Our physical therapy team provides streamlined care to people of all ages and for a wide array of conditions. Our programs are personalized to address each person's needs and goals, and our expert team of physical therapists coordinates care with primary doctors and specialists to ensure the best possible outcome.
Physical therapy helps facilitate independence through therapeutic exercises and training that may include:
Exercises to increase joint mobility and flexibility for arms, legs and trunk
Mobility and ambulatory training
Techniques to reduce and manage pain
Posture, body mechanisms and balance training
Exercises to increase strength, conditioning and endurance
Occupational therapy
Our occupational therapy program helps patients return to activities of daily living, including bathing, feeding, grooming and dressing. Our highly trained occupational therapists work closely with patients and their healthcare team to develop an individualized program for recovery at their own pace. Occupational therapy services include:
Daily activities and adaptive equipment
Techniques focused on energy conservation and work simplification
Fine motor coordination
Functional capacity evaluation
Exercises to strengthen hands and arms, and to increase endurance
Splinting
Visual-perception assessment and training
Work conditioning
Speech and language services
Our speech language pathologists provide expert outpatient and inpatient services for people recovering from conditions that may affect swallowing, communication and thinking (cognitive).
Language and speech services begin with a comprehensive assessment and differential diagnosis. Our expert team then develops a personalized program for patients with disorders that affect:
Communication, such as aphagia, dysarthria, apraxia of speech and tracheostomies
Thinking skills, such as attention, memory and problem-solving disorders
Dysphagia (swallowing disorders), including diagnostic and specialties such as videofluroscopic swallow studies and fiberoptic endoscopic evaluation of swallowing
Explore all rehab services
Our specialty physicians
Our therapy staff work closely with our specialty rehab physicians who are national leaders in rehabilitation, research and education. As part of the largest multispecialty practice in Kansas, they provide leading-edge care at one of the nation's best hospitals. This team of physicians and therapy clinicians works in conjunction with each patient and their family to set personalized, attainable goals after a major medical illness or tragic disability. Together, they can help you regain mobility and independence.
Our distinctions
Our inpatient and outpatient rehabilitation patients receive personalized care at state-of-the-art facilities in Kansas City and Overland Park. Our multidisciplinary teams include expert physicians, rehabilitation nurses, and physical, occupational and speech therapists who work side-by-side to provide you with the best care.
We offer a full spectrum of care for adult and pediatric patients, from surgical to nonsurgical interventions, specializing in a wide array of conditions and disorders. For additional information about locations and conditions treated, visit our locations page.
Our rehabilitation programs
We offer leading-edge rehabilitation programs for a wide range of conditions and diagnoses. Our rehabilitation programs include services for:
Post-concussion
Spine
Parkinson's disease
Stroke
Unique programs and services
The University of Kansas Health System is an academic medical center, which means we treat the most challenging illnesses and conditions. Our rehabilitation experts specialize in a broad range of conditions, disorders and injuries that affect mobility or daily activities, including:
Burn: Our nationally accredited burn center offers a healing environment to meet the physical and psychological needs for the treatment and recovery of adult and pediatric burn patients. Our comprehensive, multidisciplinary team provides leading-edge care to help burn patients regain their health and strength.
Brain injury and neurological conditions: Focusing on both physical and cognitive recovery, our multidisciplinary team helps patients achieve the best possible outcomes while providing supportive education to patients and their families.
Medically complex: As an academic medical center, we care for the sickest of the sick. Our inpatient physical rehabilitation program provides care for patients who may suffer from one or more complicated medical conditions. Our team develops personalized plans that may include physical, occupational and speech and language therapy based on each person's needs.
Balance and vestibular disorders (inner ear): Patients receive a complete evaluation and individualized rehabilitation programs focused on restoring normal balance, orientation and function.
Hand injuries: Our specialized hand rehabilitation clinic is uniquely equipped to handle even the most complicated injuries.
Lymphedema: Our treatment programs address head and neck, upper body and lower body lymphedema resulting from cancer treatment.
Neonatal care: Our tiniest patients receive specialized care throughout the course of their development.
Oncology: For those with cancer, our rehabilitation program uses a multimodal approach to recovery. That means we develop a customized treatment plan that combines the best therapies for your specific condition.
Orthopedic: Our team offers expert, comprehensive and personalized care to decrease pain, prevent reinjury, improve function and help patients resume daily activities.
Posttransplant: Our rehab specialists work closely with the transplant surgery team to help patients regain strength and mobility. We also provide patient education.
Trauma: Our nationally verified Level I trauma center offers comprehensive and intensive care. Our multidisciplinary team works closely with trauma surgeons to care for patients who have suffered a head or spinal cord injury or multi-trauma.
Our rehabilitation programs are personalized to each person's needs so they can achieve the best possible outcome. Our dedicated teams specialize in the treatment and rehabilitation of diverse conditions across all ages.
Why choose us
Ranked among the top hospitals in the nation for quality care
Named as 1 of the "100 great hospitals in America" by Becker's Hospital Review in 2020
Named for 5 consecutive years as the No. 1 hospital in the Kansas City Metro area by the National Research Corporation Consumer Choice Award
See our full list of awards and accomplishments.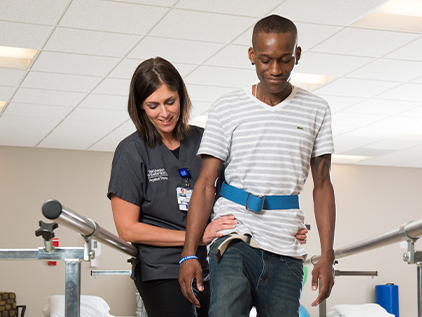 Worth the fight
An inoperable tumor near Allen Collins' spine left him nearly paralyzed, and he was told he may never walk again. But through a combination of radiation treatments, physical therapy and an iron-strong will, he's walking, driving and attending college. Read his story.