Skip Navigation
Every day, your kidneys perform functions vital to your health, like filtering out waste and toxins and helping to control your blood pressure. Kidney disease occurs when the kidneys don't work as well as they should. Without treatment, kidney disease can turn into kidney failure.
At The University of Kansas Health System, our team of specialists works together to decide the best approach to treating your kidney disease symptoms. We offer a range of treatments, including dialysis services and kidney transplant, and customize your treatment plan to your needs.
What is kidney disease?
The kidneys are responsible for filtering excess water and waste products out of the blood and turning them into urine. When the kidneys aren't functioning properly, these toxins build up in the body instead, which can cause a number of unpleasant symptoms and side effects.
Kidney disease impairs the kidneys' ability to process and remove waste products from the blood. There are many different possible causes for kidney disease, which can eventually become kidney failure. Some health conditions that affect the kidneys, such as recurrent urinary tract infections or kidney stones, can cause infections that lead to kidney failure if left untreated.
Types of kidney disease
Kidney disease is classified as either acute or chronic:
Kidney disease symptoms and risks
Left untreated, chronic kidney failure leads to end-stage renal disease. At that point, the kidney has less than 10% normal function and dialysis or transplant is necessary. Symptoms of kidney failure include:
Blood in the urine
Decreased urination
Dry, itchy skin
Frequent infections
Increasing blood pressure
Swelling of the hands and feet
Also called kidney failure or renal failure, chronic kidney disease can result from underlying health conditions such as:
Diabetes: A disorder of the pancreas, diabetes causes an increased level of sugar in the blood. Symptoms of diabetes include extreme thirst, frequent urination, blurred vision and confusion.
Hereditary disorders and congenital birth defects: Hereditary disorders include polycystic kidney disease and spina bifida. Congenital birth defects include being born with only a single kidney or deformities of the kidney, ureter, urethra or bladder.
High blood pressure: High blood pressure, or hypertension, affects the arteries and blood vessels. It increases the risk factor for developing kidney disease, heart attack, stroke and peripheral vascular disease, the narrowing of blood vessels in the arms or legs.
Kidney tumors: These may be noncancerous growths or cancerous growths originating from kidney tissue, such as renal cell carcinoma and Wilms' tumor.
Urinary tract diseases: These affect the urinary tract, which includes the kidneys, ureter, bladder and urethra. Although many forms of kidney disease don't show symptoms until the disease is advanced, there may be warning signs.
Kidney disease diagnosis and screening
To diagnose your kidney disease, your doctor will begin with a physical evaluation and complete medical history. If kidney disease symptoms are present, your doctor may recommend additional tests:
A biopsy that removes a small sample of kidney tissue for closer examination under a microscope
Blood tests to check whether the level of waste products in the blood is too high
Imaging tests to check that kidneys are the correct size and look for other abnormalities, such as kidney stones
Urine tests to check for infection and measure protein levels in the urine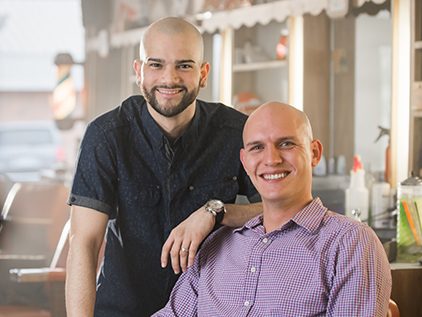 Saving lives with living donation
Born with a rare disease that damages the kidneys, Nate Rivera first went into kidney failure at age 16. His father donated one of his kidneys and saved Nate's life. But 6 years later, Nate's new kidney failed, and none of his family or friends were a match.
Read Nate's story
Kidney disease treatment
Kidney disease treatment may include a variety of therapies depending on your exact diagnosis, your symptoms and the underlying cause of disease. In some cases, medications may improve how you feel and help control complications. However, if your disease is advanced, you may need dialysis or a kidney transplant.
Why choose us for kidney disease treatment
Providing the largest and longest standing solid organ transplant program in Kansas, The University of Kansas Health System delivers the region's most innovative and complex kidney transplant care. If you are facing kidney disease, trust the team that has helped thousands triumph over organ failure to experience a new outlook on life.
Since 1969, people from across the country have placed their confidence in our expertise and commitment to high-quality, comprehensive care. Our experienced team uses advanced surgical techniques to achieve excellent outcomes. Our proven kidney transplant program:
Consistently provides shorter wait times and better outcomes than the national average
Offers recognized transplant surgeons and transplant medicine specialists who deliver innovative surgical care and follow-up
Represents the 4th-largest kidney transplant program in an 8-state region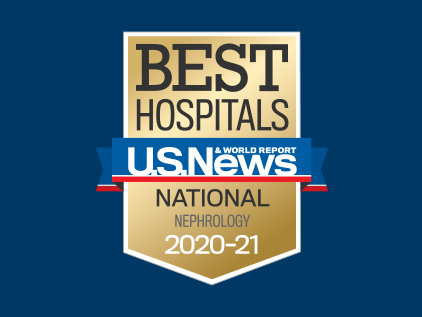 Ranked among the nation's best
Our program ranked among the nation's best in U.S. News & World Report's Best Hospitals 2020-21. Rankings are based on measurable achievements in quality, safety, nursing excellence and more. We are proud to provide you and your loved ones with nationally recognized nephrology care.
Read about this honor