Skip Navigation
Huntington's Disease
Huntington's disease is a genetic disorder in which nerve cells in the brain progressively die. It affects the mind, body and emotions of thousands of people in the United States. The University of Kansas Health System offers advanced resources to help people with Huntington's disease manage symptoms and optimize their quality of life.
What is Huntington's disease?
Huntington's disease is an autosomal, inherited disorder that affects behavior, cognition and motor control. It is an adult-onset genetic disease, passed from parent to child, and requires increasing assistance for the patient over the condition's 15- to 20-year progression. For every affected individual, there may be several more at risk, such as siblings or children who carry the gene, but don't yet exhibit the symptoms.
Huntington's disease symptoms and risks
Huntington's disease affects the entire family. The chances of a child receiving the abnormal gene from a parent are 50%. Every person who carries the gene will develop symptoms if they live long enough. These symptoms include:
Changes in coordination, including involuntary movements, progressing to more pronounced coordination issues and muscle stiffness
Difficulty swallowing
Difficulty thinking through problems
Diminished speech
Psychiatric issues, including irritability that might lead to depression
In the later stages of the disease, it's common to be fully dependent upon a caregiver.
Huntington's disease diagnosis and screening
The University of Kansas Health System offers movement disorder specialists who are entirely dedicated to diagnosing and treating movement disorders such as Huntington's disease. They will evaluate your medical history and perform a complete physical exam. Your evaluation includes:
Behavior assessment
Cognitive assessment
Detailed family history
Medical history
Neurological exam
Physical exam
Psychological exam
Huntington's disease treatment
There is no cure for Huntington's disease, but our care team focuses on helping you cope with the diagnosis and management of the disease. Treatment options may include:
Counseling for you and your caregivers
Medications for movement or psychiatric disorders
Occupational therapy to develop strategies for living at home with the disease
Physical therapy for maintaining strength, flexibility, balance and coordination
Speech therapy for improving the ability to speak or swallow

Still the best
Our hospital continues to rank as the best in Kansas City and in Kansas according to U.S. News & World Report.

Genetic testing
We're 1 of only 2 facilities in Kansas that tests for the Huntington's disease gene.

Interdisciplinary care
We provide comprehensive care to support patients over time.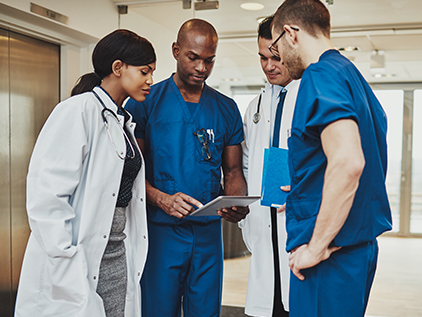 Leading research and clinical trials
As part of one of the nation's premier academic medical centers, our care providers are committed to research and scientific discovery through the University of Kansas Medical Center. We can often include our patients in potentially lifesaving clinical trials and treatment options not available anywhere else.
Our Research
Related links