Skip Navigation
Parkinson's disease cannot be cured, but advanced care can control symptoms and slow disease progression, helping those living with Parkinson's disease to enjoy full lives. We offer expert care and innovative treatment options.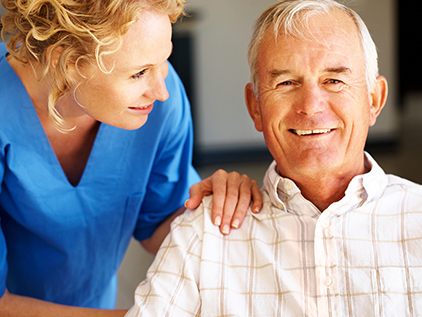 Parkinson's Disease Center of Excellence
We are a Parkinson's Disease Center of Excellence, among just 33 in the country recognized by the Parkinson's Foundation. We are your resource for effectively managing Parkinson's disease.
About Parkinson's disease
Parkinson's disease is a degenerative neurological condition. It affects the nerves in the brain that produce dopamine. When these nerves are damaged, patients may experience tremors, muscle rigidity and changes in gait and speech.
This disease most commonly affects older people, but it can occur in young adults. It is slightly more common among men than women and occurs in about 1% of adults aged 50-65.
Advancing age is the most significant risk for developing Parkinson's disease. The average age of onset is 60 years. Family history also plays a role. A person with a parent or sibling with Parkinson's disease is 4-9% more likely than the general population to develop Parkinson's disease.

Parkinson's disease is a movement disorder that begins slowly and progresses over time. Weakness and muscle stiffness are common early symptoms. Tremors of the head and hands may also occur. Additional possible symptoms include:

Moving slowly, such as when walking
Reduced facial expression and decreased blinking of the eyes
Shuffling gait with little swinging of the arms
Balance difficulties
Swallowing problems
Monotone speech
Stiffness of the arms, legs and trunk

Parkinson's disease can be a challenging disease to manage. The symptoms differ from person to person. So does the effectiveness of medications used for symptom control. Our movement disorder experts have extensive experience in providing care for people with Parkinson's disease. Working with specialists will help you receive the right care at the right time. In many cases, we work with patients over years or decades to slow the disease progression, yet provide the level of control needed as the condition advances.

Your specialized neurologist will take a complete history and perform a detailed exam. By reviewing your symptoms and physical condition, he or she will learn whether you have Parkinson's disease.

After diagnosis, your Parkinson's disease specialist will work with you to determine the most appropriate treatment strategy based on the severity of your condition and your goals for maintaining your desired quality of life. These options span medications and surgeries and include some of the field's most innovative treatment options.

Apomorphine hydrochloride sublingual film (KYNMOBI™) is a medication that treats short-term, intermittent "off" episodes for people with Parkinson's disease. The first drug of its kind, KYNMOBI is placed under the tongue to dissolve over a 3-minute period. Our expert movement disorder team is among just 24 in the nation able to prescribe this advanced treatment, which must initially be given and monitored in the provider's office. Once established on this treatment, patients can easily carry the tabs with them for symptom control during "off" periods.
Carbidopa/levodopa enteral suspension (Duopa™) is an advanced therapy for Parkinson's disease. It involves the direct delivery of medication to the small intestine via a continuous pump. The approach offers more consistent symptom control and eliminates complicated dosing schedules. It helps put an end to what's known as "off" time, which occurs when the effects of a dose of oral medication wear off before it's time to take the next dose.
Deep brain stimulation (DBS), which can be done with patients awake or asleep, depending upon patient and surgeon preference, delivers electrical stimulation to the brain to relieve symptoms for patients with Parkinson's disease. Having performed one of the first DBS procedures in the U.S. and more than 1,000 subsequent DBS surgeries, we are recognized leaders with outcomes well above the national average. One of our surgeons was among the top DBS implanters in the nation for 2017, and our unique team of two physicians and three dedicated nurses programs all of our patients' DBS devices. This unparalleled experience improves results.
A significant challenge in providing effective treatment to patients with Parkinson's disease is knowing how they are doing moment to moment. Movement disorder specialist Rajesh Pahwa, MD, director of our Parkinson's disease and movement disorder programs, is an early adopter of wearable technology, the Personal KinetiGraph™. The mobile device records medication compliance, motor fluctuations and tremors, sets reminders for medication, and monitors patients' daily life. The data supplement information gained in a short clinic visit, helping our physicians plan effective ongoing care.

We also offer specialized occupational therapy to help assess people with Parkinson's disease for the ability to continue to drive safely. Using a driving simulation system, our driving rehabilitation therapist evaluates for:

Motor functions
Brake reaction
Visual functions
Cognitive functions

This testing can confirm the individual's safety to continue to drive or may uncover a need for restrictions or specialized equipment – such as avoiding driving at night or installing hand controls – or the necessity to retire from driving.

Together, our specialists work as an interdisciplinary team to provide complete care for Parkinson's disease and its broader effects on patients. Specialists in your healthcare planning may include neurologists, neurosurgeons, general surgeons, neurophysiologists, neuropsychologists, neuroradiologists, ophthalmologists, psychologists, dermatologists, urologists, anesthesiologists, nurses and therapists.

Still the best
Our hospital continues to rank as the best in Kansas City and in Kansas according to U.S. News & World Report.

Interdisciplinary care
We provide comprehensive care to support patients over time.

Leading researchers
Our providers are also leading researchers. They care for patients today and drive research to develop new treatments.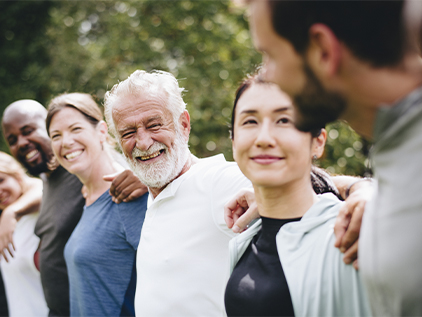 Turning Point
Turning Point offers free classes, programs and tools designed to empower and educate people affected by chronic or serious illness.
Learn more about our services
Our experts
Learn more about our experts in Parkinson's disease treatment.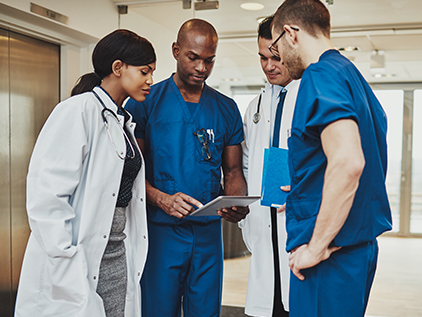 Leading research and clinical trials
As part of one of the nation's premier academic medical centers, our care providers are committed to research and scientific discovery through the University of Kansas Medical Center. We can often include our patients in potentially lifesaving clinical trials and treatment options not available anywhere else.
Our Research