Skip Navigation
Parkinson's disease is a progressive disease that results from nerve cell damage in the brain, which causes decreased dopamine levels. This results in symptoms such as tremors, shaking, stiffness, loss of balance and other involuntary muscle movements.
Parkinson's disease is not curable, but the majority of symptoms can be controlled. At The University of Kansas Health System, we offer expert care and advanced, innovative treatment options to help those living with Parkinson's disease enjoy a full life.
What is Parkinson's disease?
Parkinson's disease is a degenerative neurological condition. It affects the cells in the brain that produce dopamine as well as other chemicals. When these cells are damaged, you may experience tremor, muscle rigidity and changes in walking and balance. Other symptoms can also be present, such as memory loss, depression and anxiety, among others.
This disease most commonly affects people over the age of 60, but it can occur in young adults. It is slightly more common among men than women. Currently, there are approximately 1 million people in the United States with Parkinson's disease.
Parkinson's disease symptoms and risks
Advanced age is the most significant risk for developing Parkinson's disease. The average age of onset is 60 years. Family history may play a role as well as environmental risk factors such as herbicide/pesticide exposure, head injury and other chemical exposure.
Parkinson's disease is a movement disorder that begins slowly and progresses over time. Tremor on 1 side, typically in the hand or arm, is the most common first symptom. Other common symptoms include slowness, stiffness and difficulty with walking and balance. Additional possible symptoms include:
Loss of smell
Monotone speech
Non-motor symptoms such as depression, anxiety, constipation, acting out dreams
Reduced facial expression and decreased blinking of the eyes
Shuffling gait with reduced arm swing, typically 1 side
Small handwriting
Swallowing problems
Parkinson's disease diagnosis and screening
Parkinson's disease can be a challenging disease to diagnose. There are no blood or urine tests, or brain scan to confirm the diagnosis of Parkinson's disease, and symptoms differ from person to person. Your movement disorder specialist will take a complete history and perform a detailed exam.
A review of your symptoms and a physical examination will determine if you have Parkinson's disease. Occasionally, a specialized brain scan, called a DaTscan, can be used to help make the diagnosis.
Our movement disorder experts have extensive experience in providing care for people with Parkinson's disease. Working with specialists will help you receive the right care at the right time. In many cases, our specialists work with people over years or decades to control symptoms and manage medications as the condition advances.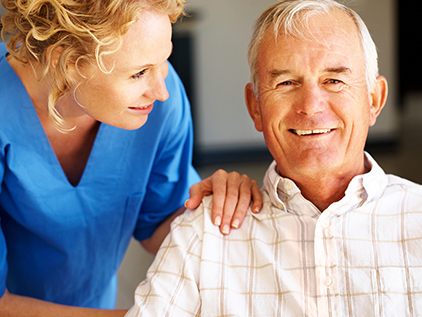 Parkinson's Disease Center of Excellence
We are a Parkinson's Disease Center of Excellence, among just 33 in the country recognized by the Parkinson's Foundation. We are your resource for effectively managing Parkinson's disease.
Parkinson's disease treatment
After diagnosis, your Parkinson's disease specialist will work with you to determine the most appropriate treatment strategy based on the severity of your symptoms and your goals for maintaining your desired quality of life. These options include nondrug therapies, medications and surgeries, including some of the field's most innovative treatment options.

Still the best
Our hospital continues to rank as the best in Kansas City and in Kansas according to U.S. News & World Report.

Interdisciplinary care
We provide comprehensive care to support patients over time.

Leading researchers
Our providers are also leading researchers. They care for patients today and drive research to develop new treatments.
Your Parkinson's disease care team
Together, our specialists work as an interdisciplinary team to provide complete care for Parkinson's disease and its effects. Specialists in your healthcare planning may include:
Dietitians
Neurophysiologists
Nurses and therapists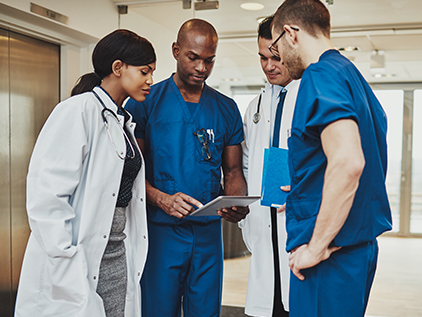 Leading research and clinical trials
As part of one of the nation's premier academic medical centers, our care providers are committed to research and scientific discovery through the University of Kansas Medical Center. We can often include our patients in potentially lifesaving clinical trials and treatment options not available anywhere else.
Our Research