Skip Navigation
Pediatric Cystic Fibrosis
Pediatric Cystic Fibrosis
Pediatric cystic fibrosis is an inherited disease that causes severe damage to the lungs and other organs in the body. The symptoms of cystic fibrosis include thickened, sticky mucus that can clog the airways, leading to breathing problems, lung infections and other serious health concerns.
Today, pediatric cystic fibrosis can be diagnosed in infancy thanks to modern screening tools. Early intervention and treatment are key in ensuring an optimum quality of life for your child. At The University of Kansas Health System, each member of our multidisciplinary cystic fibrosis team is passionate about providing your child with the best cystic fibrosis treatment in Kansas City.
What is pediatric cystic fibrosis?
Cystic fibrosis in children is a chronic disease that requires lifelong treatment and symptom management. A genetic disorder that's inherited from parents, effects of cystic fibrosis can impact the lungs and digestive tract as well as cause reproductive problems.
Children with cystic fibrosis today have a higher quality of life and improved outcomes compared to just a decade ago. Although there is currently no cure for cystic fibrosis, ongoing research continues to make new treatment options available for pediatric cystic fibrosis. As an academic medical center connected to ongoing research, we learn of treatment advances as they are developing. Our patients are often among the first to benefit from these new therapeutic discoveries through access to clinical trials.
Pediatric cystic fibrosis symptoms and risks
The symptoms of pediatric cystic fibrosis vary, depending on many factors. Symptoms can also improve or worsen over time. In some cases, children with mild or atypical cystic fibrosis symptoms can go undiagnosed until adolescence or adulthood.
There are several different symptoms associated with pediatric cystic fibrosis:
Breathing problems or wheezing
Chronic cough that typically produces thick mucus
Constipation
Failure to thrive
Greasy, bulky stools
Increased saltiness in sweat
Lung infections
Persistent sinus problems, such as sinusitis or a chronic stuffy nose
Poor growth
Symptoms can depend on the age of your child at the time of diagnosis. Today's newborn screening programs mean that many children are diagnosed with pediatric cystic fibrosis before they show any symptoms. Because cystic fibrosis is caused by genetics, the primary risk factor is having a family history of cystic fibrosis. Children must inherit the gene from each parent to develop cystic fibrosis. People who only inherit 1 gene become carriers instead who can potentially pass the disease on to their own children.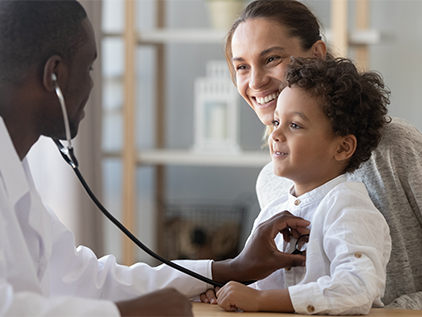 Genetic testing for parents to-be
Genetic testing (carrier testing) allows you to find out your chances of having a child with CF and help inform important family planning decisions.
Learn more
Pediatric cystic fibrosis diagnosis and screening
Newborn screening occurs in all 50 states. This blood test, often known as a newborn screen, is performed in the first 2 weeks of a child's life and includes screening for pediatric cystic fibrosis. This screening checks for about 350 of the most common cystic fibrosis mutations.
If the newborn screen comes back positive for one of the about 350 possible cystic fibrosis mutations, a sweat chloride test is done to either rule out or confirm a diagnosis. The sweat test will measure the amount of salt in a child's sweat. This is often the only test that is needed for diagnosis. However, your child may also have stool evaluation tests to check for absorption of fat, or DNA tests to confirm diagnosis, if needed.
There are more than 2,000 DNA mutations that can cause cystic fibrosis. That's why it is important to follow up for additional care and tests even if only 1 mutation is identified through testing. There is no such thing as a false positive when screening for these mutations.
It is also possible to detect cystic fibrosis through advanced genetic testing during preconception.
Have you received notification from Kansas Newborn Screening Lab about your child being a cystic fibrosis carrier? We can help. Call us for a rapid access neonatal CF consultation at 913-588-6364.
Pediatric cystic fibrosis treatment
Just like every child living with pediatric cystic fibrosis is unique, so is each child's treatment plan. Helping your child maintain and prioritize their health gives them the best opportunity for a higher quality of life.
We believe children with cystic fibrosis should be able to achieve a normal height and weight. Any children in our care who are felt to be at risk receive early nutritional intervention, including:
Early gastrostomy tube placement
Increased outpatient visits
Oral supplementation
Plans for calorimetry monitoring in clinic
Surveillance for liver disease and for CF-related diabetes
We also recognize the importance of closely monitoring infants and toddlers who have been diagnosed with pediatric cystic fibrosis but have not yet developed symptoms. Research shows that children display evidence of disease activity long before noticeable symptoms develop. There are many benefits to beginning treatment at an early age, even before symptoms start, including developing habits that can help maintain your child's health as the condition advances.
Our care center is accredited by the Cystic Fibrosis Foundation. Our team follows care guidelines put forth by the CFF:
Annual blood testing
Annual chest X-rays
Annual mental health screening for of-age patients and caregivers
Clinic visits every 3 months for patients 2 years and older (children under the age of 2 are seen more frequently)
Quarterly spirometry
Quarterly throat/sputum cultures
Quarterly visits with a social worker, dietitian, respiratory therapist and behavioral psychologist
Despite the best efforts of parents and the healthcare team, children with cystic fibrosis do get worse at times. Using the resources of the entire care team, we will create a well-defined treatment plan tailored to the needs of your child:
Close monitoring of spirometry to determine continued need for therapy
Oral antibiotics and/or inhaled antibiotics
Outpatient IV antibiotics taking the place of oral/inhaled antibiotics when necessary
Review of health maintenance being done, or not done, with suggestions for improvement
Continued failure to improve spirometry or other concerning trends, such as weight loss, poor appetite, fatigue or sinusitis, will lead to hospital admission.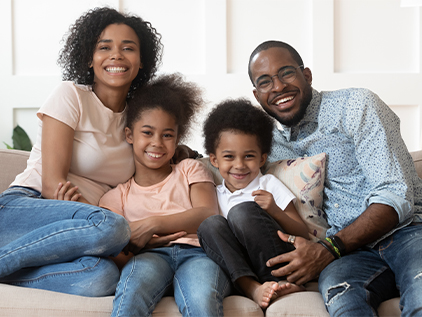 Family Advisory Council
The Family Advisory Council supports health system patients and enhances our quality care. The council is led by family members and caregivers like you.
Get involved
Why choose us for pediatric cystic fibrosis treatment
The University of Kansas Health System is home to our nationally accredited cystic fibrosis care center that cares for both adult and pediatric patients. Our pediatric cystic fibrosis center has cared for children for more than 30 years and we're passionate about providing the most comprehensive and aggressive preventive care possible. Our team takes a highly personalized approach and will partner with you for the best care of your child, including dedicated specialists in the following areas:
Adult care transition
Critical care support
Nutrition (dietitians)
Pharmacy
Program nurse coordinator
Psychology
Rapid access neonatal scheduling
Respiratory therapy
Social work
Our specialists adhere to the practice guidelines of the Cystic Fibrosis Foundation. You can be assured that we will provide thorough and complete oversight of your child's condition. Our patient-centered approach lets us provide the best possible care for children with cystic fibrosis in both our inpatient and outpatient facilities.
We work from a philosophy that maintaining excellent health as a young patient affords the best opportunity for longevity, better quality of life and opportunities to benefit from new therapeutic discoveries that are emerging from pediatric cystic fibrosis research.
Our organization was 1 of 115 participating sites in a clinical trial that led to FDA approval of a breakthrough drug. We were among the nation's first providers of Trikafta™, which dramatically improves quality of life for many patients managing cystic fibrosis.
We also welcome community-based collaboration, quickly and routinely providing telephone and email referring-provider consultations.