Skip Navigation
The interventional radiology team at The University of Kansas Health System has been serving the greater Kansas City area for more than 20 years. Our team of interventional radiologists offers innovative nonsurgical alternatives to treat a number of common medical conditions, such as uterine fibroids and BPH (enlarged prostate).
About interventional radiology
Interventional radiology is the process of using medical imaging to diagnose and treat certain health conditions in combination with minimally invasive surgical procedures. This allows for precise targeting of effective therapy, yet without the significant downtime associated with traditional surgery.
Interventional radiology is a medical subspecialty of radiology. The goal of these physicians is to:
Diagnose and treat patients with minimally invasive techniques
Improve patient outcomes
Minimize patient risk, pain and recovery time
Interventional radiologists need to be skilled not only in the interpretation of diagnostic imaging, but must also be able to effectively manipulate needles, wires, catheter tubes and other precise equipment through the use of imaging control.
Treating conditions throughout the body
Interventional radiology provides diagnostic and therapeutic procedures for conditions throughout the body. Advanced imaging technology, including X-ray, CT-MRI and ultrasound, allows for more precise and targeted treatment with less invasive techniques to minimize risk.
Benign prostatic hyperplasia, or BPH, is the clinical term for an enlarged prostate. The prostate naturally grows as a man ages and continues throughout his life. A healthy prostate will usually stay about the size of a walnut and not cause unwanted side effects. Men with BPH, however, may have a prostate that grows too large and presses down on the urethra. This can result in uncomfortable symptoms like:

Dribbling at the end of urinating
Frequent urination
Inability to empty the bladder
Straining during urination
Weak urinary stream

Our interventional radiologists are experts in diagnosing and treating BPH. They offer all of today's most effective treatment options for an enlarged prostate, including prostate artery embolization. This minimally invasive, nonsurgical treatment has fewer risks and side effects than traditional surgery, and has been shown to reduce the size of the prostate by nearly 30%.

Interventional radiologists specialize in advanced treatment for liver, kidney and colon cancer. The 3 main pillars of cancer care are medical oncology, surgical oncology and radiation oncology.

Interventional radiology was once considered the therapy of last resort, but with advances in technology, interventional radiology is safer and more effective than traditional surgery for many conditions. Today it's the gold standard or 4th pillar of care for patients with melanoma and those who are experiencing cancer of the bone, breast, colon, kidney, liver and lung.

Cancers we diagnose and treat

Our interventional radiology specialists use image-guided, minimally invasive procedures in treating a number of conditions that affect the gastrointestinal system. This may involve concerns with the:

Colon
Kidneys
Liver
Rectum
Small bowel
Stomach

In many cases, these interventional procedures are used to avoid surgery. This innovative approach can offer you greater diagnostic accuracy, treatment options with lower risk and less pain than traditional surgery and quicker recovery.

Our interventional radiologists diagnose and treat a broad range of diseases or injuries of the joints, bones, muscles and spine. Some of these, such as osteoarthritis or osteoporosis, are chronic conditions that are the result of genetics or aging. Others are caused by trauma, the result of a work accident, sports injury or similar occurrence.

Advanced imaging techniques can be used to help our highly trained physicians diagnose medical conditions and assess injury impact far more quickly and accurately than other, more traditional approaches. Diagnostic imaging includes techniques such as:

Computed tomography (CT), a painless exam that combines X-rays with computer scans to create detailed pictures of your organs, tissues and bones in greater detail than X-rays could provide.
Magnetic resonance imaging (MRI), which uses a magnet, radio waves and a computer (i.e., no radiation) to create detailed, 2- and 3-dimensional pictures of your organs and tissues.
Ultrasound, which uses high-frequency sound waves to create images of the soft tissue surrounding bones and joints and observe them in real time as you move.

These imaging techniques can also be used in combination with other technologies to allow our specialists to deliver innovative and minimally invasive treatments for a broad range of conditions. For example:

For such chronic conditions as rotator cuff, runners knee or plantar fasciitis, our specialists can use an innovative treatment that combines ultrasound imaging with a Tenex Health TX™ System MicroTip instrument. The minimally invasive outpatient treatment uses optimized ultrasonic energy to precisely break down and remove only the damaged area of the tendon, leaving healthy tissue undisturbed.
To treat bone tumors, or tumors in the small liver, lung or kidneys, oncology radiologists may use microwave ablation. This minimally invasive procedure uses a CT scanner to locate the tumor and then guide a specialized probe that emits heat generated by microwave energy to ablate or eliminate the tumor.

Interventional neuroradiology focuses on conditions of the brain, head, neck and spine. We provide minimally invasive surgical techniques that allow treatments to remove blood clots from the brain, repair aneurysms and place stents to open blood vessels.

Conditions we diagnose and treat

Our interventional neuroradiologists work with physicians from every specialty. Patients benefit from the expertise of a multidisciplinary team and specialty-trained technologists who provide care for conditions such as:

Acute nosebleeds
Arteriovenous malformation, or AVM
Brain, skull base and spinal tumors
Dural AV fistula (a tangle of arteries in the brain)
Spinal fractures

Our vascular interventional radiologists are dedicated to preventing limb amputation and saving limbs whenever possible. These specialists provide the most advanced and innovative interventions for vessel reconstruction and comprehensive patient care within the vascular clinic.

Conditions we diagnose and treat

Our vascular interventional radiologists are part of a multidisciplinary vascular program and work with physicians from every specialty. Patients benefit from the expertise of an interdisciplinary team that provides care for conditions such as:

Arteriovenous malformations
Deep venous thrombosis
Dialysis arteriovenous fistulas
Gonadal vein embolization
Mesenteric vessel disease

Our interventional radiology specialists recognize your unique concerns. You'll find a number of innovative healthcare services for women of all ages. Advanced diagnostic imaging and minimally invasive treatment options make it possible to address conditions that in the past may have been misdiagnosed or left untreated rather than undergoing complicated surgery.

Breast cancer

The University of Kansas Cancer Center is the only National Cancer Institute-designated Cancer Center in the region. We offer some of the most advanced diagnostic imaging capabilities available, including minimally invasive biopsies.

Pelvic congestion syndrome

In some women, enlarged, varicose-type veins in the vaginal area may result in pelvic pressure and pain, resulting in pelvic congestion syndrome. If this is your diagnosis, our specialists can use nonsurgical embolization to seal off those veins. This is typically an outpatient procedure in which no incisions or stitches are required, allowing you to return to normal activities within a few days.

Uterine fibroids

Although usually benign, fibroid tumors can cause pain and discomfort. Uterine fibroid embolization is a minimally invasive treatment option designed to starve the fibroid tissue by blocking the flow of blood.

Vascular issues

We offer treatment for vascular conditions like varicose veins, deep vein thrombosis, chronic venous occlusion and arterial disease. These are just a few examples of abnormal vascular conditions that can benefit greatly from advanced diagnostic capabilities and minimally invasive surgical options.
World-class clinical expertise
Our fellowship-trained interventional radiologists are board-certified by the American Board of Radiology and have earned a certificate of additional qualification. They are trained in performing more than 300 procedures that diagnose and treat a variety of conditions, including brain aneurysms, stroke, some cancers, kidney disease, GI disorders and more.
Our interventional radiologists also participate in hospital tumor board meetings. These conferences allow specialists from multiple disciplines to collaborate and discuss difficult cases. This facilitates treatment planning and helps physicians determine therapies offering potentially better outcomes.
We are the only academic medical interventional radiology program in Kansas. Among Vizient (UHC) hospitals, our program has been in the top 1% of hospitals nationwide for overall interventional radiology volume. Every day, our specialists perform more than 50 image-guided, minimally invasive procedures that offer reduced risk, quicker recovery and less pain.
Interventional radiology services
Interventional radiology combines advanced imaging capabilities with minimally invasive therapies to treat a broad range of conditions. Some of the services available include:

Still the best
Our hospital continues to rank as the best in Kansas City and in Kansas according to U.S. News & World Report.

Magnet-recognized
The University of Kansas Hospital has been designated a Magnet® facility by the American Nurses Credentialing Center since 2006.

Top academic medical center
Earned Vizient's 2018 Bernard A. Birnbaum, MD, Quality Leadership Award; ranked 5th out of 99 academic medical centers studied.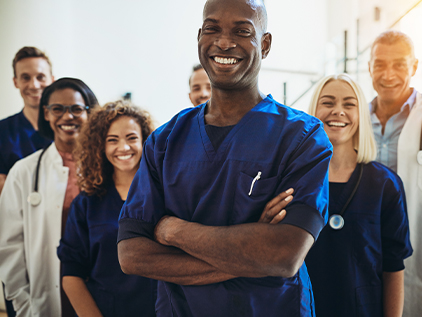 Find a doctor
Doctors at The University of Kansas Health System are care providers and researchers at the forefront of new medical discoveries. From primary care to complex conditions, we offer hundreds of specialists.
Find a doctor
Our interventional radiology locations
1. The University of Kansas Hospital

4000 Cambridge St.
Kansas City, KS 66160

2. The University of Kansas Hospital/The Women's Cancer Center

10710 Nall Ave.
Overland Park, KS 66211