Skip Navigation
Infant Care
Becoming a parent is an exciting, yet challenging, time. At The University of Kansas Health System, we're here to help make your transition to parenthood as easy as possible. Our care team provides education and support as you learn about your new little one, including:
Infant behavior
Infant nutrition and feeding guidelines
Infant safety
Mother care (psychological, emotional and physical)
Newborn care (cord care, bathing)
Sleep safety
You can make our hospital like home for your new baby's care needs. Newborns can transition to our pediatric and adult care programs. No other hospital in the region provides care throughout every stage of life.
Full-term nursery care
Postpartum and newborn care for all healthy late, preterm and term babies born at our hospital is provided in our newly renovated mother/baby unit and nursery. This care is provided at the same location, by the same caregivers, and with the same family-centered approach that guided your prenatal care and delivery.
Our team of pediatric specialists offers comprehensive care and monitoring of your baby. If your baby has special care needs, we are adjacent to the neonatal intensive care unit, NICU. You'll still have access to your newborn at all times and will be included in routine care whenever possible.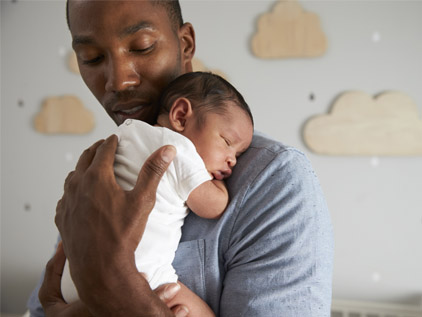 Free virtual newborn class
If you are expecting or recently have had a baby, register for our free virtual newborn class. The class covers common questions about the newborn phase and includes a Q&A with a pediatrician. Sessions are offered each month and registration is required.
Register now
Breastfeeding support
We provide new moms with the highest quality of care available. This includes certified lactation specialists – available day or evening and on weekends – to provide breastfeeding support and assist with all feeding needs. Outpatient lactation follow-up support is free of charge after you leave the hospital.
Bonding with your new baby
Our care is designed to give moms and new babies as much time together as possible.
A transition nurse will attend your delivery and work with your delivery nurse to coordinate your care during the first 2 hours after delivery. The transition nurse cares for your baby at the bedside, assists you with breastfeeding and completes your baby's initial health assessment and bath.
If your baby does not have special care needs, you will be transferred together to a room on the mother/baby patient care area, where a special couple care nurse will care for you and your baby.
Moms are encouraged to room-in with their babies.
Moms will have time to hold their new little ones, whenever possible. We encourage skin-to-skin contact immediately after birth for healthy moms and babies.
You will be cared for by the same nurse who cares for your little one.
NICU – When your baby needs more help
Experienced physicians and staff in the nearby Level III Neonatal Intensive Care Unit provide around-the-clock care for newborns who need specialized treatment and monitoring. This includes babies born prematurely and those with certain illnesses. Nurses also help parents bond with their babies and provide education on how to care for these infants at home.
Period of PURPLE crying
The University of Kansas Hospital is one of the first in the Kansas City metro to implement this program that helps parents prepare for the stress of a crying baby. Before they leave the hospital, parents watch a video to learn about the crying cycles of infants. We want to stress most of all that it's OK to step away and take a break.
Safe discharge
Your baby's first trip will likely be in your vehicle, and we want to help you make sure your child's car seat is safe and properly installed. Parents can have car seats inspected by appointment. The hospital also offers an instruction video on car seat safety and guidelines.
Follow-up call
Approximately 2 weeks after delivery, you will receive a follow-up call from your nurse. She will speak with you regarding any concerns you may have and, if interested, contraception options. An assessment will also be taken using a postpartum screening tool and your 6-week postpartum visit will also be scheduled.
Safe Haven
This program is designed to protect newborn children who are not wanted or cared for by their parents. Instead of abandoning an unwanted baby, a parent can hand an uninjured baby to someone who is on duty at an officially designated Safe Haven location, without fear of prosecution for abandonment.
Related links