Skip Navigation
Postpregnancy Care
The transition from pregnancy into motherhood isn't always easy. Pregnancy, followed by labor and delivery, can take a physical and emotional toll. At The University of Kansas Health System in Kansas City, we offer comprehensive postpregnancy care for new moms after childbirth.
What is postpregnancy care?
The first 6 weeks after giving birth are considered a recovery period, even if your pregnancy and delivery were relatively easy. During this period, it's important for women to have access to the support and resources they need to heal, rest and transition into the challenging role of mothering a newborn.
Care for women after childbirth can include services for both mother and infant, depending on your unique needs:
Education and support for postpartum depression
NICU care for premature births or other serious health conditions
Our experienced team is here to help answer any questions you have about caring for yourself and your baby. We offer a variety of information and resources for care after childbirth.
What to expect postpregnancy
You can plan to stay at the hospital between 1-4 days after giving birth, or possibly longer if you experienced complications during your pregnancy or delivery. Your nurse or doctor will follow up with you at 2 weeks after delivery, and also schedule a 6-week postpartum visit.
During this period, your doctor may ask screening questions related to warning signs of postpartum depression, such as persistent sadness or loss of pleasure that:
Doesn't fade after 2 weeks
Gets worse
Includes thoughts of harming yourself or your baby
Makes it hard for you to care for your baby
Makes it hard to complete everyday tasks
About postpartum depression
Within the first 2 weeks of childbirth, about 80% of new mothers experience "the baby blues." New moms with the baby blues have mild sadness and emotional ups and downs. However, if these symptoms persist in duration or worsen in severity, they may be symptoms of postpartum depression.
Postpartum depression is a mood disorder that arises following the birth of a baby and is characterized by persistent sadness and/or loss of pleasure in normally enjoyable activities. It can also include changes in eating and/or sleeping habits (sleeping either more or less), difficulty concentrating or making decisions, feelings of hopelessness, guilt or worthlessness or thoughts of suicide or harm to others.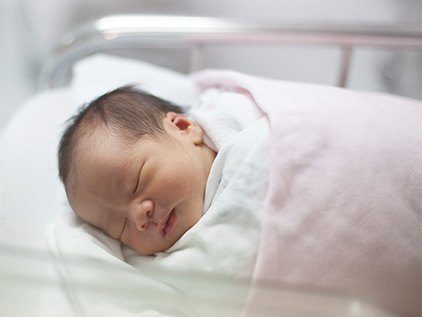 Give your baby the best start
The University of Kansas Physicians is the largest multispecialty medical practice in the Kansas City area. Here, you have immediate access to a team of experts covering more than 35 specialties and programs.
Our pediatric care
Postpregnancy resources and support
Not every woman requires specialized care after childbirth. For those women who do benefit from postpregnancy care, resource options may include:
Infant feeding and nutritional guidelines
Infant safety education
Lactation services
Postpartum depression screening assessments
Programs to help prepare parents for the stress of a crying newborn
Psychological, emotional and physical support
Specialty care for newborns who require around-the-clock intensive care
Why choose us for postpregnancy care
We know what it means to be a new parent, and our pediatricians are here to help. You can rest assured that our team of pediatric specialists offers comprehensive care to meet your child's care needs, today and for a lifetime. Our team of experts, covering more than 35 specialties and programs, can help your little one from birth through adolescence and beyond.
Our medical staff includes pediatricians and pediatric specialists who treat children with all types of simple and complex conditions, illnesses and behavioral developmental conditions.
As an academic medical center, we're always discovering better ways to help children stay healthy and get well faster. Our multidisciplinary team of experts works to find answers. This lets us incorporate some of the latest advances into your child's care. It's all part of making sure we are always advancing the power of medicine.
Related links