Skip Navigation
Vasculitis is an uncommon autoimmune disease that causes inflammation of the blood vessels. Arteries, veins and capillaries can all be affected by vasculitis, and the symptoms can range from mild to life-threatening. Early detection and treatment of vasculitis symptoms is critical to prevent long-term damage.
The University of Kansas Health System includes specialists who are skilled in treating all types of vasculitis. As part of an academic medical center, we're also connected to ongoing research and offer the latest treatments available through access to clinical trials.
What is vasculitis?
Vasculitis is an inflammation of the blood vessels that causes them to narrow. This narrowing can restrict blood flow, which can lead to organ and tissue damage.
In some cases, vasculitis may only be short-term and improve without treatment. Other types of vasculitis can be long-lasting and require more advanced management of symptoms to prevent serious complications. Vasculitis can be primary (occurring on its own) or secondary (occurring as the result of a different health condition).
Types of vasculitis
There are many different types of vasculitis, which are categorized according to the size of the blood vessel affected:
Vasculitis symptoms and risks
The symptoms of vasculitis vary depending on the location of the blood vessels affected as well as the progression of the disease. General signs that are associated with vasculitis include:
Fatigue
Fever
Generalized aches and pains
Weight loss
However, depending on the specific organs that are impacted by vasculitis, you may notice additional symptoms:
Digestive or GI tract symptoms, such as bloody stools, ulcers or pain after eating
Hearing loss, tinnitus (ringing in the ears) or dizziness
Numbness, weakness or swelling/hardening of the hands or feet
Red or itchy eyes, double vision and blindness (temporary or permanent)
Red spots, open sores or lumps on the skin
Shortness of breath or bloody discharge when coughing
Risk factors for vasculitis vary depending on whether the condition is primary or secondary, but can include a family history of vasculitis, the presence of an autoimmune disorder like rheumatoid arthritis, a history of blood cancer or a history of hepatitis. Vasculitis can also occur as a reaction to certain medications.
Vasculitis diagnosis and screening
Your doctor will begin the process of diagnosing vasculitis by asking questions about your medical history and performing a physical exam. From there, your doctor may recommend 1 or more additional diagnostic tests:
Your doctor may also perform these tests through the course of your treatment to see whether your vasculitis symptoms show signs of improvement.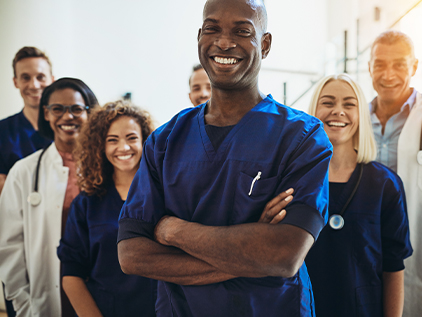 Find a doctor
Doctors at The University of Kansas Health System are care providers and researchers at the forefront of new medical discoveries. From primary care to complex conditions, we offer hundreds of specialists.
Find a doctor
Vasculitis treatment
The most common treatment for vasculitis is an oral corticosteroid, which may be recommended for long-term therapy. Due to the potential for negative side effects associated with long-term corticosteroid use, your doctor may prescribe additional medication to allow the dosage of corticosteroids to be reduced more quickly.
In some cases, surgery may be necessary to repair the damage caused by vasculitis – for example, to repair an aneurysm. Arteries that are blocked by the effects of vasculitis can require surgery to restore the flow of blood to the affected organ.

Still the best
Our hospital continues to rank as the best in Kansas City and in Kansas according to U.S. News & World Report.

Magnet-recognized
The University of Kansas Hospital has been designated a Magnet® facility by the American Nurses Credentialing Center since 2006.

Respect for all people
Named a leader in LGBTQ+ Healthcare Equality by the Human Rights Campaign.