Skip Navigation
Rheumatoid arthritis (RA) is an autoimmune disease that causes painful joint inflammation as well as other symptoms. Since RA is a disease that affects many systems in the body, successful treatment often requires the collaboration of multiple specialists to develop an individualized care plan for each person with this condition. The University of Kansas Health System offers all of these specialties available within 1 organization, offering you streamlined, coordinated continuum of care to manage your rheumatoid arthritis symptoms.
What is rheumatoid arthritis?
The immune system normally protects us from infection and illness. But in people who have rheumatoid arthritis, the immune system receives a mixed signal – or doesn't function properly – which causes inflammation in the joints.
The first symptom of rheumatoid arthritis is often joint pain, but RA can also affect other systems in the body. Without treatment, rheumatoid arthritis can cause long-term damage to the joints as well as other potentially serious complications.
Types of rheumatoid arthritis
Rheumatoid arthritis is often diagnosed at least in part by blood test results that indicate the presence of certain proteins or other blood factors. These test results can indicate the type of RA that's present:
Rheumatoid arthritis symptoms and risks
Joint pain is the most common symptom of rheumatoid arthritis, as well as joint swelling and reduced range of motion. RA is described as symmetrical because it typically affects both sides of the body. Many joints can be affected but the mostly commonly affected joints include the fingers, wrists and toes.
Because RA is an autoimmune disease, many people with rheumatoid arthritis show symptoms that are common to other autoimmune disorders. It's also common for more than one autoimmune disorder to be present at one time.
People can be diagnosed with rheumatoid arthritis at any age. RA symptoms affect women more frequently than men. In fact, women are 3 times more likely to be diagnosed with RA than men.
Rheumatoid arthritis diagnosis and screening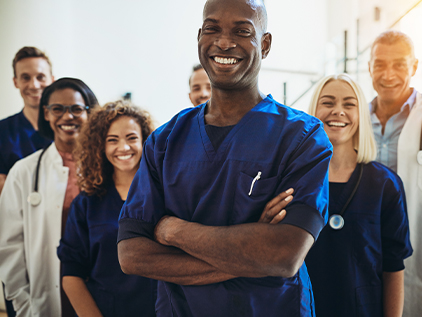 Find a doctor
Doctors at The University of Kansas Health System are care providers and researchers at the forefront of new medical discoveries. From primary care to complex conditions, we offer hundreds of specialists.
Find a doctor
Rheumatoid arthritis treatment
If you have rheumatoid arthritis, you and your doctor will together determine which medications are right for you, based on your physical condition and lifestyle needs.
The primary treatment for RA is taking medications that target the immune system. These medications are referred to as immunosuppressants. There are 2 main categories of immunosuppressants used to treat RA:
Your physician may also refer you to a physical or occupational therapist for part of your treatment. Here, you may learn exercises for joint flexibility, or you may learn new ways to perform routine tasks, such as getting dressed.

Still the best
Our hospital continues to rank as the best in Kansas City and in Kansas according to U.S. News & World Report.

Magnet-recognized
The University of Kansas Hospital has been designated a Magnet® facility by the American Nurses Credentialing Center since 2006.

Respect for all people
Named a leader in LGBTQ+ Healthcare Equality by the Human Rights Campaign.
Your rheumatoid arthritis care team
There are a number of specialists who can treat RA and the complications that arise from the disease. Your care team may include specialists from the following areas:
Cardiologists


Specializing in all types of heart conditions that may be impacted by RA

Pulmonologists


Specializing in treating patients whose lungs and breathing have been impacted by RA

Infectious disease physicians


Specializing in the treatment of patients with infections that may result from RA