Skip Navigation
Our team of specialized epileptologists – neurologists in Kansas City with deep training specific to epilepsy – is committed to helping you successfully control or cure epilepsy to maximize safety and quality of life. Our epileptologists focus exclusively on epilepsy care and offer comprehensive, best-practice medical, surgical and psychological treatment options. They'll help you progress toward seizure freedom.
Our Level 4 Epilepsy Center provides complete and advanced services. It is the only center of its kind in the state of Kansas.

Compassionate care
In 2018, our dedicated epileptologists provided care to more than 2,500 patients.

Level 4 Epilepsy Center
We are the only Level 4 Epilepsy Center in the state of Kansas accredited by the National Association of Epilepsy Centers.

Still the best
Our hospital continues to rank as the best in Kansas City and in Kansas according to U.S. News & World Report.
About epilepsy
Epilepsy occurs when the brain's nerve cells fire abnormal electrical charges, causing seizures. One in 26 people will develop epilepsy. About 3.4 million people throughout the nation live with epilepsy, including 252,720 in Kansas and Missouri. Epilepsy affects people of every age and is the fourth most common neurological disorder.
A seizure occurs when a group of brain cells become hyperactive. This leads to a variety of involuntary symptoms that a person may experience.
Epilepsy can be triggered by genetic factors, Alzheimer's disease or other congenital conditions such as Down syndrome. Epilepsy itself is not fatal, although injury or death are possible if seizures occur at dangerous times, such as while driving.

Common symptoms of epilepsy include:

Seizures
Temporary confusion
Staring spells
Uncontrollable jerking movement of the arms and legs
Loss of consciousness or awareness

The generalized tonic-clonic seizure is the most familiar type. It affects the entire brain and body, causing rigidity, convulsions and sometimes loss of consciousness. But no single seizure type defines epilepsy. Seizures differ patient by patient, varying based on the part of the brain affected by the condition.

Seizures may be triggered by:

Failure to take medication as prescribed
Flashing or flickering lights
Lack of food or sleep
Stress

We offer the most advanced expertise and technologies for making correct diagnoses. Through inpatient and outpatient services, we obtain all the information we need to determine:

The type of epilepsy
The precise origin of the seizure activity
The cause of the seizures

Diagnostic tools may include:

Electroencephalogram (EEG), a measurement of the brain's electrical activity and the primary test used to diagnose epilepsy
24/7 video EEG monitoring to determine the type and origin of seizures
Magnetic resonance imaging (MRI) with epilepsy protocol that helps providers locate subtle lesions
Functional MRI (fMRI), which allows care teams to localize language, motor and vision activities in the brain and includes specialized oversight by a neuropsychologist
Positron emission tomography
Ictal single-photon emission computerized tomography
Neuropsychological tests

Our specialty focus, collaborative approach to care and position as a premier academic medical center at the forefront of research and discovery combine to give you access to a complete range of treatment options. We create personalized care plans based on your condition and wishes.

Treatment options include:

Medication treatment. About 65% of people with epilepsy can be free of seizures with 1-2 seizure medications. Our experts help you assess the most effective medication options for controlling seizures while monitoring and managing any accompanying side effects.
Surgical treatment. Research indicates that people who continue to have seizures after trying 2 different medications have a less than 4% chance of finding success with additional medications. For individuals with drug-resistant epilepsy, we offer the latest surgical techniques:

Minimally invasive laser thermal ablation brings surgical precision to the removal of diseased tissue while protecting the surrounding healthy tissue.
Responsive neurostimulation is implanted technology that senses seizures and stops them before patients become aware they have begun.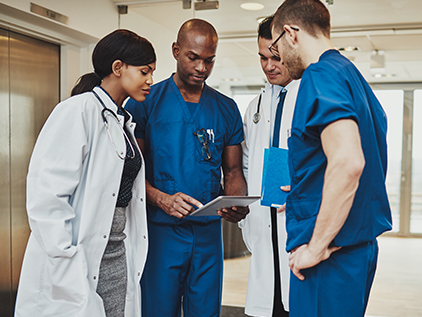 Leading research and clinical trials
As part of one of the nation's premier academic medical centers, our care providers are committed to research and scientific discovery through the University of Kansas Medical Center. We can often include our patients in potentially lifesaving clinical trials and treatment options not available anywhere else.
Our Research
Frequently asked questions
In simple terms, epilepsy is a condition in which a person's brain has a tendency to have seizures more often than average. We typically reserve this term for someone who has suffered 2 or more unprovoked seizures in their life. A seizure occurs when a group of brain cells becomes hyperactive or hypersynchronized. This leads to a variety of involuntary symptoms that a person may experience.

Seizures and epilepsy can begin at any age. Although a large population of people with epilepsy is individuals younger than age 10, another large population includes those older than 65.

There are many causes of epilepsy, including genetics or a brain injury, such as stroke, tumor, infection, head trauma, scar tissue or autoimmune disorder. Sometimes even with sophisticated testing, we cannot identify the cause.

Some of the most common side effects of all seizure medications are sedation, fatigue and dizziness. Starting at a lower dose and slowly working up on the dose limits these side effects. Additional side effects vary depending on the medicine. There should always be a full discussion with your doctor so you know what to watch for. Although less common, allergic reactions such as rash and changes in mood should be monitored and discussed with the prescribing provider. Long-term side effects of certain seizure medications, in particular some of the older medicines, include liver damage and osteoporosis.

The larger group of patients with epilepsy can stop having seizures with 1-2 seizure medications. However, about 35% of patients will continue to have some seizures despite treatment with medications. In this group of patients, further testing by an epilepsy specialist is can help investigate additional treatment options, such as surgery.
Innovative treatments for epilepsy
We provide innovative technology found only at the best epilepsy centers in the country and nowhere else in the region. This means our patients receive the highest level of medical and surgical treatment for complex epilepsy.
New treatments
Why choose us
Our epileptologists in Kansas City team with additional specialists whose expertise benefits people with epilepsy. Epileptologists, neurosurgeons, neuropsychologists, neuroradiologists, clinical psychologists, pharmacists, nurse specialists and nurse practitioners all come together to optimize every patient outcome. This collaboration can make a crucial difference in your care.
Our Level 4 Epilepsy Center, accredited by the National Association of Epilepsy Centers, is the only one of its kind in the state of Kansas. We earn and retain this meaningful designation

–

held by only about 100 epilepsy programs in the country

–

by delivering proven, best-practice care and offering medical, neuropsychological and psychosocial care for people with drug-resistant epilepsy.
We offer specialized care for women with epilepsy who are or wish to become pregnant.
Support The University of Kansas Health System
Make a difference in the lives of thousands of patients in Kansas City, the region and beyond. Your gift will help us provide the best care to patients and families today and for years in the future.
Donate now
Our epilepsy experts 
Learn more about our leaders in epilepsy care and research.