Skip Navigation
Peripartum care is care during the time before, during and after childbirth. At The University of Kansas Health System, our team of board-certified, fellowship-trained physicians provides the most up-to-date, evidence-based peripartum mental healthcare at one of the nation's best hospitals.
Up to 1 in every 5 women will suffer from a maternal mental health disorder related to pregnancy, but less than 15% will receive treatment.
As a collaborative care model across obstetrics, maternal-fetal medicine and psychiatry, patients and referring providers have access to support before, during and after childbirth for improved mental healthcare.
Maternal mental health conditions treated
Biological, psychological and social factors can lead to a range of conditions including:
Anxiety
Baby blues
Bipolar disorder
Depression (including pregnancy/postpartum depression)
Family history of peripartum mental health disorders
Obsessive compulsive disorder (OCD)
Posttraumatic stress disorder (PTSD)
Schizophrenia
Maternal mental health services
Prenatal mental health disorders are a leading cause for preterm delivery and fetal demise (stillbirth). Untreated mental health disorders estimate a cost to society of $14.2 billion annually in the U.S. However, the risks for mental health disorders can be mitigated with proactive, collaborative care including:
Counseling
Maternal-fetal medicine expertise
Medication management
Referring provider consultations, including medication recommendations
Subspecialized psychiatry
Telehealth and in-person provider consultation
Treatment plans for management in the primary care setting
Women's health specialized social workers
And more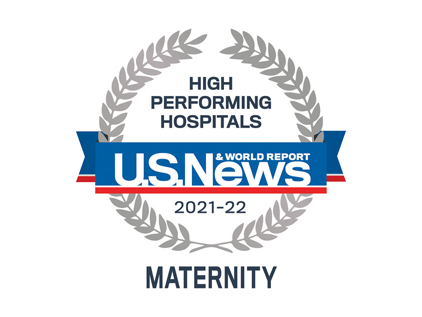 Recognized among the nation's best
U.S. News & World Report recognized The University of Kansas Hospital with the highest ranking for adult maternity care for uncomplicated pregnancy. Hospitals that performed well had fewer newborn complications, fewer early deliveries and fewer C-sections compared to other hospitals across the nation. We are proud to provide mother and baby with nationally recognized care.
Read about this honor