Skip Navigation
An introduction to telehealth
At The University of Kansas Health System, we are always committed to providing efficient, convenient, high-quality care.
To make it easier for you and your loved ones to receive the care you need, we are now offering telehealth services. Telehealth allows you to connect with a provider electronically from the comfort of your own home.
So what is telehealth exactly? Telehealth simply means that care is provided from a distance – with the provider and patient in different physical locations – using common technology.
Telehealth options give you the flexibility to have a meaningful interaction with your provider using common devices such as a computer, a smartphone or a tablet.
We offer telehealth visits for a wide variety of primary and specialty care needs. We also have different options depending on how you would like to interact with your provider. Let's look at each option now.
The first option is a Telehealth Video Visit. This option offers two-way live communication between you and your health system provider so you can see and hear each other. This visit works best for most needs, especially when you are experiencing new symptoms that need to be evaluated. Your local provider can also use a telehealth video visit to consult with your health system provider – and may even choose to do this with you during your office visit.
Another option we have is a Telephone Visit. This option allows you to communicate with your provider using audio only by phone. Using this option, you can expect your provider to ask follow-up questions to determine the best course of care. It works best for prescription changes, refills or pre-existing conditions or therapies.
You can also take advantage of an option called Care Messaging. This entails communicating with your care team through the messaging center in MyChart. You won't see or hear your provider in this visit time, but can request care in a message any time. Your care team will respond as quickly as possible, usually within 24 hours.
Now that you know more about what telehealth is and your options, let's take a look at how it works.
You will receive messages in MyChart, our patient portal, regarding preparing for your appointment and joining your telehealth visit at the scheduled time. To receive these messages and engage in your telehealth visit, all you need is an internet connection and a computer or handheld device with audio and video. We use Zoom as our telehealth meeting place. It provides the safe, secure, easy-to-use environment where you and your provider will meet.
We are committed to your care and appreciate your trust in us. We hope telehealth services will provide you with convenient, efficient ways to receive care. Call your provider's office or 913-588-1227 to learn whether telehealth is right for you.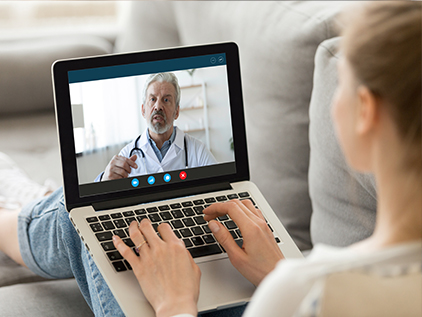 Prepare for your telehealth visit
Learn to prepare your computer, tablet or smartphone for a telehealth visit. And learn how to connect with your healthcare provider when your appointment time arrives.
Get started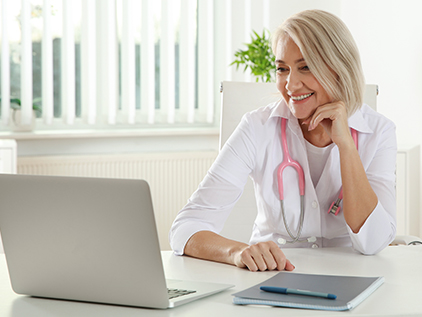 Telehealth success
A 100-year-old patient recently enjoyed her first telehealth experience. Her doctor comments on the experience, which the patient's 99-year-old husband helped set up.
Read their story
Related links