Skip Navigation
If you are dealing with kidney disease, you can take confidence in the fact that we are nationally recognized among the leading kidney treatment and research centers in the country.
Our board-certified specialists diagnose and treat patients with common kidney diseases as well as those with rare disorders. This comprehensive range includes chronic kidney disease, hypertension, fluid electrolyte problems, hematuria, proteinuria, glomerulonephritis, system lupus erythematosus, kidney stones, polycystic kidney disease and Fabry's disease.
A full spectrum of services 
We offer dialysis and kidney transplant programs, as well as diagnostic studies related to the entire spectrum of medical renal disease. As an academic medical center, we often can provide unique treatments and resources that may not be available elsewhere. Our faculty physicians are renowned experts and are actively involved in clinical research that translates to advances and improvements in kidney care.
Just as prevention and early detection are essential to controlling kidney disease, education and awareness of relevant risk factors are essential to managing its progression. We take a multidisciplinary approach to kidney-related problems and promote ongoing patient education and support to help you effectively manage your disease and maintain a healthy lifestyle.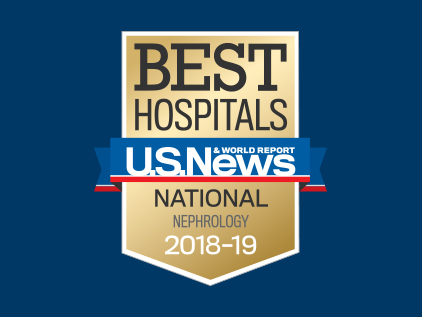 Ranked by U.S. News & World Report
Our nephrology program ranks No. 39 among the nation's top 50 in U.S. News & World Report's Best Hospitals 2018-19. Rankings are based on measurable achievements in quality, patient safety, nursing excellence and other best patient care indicators. This is our ninth time to achieve the honor.
Kidney dialysis and transplant center
Nationally recognized kidney program
The University of Kansas Hospital is nationally recognized as one of the leading kidney treatment and research centers in the country. Our physicians diagnose and treat patients with common kidney diseases and rare disorders. As an academic medical center, the hospital provides unique treatments and resources that may not be available elsewhere.
Dialysis center
At our dialysis center, patients receive high-quality, compassionate care from a specialized team of physicians, registered nurses and support staff. The center's dietitians and social workers provide education and support to help patients manage their conditions and maximize the quality of their lives. Dialysis is offered at 2 convenient locations, and many patients are able to perform dialysis at home.
Outpatient nephrology
Our full-service general nephrology clinic evaluates and treats patients in a clinic setting for a broad spectrum of kidney diseases and conditions. These include chronic kidney disease and its complications, glomerulonephritis, proteinuria, hematuria, hypertension, nephrolithiasis, electrolyte disorders and acid-based disturbances, and polycystic kidney disease, as well as disorders associated with systemic medical illnesses such as end-stage liver disease, lupus and multiple myeloma. We facilitate consultation with nonrenal subspecialists and other health professionals such as dietitians or social workers. We also arrange for procedures such as diagnostic imaging, renal biopsies, intravenous infusions and, when necessary, the creation of vascular or peritoneal accesses in preparation for chronic dialysis.
Region's leading kidney transplant team
The University of Kansas Hospital has the highest 3-year success rate for kidney transplant survival among all transplanting centers in Kansas, Missouri, Nebraska and Iowa.
All of our physicians are faculty members at the University of Kansas School of Medicine. As experts in their field, they teach medical students, residents and laboratory professionals innovative approaches to diagnosing, preventing and treating kidney disease.
The Kidney Institute
The Kidney Institute is dedicated to research of polycystic kidney diseases, progressive renal diseases and disorders of kidney development and metabolism. More than 30 scientists, plus more than 100 research associates, graduate students, fellows and support staff, are directly associated with the institute.
Nephrology locations
1. Orthopedics and Medical Pavilion

2000 Olathe Blvd.
Level 4C
Kansas City, 66160 KS

OFFICE HOURS

Mon

8:00 a.m. - 4:30 p.m.

Tues

8:00 a.m. - 4:30 p.m.

Wed

8:00 a.m. - 4:30 p.m.

Thur

8:00 a.m. - 4:30 p.m.

Fri

8:00 a.m. - 4:30 p.m.

Sat

Closed -

Sun

Closed -

2. Quivira Specialty Care

12000 W. 110th St.
Overland Park, KS 66210

OFFICE HOURS

Mon

8:00 a.m. - 4:30 p.m.

Tues

8:00 a.m. - 4:30 p.m.

Wed

8:00 a.m. - 4:30 p.m.

Thur

8:00 a.m. - 4:30 p.m.

Fri

8:00 a.m. - 4:30 p.m.

Sat

Closed -

Sun

Closed -

3. The University of Kansas Hospital

Center for Transplantation
4000 Cambridge St., BH1134
Kansas City, KS 66160

OFFICE HOURS

Mon

7:00 a.m. - 5:00 p.m.

Tues

7:00 a.m. - 5:00 p.m.

Wed

7:00 a.m. - 5:00 p.m.

Thur

7:00 a.m. - 5:00 p.m.

Fri

7:00 a.m. - 5:00 p.m.

Sat

Closed -

Sun

Closed -

4. RAI Dialysis Care Center

4720 Rainbow Blvd.
Suite 200
Westwood, KS 66205

OFFICE HOURS

Mon

8:00 a.m. - 4:30 p.m.

Tues

8:00 a.m. - 4:30 p.m.

Wed

8:00 a.m. - 4:30 p.m.

Thur

8:00 a.m. - 4:30 p.m.

Fri

8:00 a.m. - 4:30 p.m.

Sat

Closed -

Sun

Closed -

5. RAI Dialysis Care Center

6401 Parallel Pkwy.
Kansas City, KS 66102

OFFICE HOURS

Mon

8:00 a.m. - 4:30 p.m.

Tues

8:00 a.m. - 4:30 p.m.

Wed

8:00 a.m. - 4:30 p.m.

Thur

8:00 a.m. - 4:30 p.m.

Fri

8:00 a.m. - 4:30 p.m.

Sat

Closed -

Sun

Closed -

6. RAI Dialysis Care Center

13201 W. 98th St.
Lenexa, KS 66215

7. KU Wichita Center for Health Care

Center for Transplantation
8533 E. 32nd St. N.
Wichita, KS 67226

OFFICE HOURS

By appointment only.

-

Sat

Closed -

Sun

Closed -