Skip Navigation
When anorectal disorders cause major impairment in the functioning of the colon or rectum, colorectal surgery may be necessary. Colorectal surgery is a broad term covering a wide range of procedures that can be used to treat and repair disorders in the colon, rectum and anus.
The colorectal surgical team at The University of Kansas Health System offers high-quality, evidence-based care for all disorders of the colon and rectum. We manage the most complex cases with a multidisciplinary approach that includes advanced treatments and leading-edge technologies.
What is colorectal surgery?
Colorectal surgery generally refers to surgical procedures that treat conditions and disorders in the colon and rectum. Some examples of colorectal surgical procedures include:
Colectomy refers to the surgical removal of the large intestine, either fully or in part. This procedure is also referred to as colon resection.

Colonoscopy is a procedure that helps diagnose disorders in the colon and rectum to determine whether surgery is necessary.

Colostomy is a procedure where a surgeon creates a stoma, an opening in the abdomen that is connected to the digestive or urinary system in order to aid in expelling waste matter. A colostomy creates a stoma connected to the large intestine.

Hemorrhoidectomy is the surgical removal of hemorrhoids and is usually performed only when other hemorrhoid treatments have not provided relief.

Ileostomy is similar to a colostomy except that a stoma is created in the area of the lower part of the small intestine called the ileum.

Laparoscopic colorectal surgery is a surgery where your physician will make several small incisions. A thin tube will be placed into one of the small incisions to see your colon on the screen and surgical tools will be placed in the others. The part of the colon causing problems will be removed, and depending on the surgery, the two ends of the colons will be joined.

Polypectomy is a procedure to remove abnormal growths called polyps from the lining of the colon. Polyps are typically harmless, although some may become cancerous over time.

Robotic da Vinci colorectal surgery is a minimally invasive surgery that uses mechanical arms and a computer. The screen will show the surgeon 3D images rather than the 2D images shown during a typical laparoscopy. The surgeon controls robotic arms to perform the surgery.

Sphincterotomy corrects anal fissures, or small tears in the lining of the rectum in cases where other treatments or lifestyle changes have not provided relief.

Stoma revision corrects problems with stoma that sometime arise after a colostomy or ileostomy.

The Doppler-guided THD procedure is an alternative to traditional hemorrhoid surgery. It is an option for people who may not be candidates for a hemorrhoidectomy, including patients who take blood thinners. This same-day procedure is less painful than traditional surgery and allows patients on blood thinners to continue them. Recovery time is also shorter than with a hemorrhoidectomy.
Who can have colorectal surgery?
Anyone who experiences an injury or disorder of their colon and rectum could need colorectal surgery. Colorectal surgery is common for those who suffer from a range of diseases, from colon cancer to Crohn's disease.
Some other common conditions that may be treated by colorectal surgeons include:
Anal fissures, abscesses and fistula
Bowel obstruction and incontinence
Cancer of the colon, rectum and anus
Diverticulitis
Hemorrhoids
Polyps
Rectal prolapse
Most of these conditions can initially benefit from medical treatments and lifestyle changes. However, surgical intervention may be required to improve your quality of life. In the most severe cases, colorectal surgery can be lifesaving.
How does colorectal surgery work?
Colorectal surgeries carry the same risks as other surgeries, so your care team will carefully plan out the procedure in detail beforehand. Minimally invasive techniques are employed whenever possible to reduce the risk of complications and shorten your recovery time.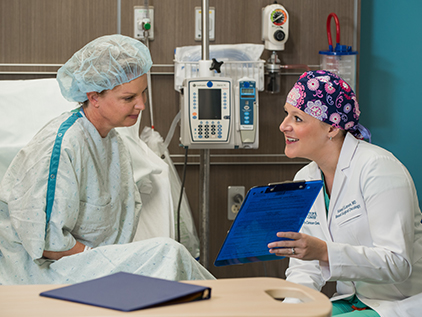 Cancer care you can count on
The University of Kansas Health System is part of The University of Kansas Cancer Center – 1 of fewer than 60 NCI-designated comprehensive cancer centers in the nation.
Our cancer care
Benefits and risks of colorectal surgery
Surgery of any type carries risks as well as benefits. The primary benefit of colorectal surgery is that the procedure typically represents a significant improvement in your overall quality of life.
Risks associated with colorectal surgery are similar to those of other surgical procedures, such bleeding, infection, blood clots in the legs, and postoperative discomfort. Your risk for surgical complications is greatly reduced through the expertise of your surgeon along with careful planning and recovery management after the surgery is performed.
What happens during colorectal surgery?
The type of colorectal surgery performed depends on the condition being treated, but usually involves the removal or physical modification of the colon or rectum. The creation of a stoma, or an opening into the digestive tract through the abdomen, is a common outcome of colorectal surgery. The complete or partial removal of a failing or cancerous colon is also common.
Why choose us for colorectal surgery
Our staff of surgeons and medical professionals are experts in their field. Aside from treating patients, they also work to research new methods of treatment and train future colorectal doctors who practice patient-focused medicine.
Colorectal surgeons are an integral part of the multidisciplinary healthcare team at The University of Kansas Health System, which also includes gastroenterologists, oncologists and a wide range of doctors and nurses focused on helping you recover and improve your quality of life after surgery.