Skip Navigation
Inflammatory Bowel Disease
Inflammatory Bowel Disease
Inflammatory bowel disease (IBD) describes different disorders that cause chronic inflammation of your digestive tract. It can cause symptoms ranging from abdominal discomfort to severe abdominal pain, diarrhea, rectal bleeding and unintentional weight loss, affecting or reducing quality of life. With this condition, you may alternate between active symptoms followed by times of remission. Inflammatory bowel disease is a challenging road, but at The University of Kansas Health System in Kansas City, we can help.
About IBD
Inflammatory bowel disease affects about 1.6 million Americans. For some, IBD causes just mild symptoms, but for others, the condition is more severe and interferes with daily living and enjoyment of life.
IBD may present in several forms:
Crohn's disease


which can affect any part of the gastrointestinal tract from mouth to anus, but most commonly involves the small intestine

Ulcerative colitis


which occurs in the large intestine and rectum
Celiac disease


a genetic condition that results in small bowel inflammation after eating wheat or foods that contain gluten

Collagneous colitis


and lymphocytic colitis, in which examination of the colonic biopsies under a microscope reveal inflammation
These diseases occur when a dysregulation in the immune system causes inflammation and damage to the digestive system's lining. IBD can also affect other body parts, causing oral ulcers or lesions, skin lesions, eye problems, joint pain or anemia.
Symptoms and risks
While the exact causes of IBD are unknown, it is important to recognize the risk factors. IBD affects men and women equally and tends to run in families.
It is important to meet with an experienced IBD specialist to obtain an accurate diagnosis. IBD experts evaluate patients with chronic diarrhea and abdominal pain to identify possible IBD. They will run a series of investigations to arrive at an accurate diagnosis.
You should visit your healthcare provider and IBD specialist if you have:
Abdominal pain or cramping
Diarrhea
Rectal bleeding
An urgent need to have a bowel movement or the feeling that a bowel movement is incomplete
Constipation
Fever
Weight loss
Fatigue
Skin lesions or redness
Eye problems
Oral problems
Diagnosis, treatments and procedures
To ensure an accurate diagnosis, we begin the appointment with a medical history and complete physical examination. We may do a blood draw to check your red and white blood cell counts. A high white blood cell count is a sign of inflammatory bowel disease. Other tests may include a stool culture, an upper endoscopy, a colonoscopy or a biopsy of your colon.
The IBD experts at The University of Kansas Health System in Kansas City collaborate as a team to provide comprehensive, coordinated care. Leading the first and only multidisciplinary IBD clinic of its kind in the state of Kansas, our doctors work together to accurately diagnose patients and create individualized treatment plans.
Collaborative specialists who may play a role in your care include:
Colorectal surgeon
Dermatologist
Endocrinologist
Gastroenterologist
Nurses
Nutritionist
Ophthalmologist
Pathologist
Pharmacist
Psychiatrist
Psychologist
Radiologist
Rheumatologist
Social workers
When we begin caring for a new patient with known or possible IBD, we take a detailed history and conduct a thorough physical. Receiving results of previous investigations by referring providers also helps us learn your history. We will likely order bloodwork and imaging and may recommend an upper or lower endoscopy (colonoscopy). You may be asked to swallow a tiny camera capsule that will help us capture images along your entire digestive tract.
Our team offers a complete range of medical, surgical and complementary treatment options depending upon your individual goals and disease progression. We treat not only IBD itself, but also the related symptoms and challenges that show the disease is affecting other parts of the body. We treat every patient holistically.
Beyond ulcerative colitis and Crohn's disease, our experts treat:
Autoimmune enteropathy
Bowel stricture
Chronic diarrhea
Colitis
Eosinophilic gastroenteritis
Fistula
Peri-anal abscess
Peri-anal fistula
Proctitis
Rectal bleeding
Short bowel syndrome or short gut syndrome
We also offer education and support for ostomy care and reversal.
Our infusion center provides expertise and convenience for patients receiving infusions for IBD treatment. Your infusion will be administered at one of our health system locations, but subsequent infusions can be received in your home for your ease and comfort.
Why choose us
Our IBD specialists are among the nation's leaders in providing comprehensive care for this chronic disease and its complications. We deliver treatment with skill and compassion. We build relationships that support patients through all phases of medical, surgical and complementary care.
We offer patients the combined experience of a multidisciplinary team. Specialists working together bring viewpoints that lead to personalized care plans. These clinical leaders together form an IBD center of excellence, the first and only one of its kind in the state of Kansas.
We provide care at the Medical Pavilion on our main campus in Kansas City and also have a dedicated IBD clinic at The University of Kansas Health System Indian Creek Campus. The first-class new venue extends access to advanced care into Overland Park, Kansas, providing both quality and convenience. We also provide care at the Quivira Multispecialty Clinic in Overland Park.
As the teaching hospital affiliated with the University of Kansas Medical Center, our team is involved in research and clinical trials. We hope these will yield additional treatments and even a cure for IBD. Our patients can often participate in clinical trials not available elsewhere. Visit the medical center's website to learn more about research initiatives.
Our doctors
Learn more about The University of Kansas Health System's leaders in inflammatory bowel disease research and patient care.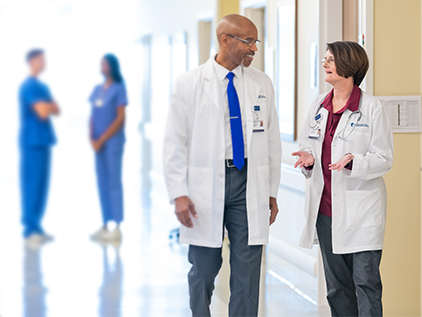 IBD resources
These organizations provide resources to help you learn more about inflammatory bowel disease and related conditions.