Skip Navigation
Dorsal Root Ganglion (DRG) Stimulation
Dorsal Root Ganglion (DRG) Stimulation
For people who want an effective option for chronic regional pain syndrome (CRPS) treatment, The University of Kansas Health System in Kansas City offers an innovative procedure. Proclaim™ neurostimulator system for dorsal root ganglion (DRG) stimulation is an FDA-approved, minimally invasive form of pain relief that treats chronic pain associated with CRPS.
What is dorsal root ganglion stimulation?
DRG stimulation provides targeted pain relief for those with difficult-to-treat chronic pain – particularly in the foot, knee, hip or groin. This therapy is effective for people with CRPS who have been unable to treat their condition with medication, spine care rehabilitation or traditional spinal cord stimulation (SCS).
The dorsal root ganglion is a bundle of nerves located on the outside of the spinal cord. DRG stimulation uses a surgically implanted device that targets the dorsal root ganglion, relieving the lower limb pain that's the primary symptom of CRPS. The recipient can then use a controller to adjust the stimulation settings to their individual needs and preferences.
Who can have DRG stimulation?
The Proclaim™ neurostimulation system treats people with chronic neuropathic pain associated with CRPS. It is effective for people whose pain is concentrated in the lower limbs and may be an option if you have:
Chronic pain that has lasted 6 months or more
Isolated chronic pain in a lower part of the body, such as the foot, knee, hip or groin following an injury or surgical procedure
Little or no relief from traditional neurostimulation, surgery, pain medications, nerve blocks or other pain management therapies
Been diagnosed with CRPS and have not found relief with rehabilitative physical therapy
How does dorsal root ganglion stimulation work?
DRG stimulation therapy works by sending gentle electrical pulses to the dorsal root ganglia. The precise placement of the pulse generator and leads allows for direct targeting in the area where the pain comes from.
The pulse generator and leads are surgically implanted beneath the skin. When activated with the help of a handheld controller, the leads send small pulses to the dorsal root ganglion, which blocks the pain response.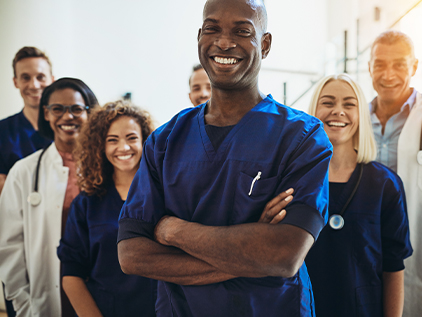 Find a doctor
Doctors at The University of Kansas Health System are care providers and researchers at the forefront of new medical discoveries. From primary care to complex conditions, we offer hundreds of specialists.
Find a doctor
Benefits and risks of DRG stimulation
The traditional treatment for chronic pain has been opioids, which carry a high risk of addiction and overdose. However, the use of neuromodulators like DRG stimulation carry a relatively low risk and recipients report significant results. Your doctor will go over the potential risks and side effects as well as the benefits of DRG stimulation during your consultation.
What happens during DRG stimulation?
Before getting the implants needed for DRG stimulation, your doctor will conduct a thorough medical history and physical evaluation to make sure you're a good candidate. Implantation of the DRG stimulation device is an outpatient surgery that's usually performed under light sedation.
Your doctor will make a small incision in your back to insert the needle that places the leads in the appropriate area. After placement, the leads are connected to the pulse generator that contains the battery. Once the leads and pulse generator are properly positioned, your doctor will close the incision.
Recovery after DRG implant surgery should be fairly easy, although there are some specific movements you'll need to avoid for several weeks to prevent moving the implanted leads. Your doctor will give you more information about what to expect before, during and after implantation surgery once your surgical date is set.

Still the best
Our hospital continues to rank as the best in Kansas City and in Kansas according to U.S. News & World Report.

Magnet-recognized
The University of Kansas Hospital has been designated a Magnet® facility by the American Nurses Credentialing Center since 2006.

Respect for all people
Named a leader in LGBTQ+ Healthcare Equality by the Human Rights Campaign.