Skip Navigation
Fertility preservation saves eggs, sperm or reproductive tissue so you can have biological children in the future. It can also be helpful for those who want to be able to conceive. Our care team supports fertility preservation for specialized populations including men, women, trans men, trans women, nonbinary and pediatric patients.
The University of Kansas Health System offers advanced fertility preservation services for people in Kansas City, Overland Park and throughout Kansas and the region. As part of an academic medical center, we provide the most up-to-date fertility preservation options to give you the best outcome.
About fertility preservation
Most people can have fertility preservation. It can be used in adults, adolescents and pediatric patients for medical or social reasons. Some of the reasons people have fertility preservation include:
Wanting to delay having children
Wanting to have children after cancer treatment
Having certain diseases or disorders that affect fertility
Having a genetic disease that affects fertility
Certain surgical procedures
Your fertility preservation options
We offer complete retrieval, cryopreservation and banking of reproductive eggs, embryos, ovarian tissue, sperm and testicular tissue for fertility preservation.
Egg freezing: Eggs are retrieved and cryopreserved for transfer later.
Embryo freezing: Fertilized eggs are cryopreserved and banked for postponed implantation.
Ovarian tissue freezing and transplantation: An ovary (or part of an ovary) is surgically removed and cryopreserved. While this procedure was once experimental, it no longer is. It's a proven treatment. We have completed more than 10 successful procedures of this type.
Medical treatments for fertility preservation: We use the most up-to-date reproductive technology for fertility preservation.
Our comprehensive laboratory performs all aspects of andrology and embryology services.
Fertility preservation for men
Our male fertility preservation services include sperm banking and cryopreservation of testicular tissue.
Sperm banking: A semen sample will be frozen and stored. At a later date, the sample can be used for artificial insemination or in vitro fertilization. This may be an option:

Before treatments that might cause the loss of sperm production, such as chemotherapy, radiation or hormone therapy
Prior to military deployment to allow for continued partner treatment
Prior to vasectomy

Testicular tissue cryopreservation: A sample of testicular tissue is frozen and stored. When the time comes, sperm will be extracted directly from the testicular tissue sample and intracytoplasmic sperm injection (ICSI) can be performed with a female's egg.
Fertility preservation and cancer treatment
Many people who have fertility preservation are going through cancer treatment. Certain cancer treatments can cause temporary or permanent infertility.
Our experts in advanced reproductive medicine work with adults, adolescents and children who are concerned about preserving their fertility throughout cancer treatment. Regardless of where you receive cancer treatment, we can help you take steps to preserve your fertility before receiving chemotherapy, radiation or surgery.
Ovarian transposition
The University of Kansas Health System in Kansas City offers ovarian transposition for women having cancer treatment who want to preserve their fertility. This surgical procedure helps you avoid radiation that could negatively affect your fertility by moving the ovaries away from the radiation field. Ovarian transposition is often best for young cancer patients who are treated with radiation only, and can be performed alone or in combination with another surgical procedure.
LIVESTRONG Fertility
For patients with a cancer diagnosis, LIVESTRONG Fertility provides resources and financial support to those whose cancer and its treatment present risks to their fertility.
Fertility and transgender medicine
Our health system provides health, wellness and support to the LGBTQ+ community. We offer fertility preservation for nonbinary, transgender men and transgender women as part of our ongoing, comprehensive transgender medicine care.
Why choose us
We are the only facility in the region that offers tissue freezing (ovaries and testicles) and serves children and adolescents who may be going through cancer treatment.
We are the only regional center with membership in the Oncofertility Consortium – a national initiative to explore the reproductive future of cancer survivors.
We offer same-day/next-day appointments for cancer patients. We also perform a baseline fertility examination pre- and post-treatment to evaluate your current fertility and anticipated fertility following treatment.
We provide streamlined care that is personalized to your needs. We work together with other physicians, specialists and members of your care team throughout the process, collaborating with them regularly.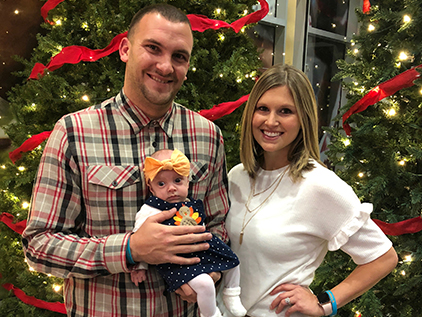 Fertility care helps couple achieve dream
Thanks to fertility preservation, Rebecca Hertzog Burns was able to have a successful pregnancy after cancer.
Read their story