Skip Navigation
The pancreas is an essential organ that is involved in the digestion of food and regulation of sugar in blood. When a pancreas fails, it causes major disruption to the functioning of the body. A pancreas transplant is a type of surgery in which an unhealthy pancreas is replaced with a healthy pancreas from a deceased donor.
The University of Kansas Health System is a leader in organ transplant and has earned a reputation for excellent patient outcomes and compassionate care. Our transplant specialists have decades of experience diagnosing, treating and managing pancreatic disorders. Their expertise with high-risk, complex cases ensures you receive personalized, exceptional care.
What is a pancreas transplant?
A pancreas transplant is a surgical procedure where a healthy pancreas is transplanted into the body to replace one that has failed due to advanced pancreatic disease. The goal of a pancreas transplant is to restore the function of the pancreas.
Pancreas transplants are often performed on those people with advanced diabetes or cancer. In some cases, a pancreas transplant may be performed alongside other surgical procedures such as a kidney transplant.
Who can have a pancreas transplant?
Pancreas transplant surgery may be a treatment option for people who are diagnosed with pancreatic cancer. Most pancreas transplants are used to treat type 1 diabetes, however.
Type 1 diabetes is a chronic disorder in which the pancreas produces very little or no insulin. Because the body needs insulin to regulate its level of blood sugar, a lack of insulin will lead to worsening sickness and eventually death. Insulin injections can supplement a lack of natural insulin in the body, but must be taken regularly for a lifetime.
A pancreas transplant can reduce or eliminate the need for insulin injections, greatly improving quality of life as well as increasing survivability.
How does a pancreas transplant work?
A pancreas transplant works by implanting a healthy insulin-making pancreas into the body. Transplanting a pancreas differs from other pancreatic surgeries such as the Whipple procedure because it restores the normal functioning of the pancreas with the goal of removing the need for continual supplements and medication.
The level of pancreas disease determines the type of pancreas transplant. There are 3 types of pancreas transplant.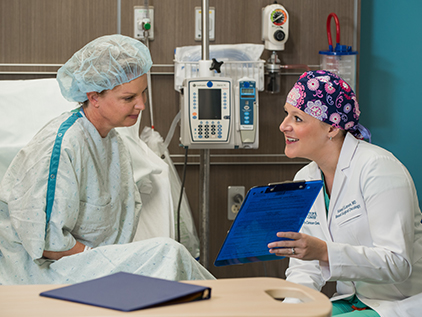 Cancer care you can count on
The University of Kansas Health System is part of The University of Kansas Cancer Center – 1 of just 54 NCI-designated comprehensive cancer centers in the nation.
Our cancer care
Benefits and risks of a pancreas transplant
All surgical procedures carry some risk. Infection, bleeding and complications from anesthesia or medication are common risks associated with surgery. Organ transplants have the additional complication of possible transplant rejection.
Survival rates of organ transplants are very good, however, and have improved greatly thanks to innovations in technique and immunosuppressant medication therapy. The main benefit of having a pancreas transplant is that it allows you to live a normal life, including offering freedom from the need to take insulin injections.
What happens during a pancreas transplant?
As a surgical procedure, a pancreas transplant requires you to prepare beforehand by limiting eating and drinking. People having a pancreas transplant receive general anesthesia.
The pancreas sits in the middle of the abdomen, so access is typically gained from the belly area below the sternum. In most cases the existing pancreas will be left in place to continue producing digestive enzymes. The donor pancreas is also connected to the digestive tract using a small piece of the donor's intestine called the duodenum.
The donor pancreas is often placed below the existing pancreas to allow for easier access to major blood vessels. The donor pancreas is often connected to the blood vessels of the legs.
A pancreas transplant normally takes 4-6 hours. People who have had previous surgeries may remain in surgery longer.

Still the best
Our hospital continues to rank as the best in Kansas City and in Kansas according to U.S. News & World Report.

Magnet-recognized
The University of Kansas Hospital has been designated a Magnet® facility by the American Nurses Credentialing Center since 2006.

Respect for all people
Named a leader in LGBTQ+ Healthcare Equality by the Human Rights Campaign.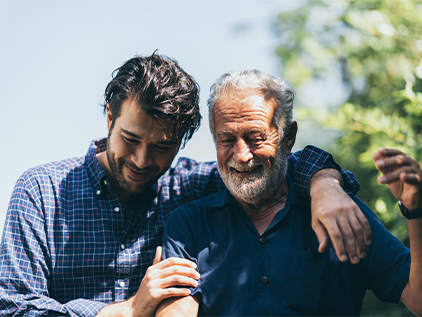 Exploring the gift of life
Could organ transplant be right for you? Request an evaluation today. Our team will be happy to talk with you and support you through your health journey.
Request an evaluation