Skip Navigation
Prostate Artery Embolization
Prostate Artery Embolization
Prostate artery embolization (PAE) is a minimally invasive procedure used to treat benign prostatic hyperplasia, or BPH. Because BPH is an enlarged prostate gland, the goal of PAE treatment is to reduce the size of the prostate and decrease any symptoms that negatively affect your quality of life.
The interventional radiologists at The University of Kansas Health System are skilled at performing the prostate artery embolization procedure. Together, they'll work with you to determine whether PAE is the right solution to help ease the discomfort you may be experiencing as a result of your BPH.
What is prostate artery embolization?
Prostate artery embolization uses microscopic beads to block the blood flow to the prostate, which deprives the cells of oxygen and ultimately helps the gland shrink in size. Once the prostate is no longer putting pressure on the urethra, you can experience improvement of urinary symptoms such as frequent urination, incomplete bladder emptying, weak urine stream and painful urination.
If you're actively seeking treatment for BPH without going through drug or surgical treatment, prostate artery embolization treatment may be the right choice for you. The PAE procedure can be ideal for those people who don't want traditional surgery, or for those who aren't good candidates for surgical BPH treatment.
Who can have prostate artery embolization?
As a minimally invasive procedure that preserves sexual function, nonsurgical PAE is an alternative to medications and surgical BPH treatment options. Many men find this procedure beneficial when compared to more complex treatment methods. If any of the following are true for you, you may be a candidate for nonsurgical PAE:
You have BPH, or are experiencing symptoms associated with BPH
You have reactions to BPH medication or would prefer another route of treatment
You're looking to preserve sexual function during BPH treatment
You're not a candidate for BPH surgical treatment
How does prostate artery embolization work?
During your PAE procedure, your interventional radiologist will make a small incision, through which a tube (catheter) can be inserted. This tube will be guided to the blood vessels that lead to your prostate. Tiny particles are then injected into the catheter. These microspheres help limit the amount of blood the prostate can receive, which causes it to shrink.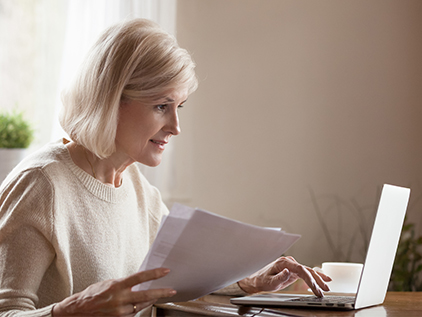 Get started as a new patient
Before your first appointment, sign up for MyChart. MyChart allows you to fill out new patient paperwork, get directions to your appointment and communicate with your care team.
Sign up now
Benefits and risks of prostate artery embolization
After 1 year, PAE recipients reported a shrinkage of nearly 30% in prostate size, resulting in a direct ease of urinary symptoms. Additional benefits of PAE can include:
Emotional and quality of life improvement
Little to no blood loss during the procedure
Low likelihood of urethral catheterization
Lower risk of sexual impairment
No limits on prostate size, urethral narrowing or bladder capacity
Short or nonexistent hospital stay
Overall, the risks of PAE treatment have fewer side effects than traditional surgery for BPH, including a lower risk of sexual side effects or incontinence.
What happens during prostate artery embolization?
Before the PAE treatment begins, you may require a brief physical examination and a series of ultrasounds or MRIs. This will assist in evaluating the rate of urine flow. As you prepare for the procedure, you will be given a mild sedative, but remain awake. Because PAE is generally an outpatient procedure, no general anesthesia is needed.
As the procedure begins, a small incision will be made in your upper thigh or wrist to gain access to your arterial system. A small, spaghetti-like catheter is then placed into the vessels that supply blood to your prostate. Once the prostate is reached, microscopic particles are injected into the blood vessels and the blood flow to your prostate is decreased. This process will be repeated to reach both sides of the prostate.
As the blood flow decreases, the prostate will begin to shrink, and your urinary symptoms will begin to improve. Because the treatment is outpatient and takes 1 to 4 hours to perform, you can resume normal activity within the day.
Why choose us for prostate artery embolization?
Interventional radiologists, including those who specialize in vascular, neurologic and cancer conditions, at The University of Kansas Health System provide therapeutic and diagnostic procedures for conditions affecting every area of the body.
Our nationally recognized team of interventional radiologists has been ranked in the top 1% of hospitals nationwide in patient volume by Vizient®, the nation's largest member-driven healthcare performance improvement organization.