October 07, 2020
It's great to have choices to meet your needs and preferences. But sometimes, like when you – or a loved one – are sick or hurt, it can be tough to sort through options and pick the right one. When you need healthcare, where should you go? When you establish primary care with The University of Kansas Health System, you benefit from a dedicated team and streamlined resources. You can easily access varying levels of care to meet your needs. Here, we offer guidance to help you choose the right care at the right time.
Doctor's appointment
For routine, ongoing and nonurgent needs, contact your primary care provider's office. Schedule checkups and physicals, plan for immunizations and request prescription refills or referrals to specialists. Call your doctor's office to ask about urgent needs – such as common illnesses and timely medical concerns – when they arise during normal business hours.
Many of our providers reserve appointments for same-day care when you are sick. When you're able to see your primary care provider during normal business hours, you'll likely be responsible for lower copays.
Various visit types are available through primary care, including nurse-only visits for vaccinations, for example, and visits with advanced practice providers for needs such as follow-up appointments or medication checks.
You can self-schedule primary care in MyChart or call our scheduling team at 913-588-1227. Many of these visits can be provided by telehealth. To self-schedule in MyChart on the desktop, hover over Visits and choose Appointments and Visits. In the MyChart mobile app, tap Appointments.
Your patient-centered medical home
We're proud to hold National Committee for Quality Assurance recognition as a patient-centered medical home. We focus on long-term patient-provider relationships to promote care coordination and wellness.
Learn more
MyChart e-visit
Current internal medicine and family medicine patients age 18 and older can take advantage of e-visits within the MyChart patient portal. An e-visit is an affordable, questionnaire-based, online communication with an advanced practice provider. It is available for nonurgent conditions including back pain, birth control, coughs, headaches and more.
To obtain an online diagnosis and treatment plan by e-visit, sign into MyChart. Choose Messaging, then Ask a Question, and then Request an E-Visit. Your care team will reply with instructions as quickly as possible, often the same day but no later than by noon the next business day.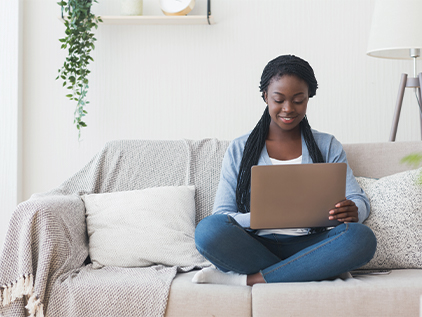 Create a MyChart account
The MyChart patient portal offers information, features and functions to help you better manage your health. Use it to schedule visits, check lab and test results, communicate with your providers and more. You can create an account online.
Sign up now
Urgent care
When you or a family member needs medical care quickly, but it's not an emergency and your primary care provider isn't available, an urgent care visit can meet your needs. Urgent care visits are used to treat conditions like fever, cough, cold, allergies, rash, sore throat and more. They may cost a bit more than a primary care visit, but less than an emergency department visit. You can see our Kansas City locations, hours and wait times – and let us know you're on your way.
You can also set up an urgent care video visit to receive urgent care from the comfort of your home. Log in to MyChart or choose Sign Up Now to create a new account. On the desktop, hover over Visits and choose Urgent Care Video Visit. On the mobile app, tap Urgent Care Video Visit. Note, some urgent care needs – like breathing difficulty, head injuries and broken bones – can only be addressed in person.
If you're a health system primary care patient using our urgent care services, you'll appreciate urgent care visit details becoming immediately available in your MyChart record for your and your primary care team's use. You'll also benefit from our urgent care team's seamless access to specialists to meet your immediate and follow-up care needs.
Need more help finding urgent care? Call 913-574-2273 (CARE).
Emergency room
For life- or limb-threatening conditions – like chest pain, difficulty speaking, head or eye injuries, poisoning or overdoses, severe pain, uncontrolled bleeding or breathing difficulty – go to the emergency room. If you cannot get there quickly and safely, call 911.
Our Kansas City emergency room – the region's most experienced Level 1 Trauma Center – is located at:
4000 Cambridge St.
Kansas City, KS 66160
We also offer emergency care at our locations in Great Bend and Topeka, Kansas. Should you require hospitalization, you and your local care teams will have immediate access to the No.1 hospital in Kansas as recognized by U.S. News & World Report.
We are committed to offering you and your family multiple options to meet your healthcare needs. Remember, wherever you receive care, your primary care team remains your ongoing partner. Be sure to notify your health system primary care team if you receive care elsewhere to ensure your medical home can offer informed, high-quality care.
Note: No person is denied urgent/emergent care based on their ability to pay at the time of service. The University of Kansas Health System does not discriminate based on ability to pay.