June 02, 2022
Kansas City, Kan. — Infertility affects 1 in 8 couples leading to physical, emotional and financial strain. The University of Kansas Health System offers state-of-the-art reproductive technology for infertility testing and treatment. As the region's largest, most comprehensive program in Kansas, The University of Kansas Health System can bring your family goals to life.
Recently published data from the Society for Assisted Reproductive Technology (SART) features 2020 health system quality metrics as compared to the national average.
To learn more about quality metrics, we visited with fertility specialist Courtney Marsh, MD, MPH, at The University of Kansas Health System.
SART is the primary organization of professionals dedicated to the practice of assisted reproductive technologies (ART) in the United States. The organization represents the majority (86%) of ART clinics in the country. The mission of SART is to establish and maintain standards for ART so patients receive the highest possible level of care.

We have been a SART member since 1999.

Age at time of egg retrieval is the highest predictor for success with ART. Therefore, SART breaks success rates into age categories to provide better information regarding your ART cycle.

Multiple gestation means more than 1 fetus at the time of pregnancy (e.g., twins, triplets). Multiple gestation pregnancies have higher risk to the person carrying the pregnancy and to the fetuses.

We follow best practice guidelines through SART and the American Society for Reproductive Medicine (ASRM). Our providers also stay up to date with the latest research and technology to provide the best care possible.

We participate in leading-edge research in multiple collaborative partnerships. We also adhere to the highest standards through all our organizations, including SART, ASRM, College of American Pathologists and Clinical Laboratory Improvement Amendments.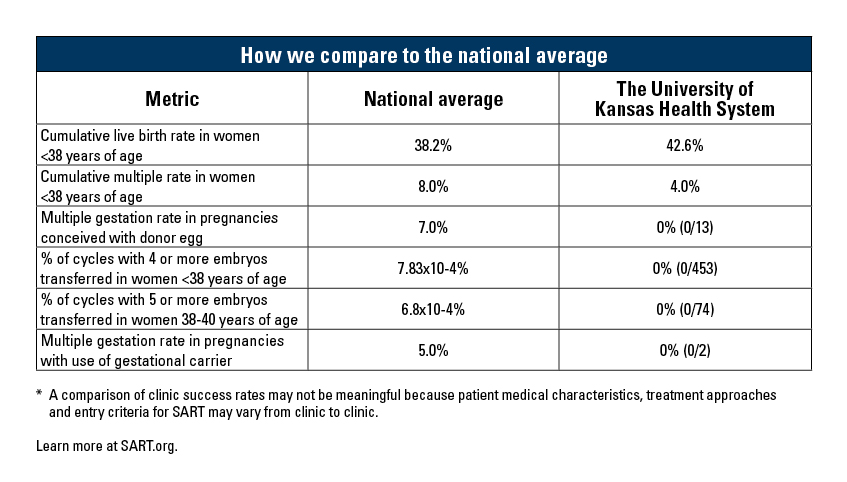 Learn more about our complete fertility care services, or schedule an appointment with a fertility expert, by calling 913-588-1227.