Skip Navigation
Coronary artery disease, or CAD, is the most common type of heart disease. Coronary arteries carry blood, oxygen and nutrients to the heart. When they become damaged, narrowed or blocked, your heart no longer gets the amount of oxygen-rich blood it needs. This can result in life-threatening conditions, such as a heart attack.
The University of Kansas Health System in Kansas City offers all of today's most sophisticated diagnosis and treatment options for coronary artery disease. Our heart care specialists provide advanced care to those seeking coronary artery disease treatment in Kansas City and throughout the region.
About coronary artery disease
Coronary artery disease is often caused by narrow or blocked arteries. Plaque that builds up on the inner walls of your arteries, a condition known as atherosclerosis, causes the arteries to harden. Over time, these deposits accumulate and narrow the blood's pathways. When plaque thickens, it also can break off and form clots that stop blood flow altogether, causing a heart attack.
Types and symptoms
Many people associate coronary artery disease with blocked arteries, which is common. However, other issues can also be present in the coronary arteries. Types of coronary artery disease include:
Obstructive: Occurs when the blood vessels are narrowed or blocked.
Nonobstructive: When the heart muscle pinches or squeezes the arteries, reducing blood flow. Or when the arteries constrict or function improperly after branching into tiny vessels.
Spontaneous: An emergency situation in which the layers of the artery split without warning.
Because there are different types of coronary artery disease, symptoms can also vary. Common signs of CAD include:
Chest pain, heaviness or tightness
Changes in exercise tolerance
Shortness of breath
Fatigue
Neck, jaw or arm pain with activity
Diagnosis and treatment
Many cases of coronary artery disease are diagnosed after a heart attack. Our goal is to identify blockages before they disrupt the heart's ability to function. We offer a complete range of standard tests and innovative diagnostic and imaging tests for CAD, including SOMATOM® Definition Flash – which can rule out coronary artery disease as the cause of chest pain in a single heartbeat.
Doctors at The University of Kansas Health System use the most common current techniques to guide treatment of coronary artery disease. Some of the treatments your doctor may use are:
Medical management

Your doctor may suggest medicines, diet changes, exercise and other modifications that will decrease your risk for complications of coronary artery disease.

Minimally invasive surgery

We can often perform balloon angioplasty and stenting to open the arteries with a minimally invasive approach. This allows you to enjoy a faster recovery and shorter hospital stay.

Other noninvasive treatments

We offer some of the most current options for opening blocked arteries.

The latest designs in stents to keep the artery open
Laser technology to clear the arteries
Cryoplasty: freezing the artery tissue during angioplasty to help open the arteries and keep them open
Atherectomy: clearing the artery mechanically
The latest drug-coated balloons to open the artery and keep it open

Surgery

Coronary artery bypass surgery is sometimes needed to clear blocked arteries.
Saved by skill
Denise Bollin was enjoying a casual lunch when she suddenly felt a burning pain in her throat and chest. Within hours, she was undergoing a lifesaving procedure after learning that her aorta, the heart's main artery, was tearing apart.
Read Denise's story
Why choose us
Our heart surgery patients experience outcomes comparable with the very best programs in the United States.
We offer complete, comprehensive care – including cardiac rehabilitation, nutritional counseling, educational resources and more – to help you manage your condition.
Our surgeons are on the forefront of innovation and often participate in groundbreaking clinical trials.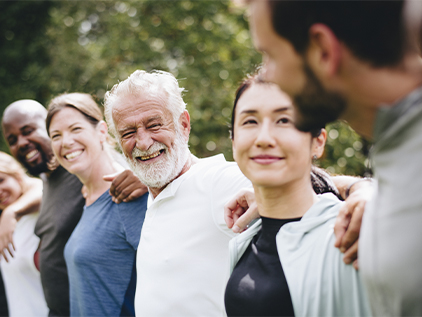 Turning Point
Turning Point offers free classes, programs and tools designed to empower and educate people affected by chronic or serious illness.
Learn more about our services
What to expect
Because early symptoms of coronary artery disease are not always noticeable, you may not know you are at risk. Some patients are referred to our cardiologists when their primary care doctor recognizes the symptoms or risks of coronary artery disease, such as high cholesterol or blood pressure. You may also be diagnosed with coronary artery disease after you have a heart attack or other cardiac event. In this situation, you will receive a diagnosis and emergent care.
Our cardiologists can run the appropriate tests to confirm coronary artery disease and discuss your treatment options with you. In some cases, you may be able to manage early-stage coronary artery disease with lifestyle changes and medication. Others with more severe symptoms or advanced CAD are scheduled for heart surgery.
Maintaining your heart health after treatment is extremely important. The University of Kansas Health System offers a number of resources to help ensure your treatment is successful, including cardiac rehabilitation, dietary counseling, heart-healthy education and more.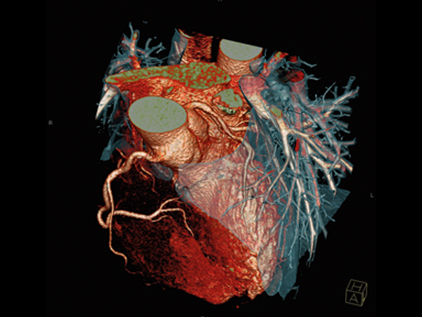 Rule out CAD in a flash
The University of Kansas Health System offers the
SOMATOM Definition Flash
– the fastest cardiac scanner in the industry. The noninvasive, low-radiation test can rule out coronary artery disease as the cause of chest pain in a split-second scan (.7 seconds) without breath-holding.