Skip Navigation
A traumatic brain injury is a brain dysfunction that occurs following a blunt strike or hard blow to the head. Sports injuries and vehicle accidents are common causes.
Our experts are experienced in diagnosing and treating traumatic brain injury. These injuries often require both immediate and ongoing attention to achieve a full recovery.
What is traumatic brain injury?
When an outside force, such as a blow, affects the head, traumatic brain injury can occur. About 200,000 cases occur in the United States every year.
Though emergency care may be necessary and can help stabilize a person's immediate safety and well-being, the brain itself may require a longer, slower recovery period.
Traumatic brain injury symptoms and risks
With a traumatic brain injury, damage does not occur only at the moment of impact. It evolves during the hours and days after the initial injury as the brain swells.
Traumatic brain injuries may cause:
Concentration challenges
Confusion
Fatigue
Headaches
Vision problems
Walking or balance issues
Symptoms may appear immediately after the injury or emerge days or weeks later. Often, the patient may not realize a brain injury has occurred, seeking medical help only later when symptoms may emerge or persist.
Traumatic brain injury diagnosis and screening
Our specialists work as a collaborative, interdisciplinary team to provide you with complete care for traumatic brain injury. In a single visit, you can receive an evaluation by a neurosurgeon, neurologist, neuropsychiatrist and physical and occupational therapist. Exams and advanced imaging are used to evaluate the injury and determine a personalized treatment plan.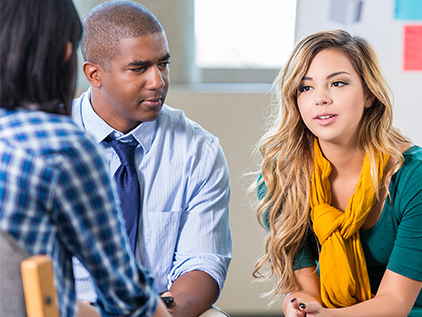 Support groups
We also offer a support group for traumatic brain injury patients. Through ongoing meetings, we provide support for patients' long-term physical, emotional and functional needs. Support groups offer information, education and encouragement.
Learn more
Traumatic brain injury treatment
Evidence-based treatments and state-of-the-art medical technologies help our experts address immediate needs and control secondary damage to avoid lifelong disabilities.
Treatment may begin in the emergency setting. Neurosurgery may be necessary, but often rest and medication to control symptoms, like headaches or nausea, may be the only treatment needed.
Follow-up care is extremely important to ensuring a full recovery from traumatic brain injury. We offer a comprehensive traumatic brain injury clinic to provide you with full and convenient follow-up support.

Still the best
Our hospital continues to rank as the best in Kansas City and in Kansas according to U.S. News & World Report.

Magnet-recognized
The University of Kansas Hospital has been designated a Magnet® facility by the American Nurses Credentialing Center since 2006.

Top academic medical center
Earned Vizient's 2018 Bernard A. Birnbaum, MD, Quality Leadership Award; ranked 5th out of 99 academic medical centers studied.