Skip Navigation
Clinical Trials
Clinical research is at the core of what we do as an academic medical center. Our physicians are researchers who are constantly improving heart care through their clinical research. As a patient, you may have the opportunity to participate in clinical trials. These studies help develop new medications and procedures that may make a difference in your own care and the care of others.
The University of Kansas Health System in Kansas City offers heart care clinical trials to improve the health and lives of people in the region, across the nation and around the world.
What is a clinical trial?
A clinical trial is a scientific study that explores the safety and effectiveness of a new drug, device, treatment or therapy. Through clinical trials, our physicians are able to research ways to:
Treat heart disease
Detect heart disease
Prevent heart disease
Manage heart disease symptoms
Improve quality of life after heart disease treatment
Is it safe?
Clinical trials attempt to answer medically important questions in a scientific and responsible way. All trials are held to strict safety standards and guided by rules that are monitored by the federal Office for Human Research Protections and the Food and Drug Administration. Clinical trials are not experimental – they are actually the final step in a long process of investigational research.
Who can participate?
Every clinical trial has different eligibility requirements. Your doctor may recommend a clinical trial based on your current health status. Those who are asked to participate go through a screening process to ensure they meet the eligibility requirements and are a good candidate. You can also ask your doctor about a clinical trial you are interested in.
How can you benefit from participation?
When you participate in a clinical trial, you are the first to have access to innovative treatments that aren't yet available. You also gain satisfaction in knowing your involvement helps advance medical knowledge that may one day be used to save more lives. Clinical trials go above standard care to provide you with more options and more hope.
When surgery wasn't an option
A severe heart condition made normal daily activities a struggle for Doris Bowman. Ineligible for surgery, her treatment options were limited. Find out how an innovative study at The University of Kansas Health System gave Doris her health back.
Read Doris' story
Why choose us?
Collaboration sets us apart. The heart specialists and heart surgeons at The University of Kansas Health System have a special connection. They share office space, and they often collaborate to find the best treatment for each person. You won't see them competing for patients. Rather, they strive to do the right thing for you. This level of cooperation is so exceptional we're often at the top of the list for clinical trials that require coordination among various physician groups.
Our doctors are often the first to offer groundbreaking technologies and treatments, including new artificial heart valves, implantable devices and minimally invasive procedures. Those who are considered too high-risk by other heart programs are referred to our hospital because our doctors specialize in caring for the most serious cases. Despite the high acuity of patients we see, our outcomes and complication rates are lower than national averages would predict.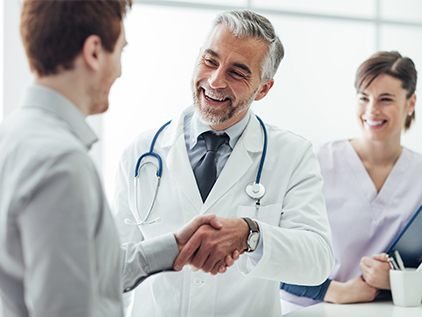 Current open clinical trials
See all heart care clinical trials available at The University of Kansas Health System in Kansas City. Additional information is available from the University of Kansas Medical Center.
Learn more about clinical trials
Related links