Skip Navigation
Cardio-Oncology
When you're struggling with cancer, your heart health may not be top-of-mind. Unfortunately, some of the most effective cancer treatments can cause permanent heart damage. That's why heart doctors and cancer specialists at The University of Kansas Health System have teamed up to provide cardio-oncology services in Kansas City. Cardio-oncology refers to a combination of heart care and cancer care that allows you to continue your cancer treatment while minimizing damage to your heart.
We are among few hospitals in the nation offering cardio-oncology to improve the heart health of cancer patients.
Who can benefit from cardio-oncology?
Cardio-oncology can be beneficial if you are undergoing chemotherapy or other cancer treatments that affect the heart. Cancer survivors who have stopped treatment but who have elevated cholesterol, a history of smoking, left chest radiation, hypertension or other issues may also benefit.
Those who may qualify for cardio-oncology services include people who have or have received:
Anthracycline-based chemotherapy
Elevated cholesterol
Family history of heart disease
Herceptin chemotherapy
High-dose chemotherapy
History of left-chest-wall radiation
Issues with being overweight
Metabolic syndrome
Smoking history
Why choose us
Developed in 2008 by cardiologist Charles Porter, MD, and breast oncologist Carol Fabian, MD, our cardio-oncology services are designed to reduce the risk of heart disease in patients with cancer – especially those who require treatment affecting the chest area, such as the breasts or lungs.
Today, the cardio-oncology program includes cardiologists, cardiac nurse practitioners, cancer researchers and oncologists treating a variety of solid tumors and leukemias. They work to ensure cancer patients receive individualized treatment to cure or suppress malignancies while minimizing cardiovascular complications.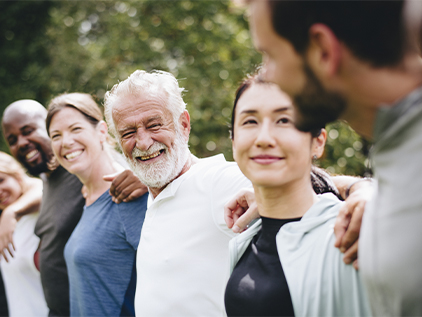 Turning Point
Turning Point offers free classes, programs and tools designed to empower and educate people affected by chronic or serious illness.
Learn more about our services
What to expect
If you are a cancer patient at The University of Kansas Cancer Center, your cancer care team will refer you for cardio-oncology services if your treatment poses a risk to your heart health or your heart function declines. Your cancer specialists will work closely with heart care experts to manage your heart health while maintaining your cancer treatment.
You will receive coordinated care from a team of specialists who works together to care for you as a whole person, not just treat the disease. During your first visit, a cardiologist will assess your risk factors for heart disease and develop a personalized treatment plan. Your care team may prescribe certain heart medications or request specialized imaging or scans. You will see your cardio-oncology care team for follow-up visits to monitor your heart function. Heart health management and cancer survivorship care are also included as part of your cardio-oncology care.
Patients who are being treated for cancer at another hospital are welcome to use cardio-oncology services at The University of Kansas Health System. Please bring the following for your first visit:
Echocardiogram results
EKG results
Cardiac stress test results
Blood pressure readings (if done at home)
Labs done with outside primary care physician
Fasting lipid profile results (cholesterol testing)
If your heart function declines, you will be seen the same day or next. Current or former cancer patients who are experiencing any active symptoms of heart disease are encouraged to call 913-588-9700.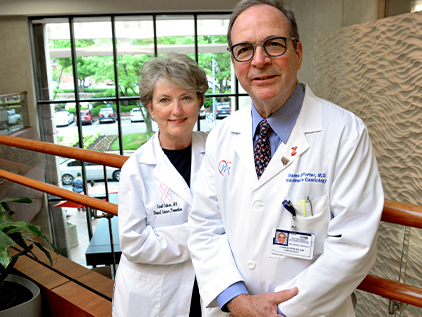 Comprehensive cancer care
Carol Fabian, MD, and Charles Porter, MD, launched cardio-oncology services in 2008 to help cancer patients avoid heart issues. They also helped establish the heart disease component of breast cancer survivorship.
Learn more
Related links