Skip Navigation
Cardiovascular Risk Reduction
Cardiovascular Risk Reduction
Heart disease is the No. 1 cause of death among both men and women in America. It is also a leading cause of premature disability. Fortunately, it is possible to slow the progression of this condition through targeted strategies that reduce your risk for heart issues.
The University of Kansas Health System offers comprehensive risk reduction services in Kansas City to reduce your risk of heart disease. Risk reduction includes a combination of assessment, education and lifestyle modification to help you improve your heart health now and for years to come.
If you are at risk for heart disease, or you are concerned about your heart health, make an appointment today.
Who can benefit from risk reduction?
Heart disease affects more people in the United States than all cancers combined. Although certain factors place a person at greater risk for heart disease, many people who develop the condition have few or no known risk factors.
By assessing your risk, we can more accurately predict your likelihood of developing heart disease. We can also reduce your risk of heart attack or stroke by taking an aggressive approach to preventive care. Using risk reduction services may also help you avoid the need for heart surgery or other treatments.
Types of risk factors
You can control some of your risk factors for heart disease, but not others.
Uncontrollable

Family history: You are at higher risk if your father or brother had premature coronary disease before age 55, and/or your mother or sister before age 65.
Gender: Men usually develop artery-clogging plaque 10 years earlier than women.
Age: The rate of heart disease increases with age.
Ethnic background: You are more likely to develop heart disease if you are black or Native American.

Controllable

Cholesterol, or blood lipid, levels
High blood pressure
High blood sugar
Smoking
Sedentary lifestyle
Stress
Weight
Sleep apnea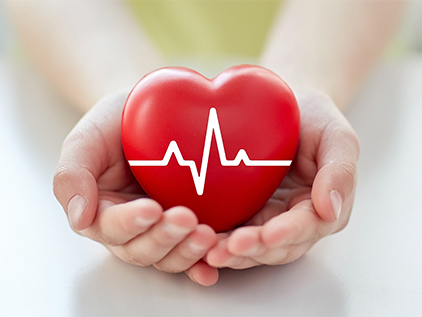 Take the heart health quiz
How healthy is your heart? Although some heart conditions produce symptoms, others don't. Even those with no genetic history of heart disease can develop a heart condition.
Take our online heart health assessment to learn your risk.
Take the Quiz
Conditions we screen
Aneurysm
Angina


(chest pain)

Claudication
Renal artery stenosis
Transient ischemic attack (TIA)
Why choose us for cardiovascular risk reduction
The University of Kansas Health System is a leader in the prevention and treatment of heart disease. Our goal is to help you enjoy an active, heart-healthy life. We have successfully worked with thousands of patients to manage their risk factors for heart disease. Our staff is experienced in assisting patients who have complex health issues, such as diabetes or abnormal kidney or liver disease, medication intolerances or complicated medication schedules.
As part of an academic medical center, our risk reduction services offer you a chance to take part in groundbreaking clinical trials. Our staff actively works to discover innovative treatment methods, and we regularly update our guidelines to reflect new knowledge that benefits patients. Although we routinely care for sicker patients, many who are turned away by other heart programs, our cardiac patients experience significantly lower mortality, stroke, heart attack and infection rates than the national average.
What to expect
Our experts have extensive experience in helping people lead heart-healthy lives. A dedicated team of physicians, nurse practitioners and registered dietitians will help you identify and successfully manage your risk factors. The process begins with a risk assessment that includes:
Assessing your medical history
Learning about your family history
Checking blood tests
Our staff will also communicate closely with your primary care physician to make sure you receive the most comprehensive care possible. During treatment, you are encouraged to see your family physician every 6 months.
Your treatment plan is designed just for you. We will work with you to set personal goals and create a detailed follow-up plan. We may recommend that you make lifestyle changes, such as quitting smoking and changing your diet. Some patients may also need to take medications.
Related links