Skip Navigation
The University of Kansas Health System in Kansas City is a leader in safe deliveries and has been named one of the safest places in North America to have your baby. We are proud to report 32.5% fewer cesarean-section deliveries than the national average and nearly 0 birth injuries.
Caring for you and your baby is our main priority. When you choose to deliver your baby at The University of Kansas Health System, you can trust that you and your newborn will receive the most advanced labor and delivery care available.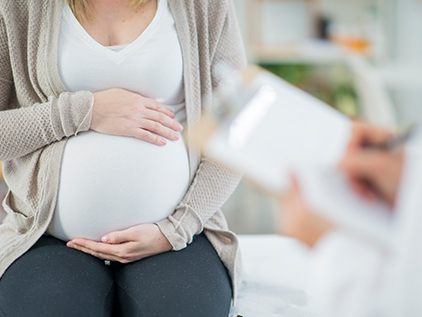 Better care from the beginning
Our maternal fetal medicine specialists provide advanced fetal care, including comprehensive diagnostic testing to identify developmental issues early in pregnancy. Early detection of abnormalities can provide the opportunity for treatment before and after birth.
Read more
A team you can trust
When you choose The University of Kansas Health System in Kansas City for your labor and delivery, you are choosing a team with the highest level of safety training in North America. All of our physicians, midwives, nurses and support staff are required to complete annual obstetric training that ensures everyone on your medical team is prepared to handle even the most serious emergencies.
Birth equity
At The University of Kansas Health System, our entire maternal care team including skilled obstetrician gynecologists (OB/GYNs), family physicians, midwives and the entire care team are devoted to fostering a safe and respectful environment, while providing intentional medical care to birthing people of all races, ethnicities, genders and identities.
Why is birth equity important? According to a recent report from the Centers of Disease Control, 2020 saw another increase in maternal mortality rate, especially among Black and Hispanic women. Additionally, the maternal death rate for non-Hispanic Black women is around 3 times higher than that of non-Hispanic white and Hispanic women. With this in mind, it is important to make our culture of birth equity clear with a statement that shows our values and actions.
Birth equity statement
We LIFT our patients up for the best possible experience.
Listen: We listen to our patients' concerns with an open mind.
Intentional: We provide intentional care while addressing our own implicit bias.
Fosters: Our team fosters a safe and respectful environment by providing continuous support, maintaining patient dignity and privacy, ensuring patient freedom from mistreatment and enabling informed choice*.
Trust: We build trust with our patients through transparency and shared decision making.
*Adapted WHO recommendations: intrapartum care for a positive childbirth experience. Geneva: World Health Organization; 2018. Licence: CC BY-NC-SA 3.0 IGO.
Delivery options
We offer safe, comprehensive labor and delivery services in Kansas City for women with normal or complex pregnancies. Whether you are seeking a natural birth or need a higher level of care, we can help. Your delivery options include:
Vaginal delivery with or without an epidural
Vaginal delivery of twins
Vaginal birth after cesarean delivery (VBAC)
Midwifery and doula participation
Cesarean delivery, including complex cesarean delivery requiring additional surgical expertise.
We also provide special programs for women with multiples.
Vaginal birth after cesarean (VBAC)
According to the American Congress of Obstetricians and Gynecologists (ACOG), approximately 60-80% of women who have had a C-section can successfully and safely give birth vaginally. Vaginal birth is safer for moms because it lowers the risk of hemorrhage, blood clots and infections. It also shortens the recovery period after delivery.
As an international leader in patient safety and one of the safest hospitals for labor and delivery in North America, we proudly encourage VBAC for the right patients. Our expert labor and delivery team in Kansas City is prepared to provide exceptional, safe care for you and your baby if you choose VBAC.
Questions to ask your birthing team
At The University of Kansas Health System, we partner with you in your delivery care. From midwifery care plans to high-risk pregnancies, we offer comprehensive, safe care for you and your baby.

We offer innovative delivery methods reducing the need for episiotomies to less than 1% in comparison with national averages of 15-30%.

As one of the nation's best hospitals and as a leader in academic medicine, our labor and delivery team can deliver in less than 15 minutes when necessary.

Vaginal delivery is safer for you and good for your baby. Our total cesarean delivery rate is 21.6%, including the most complex deliveries. That's 32.5% fewer C-sections than the national average. Our primary rate for first-time moms is less than 10%.
Comfortable atmosphere
Spa-like suites provide advanced medicine in a comfortable setting. Labor and delivery suites are decorated in soothing earth tones and include window views of the Kansas City skyline. Large bathrooms feature spacious showers with room to sit during labor.
Family-centered care
At The University of Kansas Health System, your care is tailored to your needs during pregnancy, labor and delivery. We provide family-centered care for you and your baby, encouraging your partner and other support persons to be part of your pregnancy and birth experience.
Your support person(s) can:
Participate in perinatal education for each step of pregnancy, from conception through postpartum and newborn care
Help make informed decisions about the mother and baby's care during pregnancy, labor, delivery and postpartum
Be present during the entire hospital stay, including labor and delivery
Care for your newborn
Families typically stay together in the same room during labor, delivery and recovery. When possible, postpartum and newborn care are also offered in the same room by the same caregivers. If your delivery requires surgical intervention, such as a medically necessary cesarean, operating rooms are close by for your safety.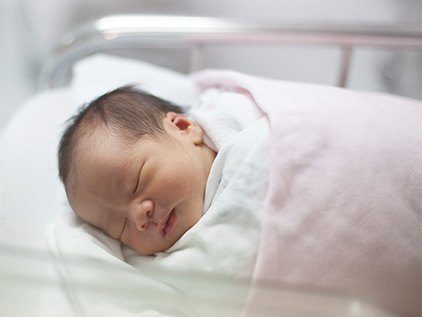 Capture your special moment
Newborn hospital photographers are available on site to capture the first hours or days of your baby's life. Pre-approved, patient-provided photographers are also welcome, in accordance with our visitors policy. Referrals are available upon request.
Critical care for moms and babies
Whether you're expecting a routine birth or know your baby will need special care, we are here for you. Our experienced team is ready to support planned births as well as the most challenging emergencies.
If your baby needs care in the NICU, you'll have access to your newborn at all times, and you will be included in routine care whenever possible.
At The University of Kansas Health System, you and your family can rely on the most comprehensive labor and delivery services in academic medicine: