Skip Navigation
The University of Kansas Health System is committed to providing comprehensive, patient-centered care. As part of this commitment, we offer everything from advanced academic medicine to midwifery care in Kansas City. From natural births to primary care services, our certified nurse midwives deliver down-to-earth care focused on your needs.
We are proud to be an international leader in women's health and patient safety. When you choose The University of Kansas Health System in Kansas City, KS, for midwifery services, you are choosing the safest place for women's healthcare.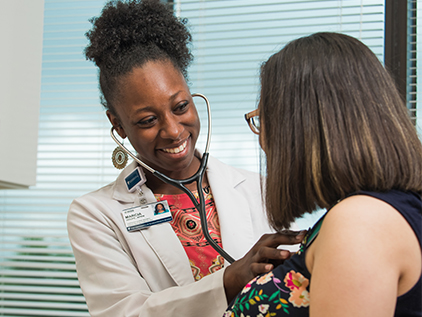 Midwife spotlight
Marcia Houpe, APRN, CNM, is one of the certified nurse midwives at The University of Kansas Health System. She provides advanced prenatal and postnatal care, sexual health services, general gynecology health care and more.
A personalized experience
Midwifery is ideal for women who want a more natural approach to childbirth, as well as an intimate patient/provider experience. Our certified nurse midwives empower you to have the birth of your choice while supporting you physically and emotionally.
Because we are an academic medical center, our certified nurse midwives are supported by a team of board-certified obstetric physicians. This means you have immediate access to several qualified doctors in the event of an emergency.
Midwifery services
We offer comprehensive midwifery care for women in the Kansas City area, including:
Prenatal care/labor and delivery
Postpartum care
Women's health services
Primary care
For a complete list of midwifery services available, please visit our midwifery FAQ page.
Why choose us
Continuing your care
Our certified nurse midwives are trained to care for women before, during and after childbirth. Because they have been trained in both clinical nursing and midwifery, they are able to provide many of the same services you would expect from a primary care doctor, but with the patient-led approach you'd expect from a midwife.
Your certified nurse midwife can provide the following:
Postpartum care
Breastfeeding guidance and support
Physical assessment of healing after birth
Screening for postpartum mood disorders
Emotional support through your transition to parenting
Referrals for additional community resources as needed
Women's health
Well-woman exams
Contraception management
STD testing
Breast exams
Family planning
Fertility counseling
Counseling for abnormal pap smears
Primary care
Physicals
Immunizations
Prescriptions
Urinary tract infection testing and treatment