Skip Navigation
Scheduling regular breast mammograms is critical for optimal breast health. Together with clinical breast exams and breast self-exams, mammograms are an essential part of early breast cancer detection.
Breast imaging services from The University of Kansas Health System offer the most technologically advanced options for breast mammograms, including 3D mammograms and low-cost breast magnetic resonance imaging (abbreviated MRI) examinations. Our dedicated breast radiologists detect early-stage breast cancer at a rate that exceeds the national benchmark.
What is a breast mammogram?
A breast mammogram is a special X-ray image that's taken of your breast to show changes in breast tissue that could indicate breast cancer. Mammograms can be used for breast cancer screenings and also as a diagnostic tool. Because breast cancer is most treatable in its earliest stages, breast mammograms are an important part of protecting your breast health.
Who can have a mammogram?
Women with an average risk for breast cancer typically begin getting mammograms between the ages of 40-50 and schedule them every 1-2 years. Women with a high risk of breast cancer may begin getting mammograms earlier, schedule breast cancer screenings more often, or both.
All women, especially those with dense breast tissue, should consider 3D mammography for their breast screening. 3D mammograms make it possible for radiologists to detect the difference between cancerous and noncancerous breast tissue, even in women with dense breasts. 3D mammograms limit the chances of the false-positive readings that can happen with 2D or conventional mammograms and being called back for additional and unnecessary tests.
The University of Kansas Health System also offers a low-cost breast MRI examination developed specifically to screen women who have dense breast tissue, a higher risk of breast cancer or require an additional screening beyond an annual mammogram. The abbreviated MRI is not designed for those with symptoms or a diagnosis of breast cancer, and does not replace breast self-exam or an annual mammogram.
What does a mammogram diagnose?
A breast mammogram is used to screen for breast cancer, and can also be used as a diagnostic tool after a lump or other symptoms of breast cancer have been detected.
What are the risks of breast mammograms?
For most women, the benefits of getting a mammogram outweigh any potential risks. But as with any imaging test, breast mammograms involve exposure to a low dose of radiation. In some cases, such as with dense breast tissue, mammograms can be difficult to interpret, especially in younger women. Mammogram results can also sometimes be inaccurate, although this risk is reduced with 3D mammograms. Unclear mammogram results can require additional testing for clarification, such as an ultrasound or biopsy.
Our breast cancer specialists evaluate thousands of people for breast cancer each year. As board-certified, fellowship-trained radiologists, they specialize in breast disease diagnosis.
Before your mammogram
Your doctor will give you specific instructions to follow on the day of your mammogram, such as to avoid wearing deodorant or lotion. At the time of your test, you'll be asked to remove any jewelry and clothing from the waist up. Some women may find the process of getting a mammogram uncomfortable, and taking an over-the-counter pain reliever before your mammogram can help.
What to expect during your mammogram
A mammogram typically takes about 30 minutes to perform, depending on the type of imaging being used:
3D mammography is performed much like a traditional mammogram, except that the machine takes a quick series of images at different angles. Computer software then reconstructs these breast tissue "slices" to create an image. This gives physicians a cleaner image of breast masses and makes it easier to spot breast cancer. The process is similar to how a computed tomography (CT) scanner produces images of structures inside of the body. The radiation dose is no different than a traditional mammogram.
During the abbreviated breast MRI, the technologist will use an IV to inject a small amount of contrasting agent, or dye. This enhances the ability to visualize possible cancers. You spend approximately 10 minutes or less on the MRI table. If an abnormality is detected, a biopsy or follow-up imaging test may be recommended.
Recovery and results for breast mammograms
After your breast mammogram, you can immediately return to your normal daily activities. Your doctor will discuss your results with you once they're ready. Depending on your mammogram results, you may need additional testing. If your doctor doesn't see any areas of concern in your mammogram results, you can simply continue with your regular screening schedule.
Why choose us for a breast mammogram
Where you get your mammogram matters. We find early-stage breast cancer at double the national standard. We offer 3D mammograms at all breast imaging locations, and were among the first in the nation and the first in Kansas to adopt this technology. For people with dense breast tissue, we offer supplemental ultrasound screening. We are the first in the region to offer abbreviated breast MRI.
Our specialists offer highly accurate, minimally invasive breast biopsy procedures. We review patient cases weekly in multidisciplinary conferences to ensure patients receive a definitive diagnosis.
Our pathologists specialize exclusively in breast cancer and their findings are critical to determining treatment. Breast pathology is the subspecialty of pathology dealing with diseases of the breast, both benign and malignant. It also includes evaluation of axillary lymph nodes. Breast pathologists play a central role in the multidisciplinary care of patients with diseases of the breast, and an accurate, state-of-the-art diagnosis is the cornerstone of any further evaluation.
The University of Kansas Cancer Center, the region's only National Cancer Institute-designated cancer center, is nationally recognized and offers the full continuum of breast cancer care. Our comprehensive breast program is the region's only one recognized by the nation's leading quality assessment organizations.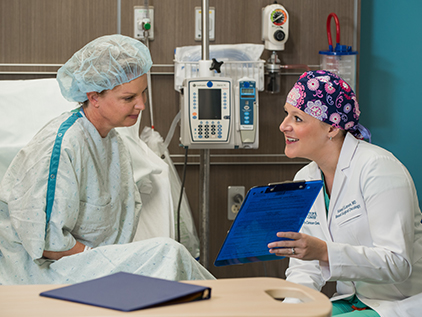 Cancer care you can count on
The University of Kansas Health System is part of The University of Kansas Cancer Center – 1 of fewer than 60 NCI-designated comprehensive cancer centers in the nation.
Our cancer care