Skip Navigation
Bypass surgery uses a graft to create a detour around the narrowed or blocked sections of your artery. Although bypass surgery is more invasive than angioplasty or stenting, it restores blood flow in about 85% of people. Results are commonly maintained for 10 or more years. Coronary bypass surgery improves blood flow in the heart, and vascular bypass procedures improve blood flow in the upper and lower extremities.
What is vascular bypass surgery?
Bypass surgery is the process of creating a new pathway for blood to flow around an occluded (blocked) portion of a blood vessel. Bypass grafts are used to create this bypass and return blood flow within the arteries to normal levels. Bypass grafts can be made of many different materials and require periodic follow-up examinations to evaluate for blood clots, narrowing, volume of flow and effectiveness.
Who can have bypass surgery?
Your arteries are normally smooth and unobstructed on the inside. As you age, your arteries can narrow or become blocked through a process called atherosclerosis, which means hardening of the arteries. During atherosclerosis, a sticky substance called plaque can build up in the walls of your arteries. People who are considering coronary bypass surgery typically have advanced atherosclerosis, which, if left untreated, can lead to heart attack, heart failure or stroke. People who are experiencing pain in the legs, feet, arms and hands can benefit from vascular bypass procedures.
How does vascular bypass surgery work?
During bypass surgery, your surgeon reroutes the blood flow in the blocked or narrowed artery around the blockage using a graft. A graft can be a portion of 1 of your veins or a synthetic tube that your surgeon connects above and below a blockage to allow blood to pass through it and around the blockage. Using a synthetic graft means a shorter surgery but is only used when a vein is not available or when a vein is not the best choice for the bypass.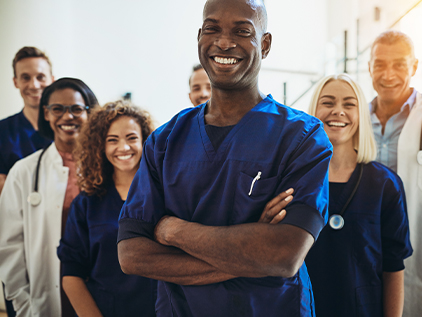 Find a doctor
Doctors at The University of Kansas Health System are care providers and researchers at the forefront of new medical discoveries. From primary care to complex conditions, we offer hundreds of specialists.
Find a doctor
Benefits and risks of coronary bypass surgery
Coronary bypass surgery can offer many benefits, especially for those with serious heart disease. Bypass surgery can be lifesaving for those at high risk for a heart attack, and can significantly improve quality of life for those with long-term discomfort due to their heart disease symptoms.
Although bypass surgery is an open-heart surgery that does carry risks, today's advanced surgical techniques make coronary bypass surgery safer than ever before. For this reason, serious complications following surgery are possible, but less common than they once were.
What happens during bypass surgery?
After surgery, you will have no real lifting restrictions, although you should not carry anything too heavy while your wounds are healing. You should walk regularly and gradually increase activity, but know that until you are completely healed, increased activity will increase swelling. The more you can elevate the affected limb between activities, the less swelling you will have.
You should arrange a follow-up appointment with your physician 10-14 days following surgery for staple/suture removal. You will need to call the office to arrange an appointment time. Once the incision line has healed completely, using a vitamin E ointment or a moisturizing cream may help reduce scarring.

Still the best
Our hospital continues to rank as the best in Kansas City and in Kansas according to U.S. News & World Report.

Magnet-recognized
The University of Kansas Hospital has been designated a Magnet® facility by the American Nurses Credentialing Center since 2006.

Respect for all people
Named a leader in LGBTQ+ Healthcare Equality by the Human Rights Campaign.