Skip Navigation
Minimally Invasive Cardiothoracic Surgery
Minimally Invasive Cardiothoracic Surgery
For many cardiothoracic conditions, surgery is the preferred treatment when medication and catheter-based treatments aren't effective. These conditions include mitral valve prolapse, atrial septal defect and coronary artery disease.
Traditional surgery requires an 8-10 inch incision and splitting the breastbone. Patients may need up to 12 weeks recovery time before resuming daily activities.
The da Vinci® Surgical System offers the least invasive treatment option for even the most complex procedures to treat conditions of the heart and lungs. We use the da Vinci for procedures that include:
Mediastinal mass resection
Wedge resection
Lobectomy
Lymph node dissection
Mitral valve repair
Internal mammary artery, or IMA, harvest
Revascularization
Thymectomy
da Vinci mitral valve repair
Minimally invasive valve repair is an alternative to open heart surgery, the traditional way to treat mitral valve disease. Mitral valve prolapse repair offers a number of significant, lifelong benefits over replacement with an artificial valve. These include improved long-term survival, fewer reoperations and possibly eliminating the need to take blood-thinning medication.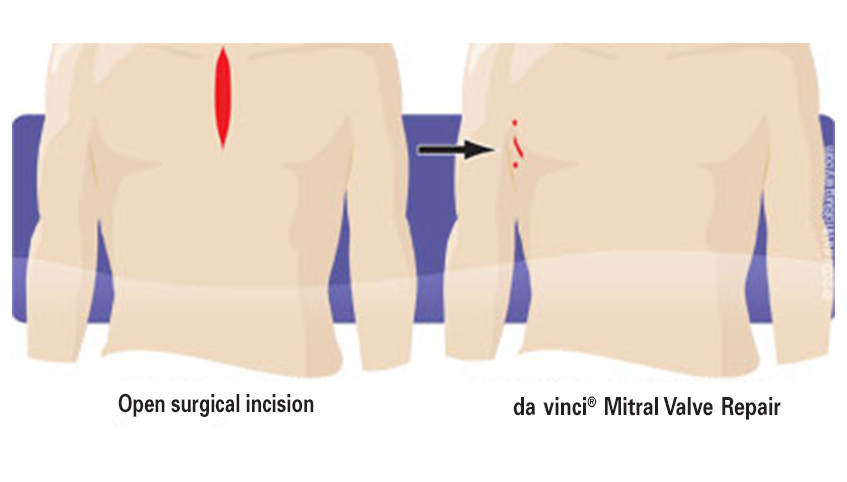 If your doctor recommends surgery to treat mitral valve prolapse, you may be a candidate for minimally invasive treatment using the da Vinci. Compared to open heart surgery, benefits of minimally invasive procedures include:
Reduced risk of infections
Reduced blood loss and need for blood transfusions
Shorter hospital stay
Minimal pain and scarring
Faster recovery
Faster return to normal activities
Improved clinical outcomes