Skip Navigation
Minimally Invasive Spine Surgery
Minimally Invasive Spine Surgery
Back problems bring thousands of Americans to their doctors every year. Injury, aging, diseases such as scoliosis, and normal wear and tear can all cause back pain. Patients with ongoing problems that can't be corrected through other methods may need surgery.
Traditionally, spine surgery has required invasive procedures, resulting in large incisions followed by a long stay in the hospital. More recently, minimally invasive surgery, also known as laparoscopic or endoscopic surgery, has been made possible due to advancements in physician training, engineering and computer technology.
Our surgeons are experts in minimally invasive spine surgery, which uses a tiny camera and long, thin surgical instruments inserted through very small incisions. The result is less pain, shorter hospitalization and faster recovery. Many of our patients are able to go home the day of their surgery.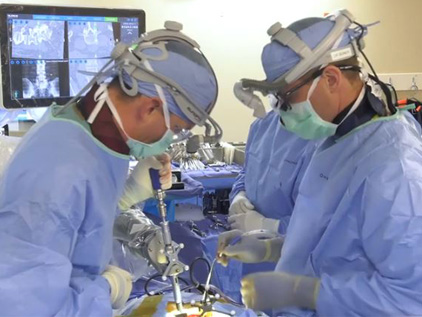 Robot-assisted spine surgery
These procedures provide the best in patient care using robotics and navigation. Robot-assisted spine surgery decreases time in surgery, enhances safety, improves accuracy and reduces exposure to radiation.
Learn more
Minimally invasive spine surgery treatments
Neurosurgeons at The University of Kansas Health System are experts in minimally invasive spine surgery. Our goal is to help you preserve a full range of motion after surgery.
Procedures include:
Decompressive laminectomy
Relieves pressure caused by age-related changes in the spine, injuries, herniated discs or tumors.
Microdiscectomy and percutaneous discectomy
We use these procedures to remove herniated disc material that is pressing on the spinal cord or nerve root.
During this surgery, our physicians join 2 or more of the small bones (vertebrae) that make up the spinal column. It is performed on patients with injuries, slipped or herniated disks, abnormal curvatures of the spine or weak spines.
Our spine care locations
1. The University of Kansas Hospital

Marc A. Asher, MD, Comprehensive Spine Center
4000 Cambridge St., Suite BHG280
Kansas City, KS 66160

Mon

7:30 a.m. - 5 p.m.

Tues

7:30 a.m. - 5 p.m.

Wed

7:30 a.m. - 5 p.m.

Thur

7:30 a.m. - 5 p.m.

Fri

7:30 a.m. - 5 p.m.

Sat

Closed -

Sun

Closed -

HOL

Closed -

2. Medical Pavilion

Marc A. Asher, MD, Comprehensive Spine Center
10730 Nall Ave., Suite 101
Overland Park, KS 66211

Mon

8 a.m. - 4:30 p.m.

Tues

8 a.m. - 4:30 p.m.

Wed

8 a.m. - 4:30 p.m.

Thur

8 a.m. - 4:30 p.m.

Fri

8 a.m. - 4:30 p.m.

Sat

Closed -

Sun

Closed -

HOL

Closed -