Skip Navigation
Back pain can occur due to any number of causes, including injury, tumor, birth defect or lifestyle strain. Regardless of the source, back pain can make it difficult to perform a broad range of everyday tasks.
At The University of Kansas Health System, our comprehensive spine care includes leading treatment for conditions of the back and spine. Our spine experts, including neurosurgeons, orthopedic surgeons and back pain management specialists, diagnose and treat all levels of spinal disease and injury. As one of the top health systems for neurological and orthopedic care, we offer people throughout the Kansas City region the best back pain treatment and spine care options available.
What is back pain?
Back pain can be mild or severe and can be classified as acute pain or chronic pain depending on how long the symptoms last. Back pain is one of the most frequent causes of disability, as well as one of the most common reasons that people visit the doctor.
There are many possible reasons for back pain, including sports injuries, work-related injuries and spinal defects. Back pain can feel similar to other muscle aches, or may present as sharp, shooting pain. Some types of back pain, like sciatica, spread beyond the back down into the legs. Back pain can also worsen with certain activities and motions, like twisting or lifting.
Types of back pain
As one of the more complex systems of the body, the back includes many different structures that can contribute to back pain. Because of this, back pain can be attributed to muscle pain, nerve pain, joint pain, disc pain or any combination of these.
Back pain is often identified by the area of the back that's affected:
Upper back pain, also known as thoracic pain
Middle back pain that occurs between the bottom of the ribs and above the lumbar region of the spine
Lower back pain, including sciatica
Additionally, back pain is typically classified into 1 of 3 categories:
Back pain symptoms and risks
Back pain often improves with home remedies such as rest and over-the-counter pain medications. It's important to call a doctor for your back pain if:
Pain affects the legs, including weakness, numbness or tingling in the legs
Pain does not improve with home treatments
Pain is severe or lasts more than a few weeks
You notice additional symptoms, such as fever
Your back pain is the result of a fall or other injury
There is no one single cause for back pain. The risk of developing back pain increases with age. Being overweight, smoking, and not exercising are also risk factors for back pain. Certain physical activities, like improper lifting, can increase your risk for back pain. There may also be a link between depression or anxiety and back pain.
Back pain diagnosis and screening
The good news is treatment can begin immediately to relieve your back pain. Whether you need short-term relief or long-term care, our specialists will determine the right course of action for you – often avoiding surgical treatment.
Back pain treatment
At The University of Kansas Health System, we offer both surgical and nonsurgical back pain treatment options:
Back surgery, including discectomies, laminectomies and fusions
Bracing, vertebroplasty or kyphoplasty for spinal fractures
Neck surgery, including anterior cervical discectomy, fusion and laminoplasty
Neuromodulation therapies, including Reactiv8
Pain management, including epidural steroid injections
Radiofrequency ablation or spinal cord stimulation
Our back pain specialists increasingly use image-guided back surgery, a care standard that offers surgeons the opportunity to visualize surgical procedures with technology to more effectively address and correct spinal conditions. Image-guided back surgery results in greater decision support for surgeons and reduced risk and improved results. It is safer, faster and more accurate.
Minimally invasive spine surgery has also become more prevalent because it results in less blood loss, shorter surgeries and a faster recovery. We were the first in Kansas and the Kansas City metro region to offer robot-assisted spine surgery, designed to optimize patient care by using robotics and navigation, similar to a GPS in your car.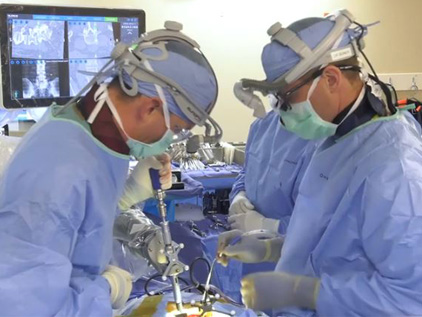 Robot-assisted spine surgery
These procedures provide the best in patient care using robotics and navigation. Robot-assisted spine surgery decreases time in surgery, enhances safety, improves accuracy and reduces exposure to radiation.
Learn more
Why choose us for back pain treatment
As an academic medical center, we offer the most comprehensive spine care for adult and pediatric patients, using the latest research to treat a range of complex conditions. In addition, you'll have access to multiple back pain and spine specialists at the Marc A. Asher, MD, Comprehensive Spine Center.
Our back pain team includes fellowship-trained spine specialists who are board-certified in orthopedic surgery and neurosurgery, as well as an interdisciplinary team of physicians, nurses and therapists who are experts in pain management.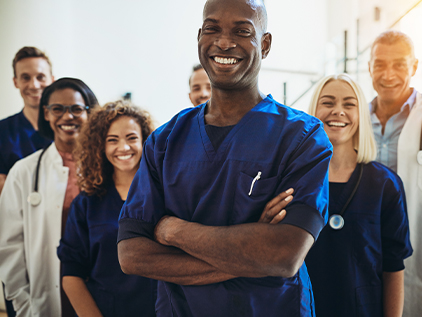 Find a doctor
Doctors at The University of Kansas Health System are care providers and researchers at the forefront of new medical discoveries. From primary care to complex conditions, we offer hundreds of specialists.
Find a doctor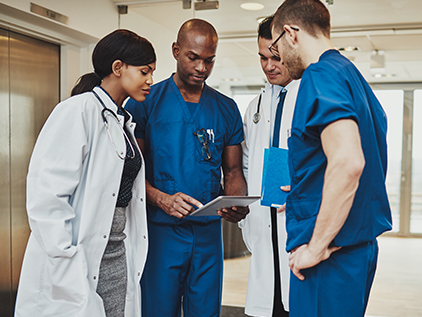 Leading research and clinical trials
As part of one of the nation's premier academic medical centers, our care providers are committed to research and scientific discovery through the University of Kansas Medical Center. We can often include our patients in potentially lifesaving clinical trials and treatment options not available anywhere else.
Our Research