Skip Navigation
Breast Reduction
Women who have breasts that are too large for their body size can experience a number of uncomfortable symptoms, such as back and shoulder pain, skin irritations and difficulty exercising. Breast reduction surgery can not only improve the proportion of your breasts, it can also alleviate many painful conditions caused by overly large breasts.
The board-certified plastic surgeons at The University of Kansas Health System offer breast reduction surgery to women who are unhappy with the size and shape of their breasts. They'll work closely with you to ensure a flattering final result that meets your appearance goals.
What is breast reduction surgery?
During breast reduction surgery, fat, skin and glandular tissue are removed using liposuction and surgical excision. As with a breast lift, the remaining breast tissue is then raised, reshaped and made smaller and firmer. Breast reduction surgery is sometimes performed along with other body contouring procedures following major weight loss.
Who can have breast reduction surgery?
Women who receive breast reduction surgery commonly have large, pendulous breasts, a condition also referred to as breast hypertrophy or macromastia. Women who are considering breast reduction surgery often suffer from neck, shoulder and back pain, as well as shoulder grooving and inframammary fold infections. A large breast size may also cause you to feel self-conscious.
Other important indications for breast reduction surgery include:
Nonsmoker
Good general health
Realistic expectations for surgery
How does breast reduction work?
Breast reduction involves the removal of excess breast tissue to make the breasts smaller and lighter. The breasts are also reshaped and lifted to a more aesthetically pleasing position on the chest for a proportionate final look.
Before your breast reduction surgery, you can talk with your surgeon about your ideal end result. Each breast reduction procedure is completely customized to the your needs and preferences.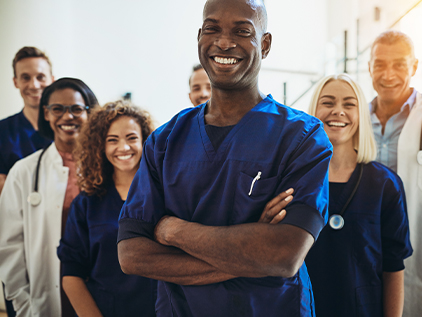 Find a doctor
Doctors at The University of Kansas Health System are care providers and researchers at the forefront of new medical discoveries. From primary care to complex conditions, we offer hundreds of specialists.
Find a doctor
Benefits and risks of breast reduction
Reducing breast size can also reduce back, neck and shoulder pain, and increase self-confidence. Many women who choose breast reduction surgery say that are more likely to engage in physical activity and wear form-fitting clothing.
The scars left behind from breast reduction are noticeable, although they do fade with time. Other potential complications from breast reduction surgery are similar to those of any surgery, such as infection, bleeding or anesthesia risks.
What happens during breast reduction surgery?
Your breast reduction surgery will most likely take place in an outpatient setting, and will last approximately 2-4 hours.
After general anesthesia is administered, your surgeon will make an inverted T or keyhole-shaped incision pattern that circles the areola and extends down to the breast crease. Next, excess skin and glandular tissue will be excised, and fat is removed through liposuction. Your surgeon will reshape the underlying tissue, then lift the breast once the excess skin is removed. Finally, the nipple and areola are elevated and the incisions are sutured.
Recovery from breast reduction surgery is estimated at 1-2 weeks. You will likely be asked to wear a surgical bra as your breasts heal. Common symptoms are aching, swelling and bruising, and sometimes a loss of sensation in the nipples and skin. Over time, swelling will diminish and feeling should return. A drain consisting of a small tube may be placed under the skin to remove excess fluid that collects during the healing process.

Still the best
Our hospital continues to rank as the best in Kansas City and in Kansas according to U.S. News & World Report.

Magnet-recognized
The University of Kansas Hospital has been designated a Magnet® facility by the American Nurses Credentialing Center since 2006.

Respect for all people
Named a leader in LGBTQ+ Healthcare Equality by the Human Rights Campaign.
Related links