Skip Navigation
ReActiv8 Implantable Neurostimulation System
ReActiv8 Implantable Neurostimulation System
Chronic back pain affects millions of Americans, and back pain is one of the most common reasons people visit their doctor. Yet traditional treatments for back pain like pain medication or surgery may not be enough to manage symptoms.
Neuromodulation uses implanted medical devices to effectively manage pain. ReActiv8 implantable neurostimulation system is designed specifically to treat chronic low back pain. One of the original participants in clinical trials for ReActiv8, The University of Kansas Health System pain management team includes leading experts in neuromodulation techniques.
What is ReActiv8 neurostimulation?
ReActiv8 is an implantable medical device known as a neurostimulator. After a simple surgery to implant the device, ReActiv8 provides gentle electrical stimulation to a specific nerve in the low back, which in turn causes controlled muscle contractions.
Because this nerve supplies an important stabilizing muscle in the low back, treatment with ReActiv8 can not only relieve pain but also help retrain the low back muscles to strengthen again on their own.
Who can benefit from ReActiv8 neurostimulation?
Those who can benefit most from using the ReActiv8 neurostimulator:
Suffer from chronic low back pain
Receive only limited benefits from other treatments like pain medications or physical therapy
Are not good candidates for spine surgery
Additionally, weakness and atrophy of the lumbar multifidus muscle must be present. This can be determined using an MRI or through a physical evaluation.
The ReActiv8 neurostimulation device should not be used for those who are unable to operate the system, or who aren't good candidates for the implantation surgery.
How does the ReActiv8 neurostimulator work?
One of the primary causes of chronic low back pain is muscle atrophy or poor muscle strength in the low back. After implantation, ReActiv8 delivers electrical stimulation directly to the nerves responsible for those muscles. This nerve stimulation causes controlled muscle contractions. With regular use, muscle strength and control returns and spine stability improves, relieving low back pain at the source.
The patient controls their own treatment sessions, allowing for customized stimulation and muscle contractions that are adjustable to each person's individual needs and comfort level.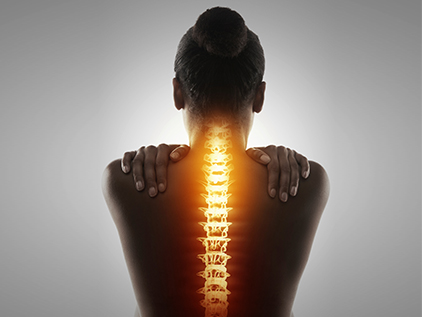 Comprehensive spine care
Experts at the Marc A. Asher, MD, Comprehensive Spine Center offer many treatments for spine and neck pain, including physical therapy, steroid injections, radiofrequency ablation and other therapies.
Learn more
Benefits and risks of ReActiv8
The main risk of ReActiv8 is movement of lead away from the target location. There may also be minor risks associated with the implantation surgery, such as bleeding or infection.
During clinical trials at The University of Kansas Health System, 60% of trial participants reported a 60% reduction in overall pain in 1 year. Half went on to have almost no pain. As part of your consultation, your doctor will discuss all the risks and benefits of using the ReActiv8 implantable neurostimulation system so you can make an informed decision about your care.
What happens during ReActiv8 treatment?
The ReActiv8 implantable neurostimulation system uses precisely placed leads that, after being surgically positioned, can deliver controlled electrical stimulation to key stabilizing muscles of the lumbar spine. Leads are placed bilaterally (on both sides) for more comprehensive results. Typically, the implantation process takes less than an hour.
After implantation, the recipient can control the strength and frequency of treatments (typically twice a day for about 30 minutes). Most people notice the benefits of ReActiv8 within a couple months and continue seeing improvement in their symptoms long-term.

Still the best
Our hospital continues to rank as the best in Kansas City and in Kansas according to U.S. News & World Report.

Magnet-recognized
The University of Kansas Hospital has been designated a Magnet® facility by the American Nurses Credentialing Center since 2006.

Respect for all people
Named a leader in LGBTQ+ Healthcare Equality by the Human Rights Campaign.