Skip Navigation
Ambulatory Care Pharmacy Residency
Ambulatory Care Pharmacy Residency
The postgraduate year-2 (PGY2) ambulatory care pharmacy residency at The University of Kansas Health System is designed to provide PGY1 graduates the opportunity to accelerate growth beyond generalist practice and further the development of specialized practice care areas specific to the needs of ambulatory patients. We assume the resident has already achieved a basic level of competence commensurate with that of a PGY1 pharmacy practice resident. The PGY2 residency focuses on developing the knowledge, attitudes, training and skills necessary to cultivate pharmacists who are competent and compassionate practitioners who are prepared for a role as an ambulatory care pharmacist.
Graduates of the residency have the capability to design, implement and secure collaborative interdisciplinary practice agreements necessary for establishment and ongoing management of ambulatory practice. Graduates are empowered to treat and appropriately triage the most complex chronic and acute illnesses presented by ambulatory patients while providing care within the context of a long-term healthcare partnership with patients and healthcare providers that emphasizes health improvement and disease prevention. Completion of the PGY2 ambulatory care pharmacy residency will provide the practitioner the advanced critical thinking skills and clinical knowledge necessary to practice as an ambulatory care pharmacotherapy expert, enhance ambulatory care services as a clinical coordinator, and/or share skills with others by serving as an adjunct faculty member. Moreover, program graduates will be primed for ambulatory practice leadership to serve as experts in prescribing medication.
Residency program purpose statement
PGY2 pharmacy residency programs build on Doctor of Pharmacy (PharmD) education and PGY1 pharmacy residency programs to contribute to the development of clinical pharmacists in specialized areas of practice. PGY2 residencies provide residents with opportunities to function independently as practitioners by conceptualizing and integrating accumulated experience and knowledge and incorporating both into the provision of patient care that improves medication therapy. Residents who successfully complete an accredited PGY2 pharmacy residency should possess competencies that qualify them for clinical pharmacist and/or faculty positions and position them to be eligible for attainment of board certification in the specialized practice area (when board certification for the practice area exists).
Length of program: 12 months starting in early July
Number of positions: 2
Current benefits
Annual salary: $48,000
Benefits include: PTO, paid holidays, health/dental/life/liability insurance
Contact us
The University of Kansas Health System
Pharmacy
4000 Cambridge St., Mailstop 4040
Kansas City, KS 66160
PGY2 ambulatory residency director
Jennifer Loucks, PharmD, BCPS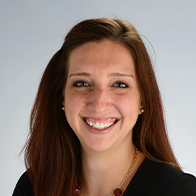 Cassandra Effken, PGY-2: Ambulatory Care
Hometown: Lincoln, Nebraska
Pharmacy school: Drake University
PGY-1: Ralph H. Johnson VA Medical Center
Clinical interests: Gastroenterology, rheumatology, HIV
Hobbies: Volleyball, live music and events, anything food related
Research project: Efficacy of Dose Escalation of Biologic Therapy in Inflammatory Bowel Disease
Why I chose The University of Kansas Health System: The University of Kansas Health System has many unique opportunities with specialty areas in ambulatory care that align with my interests. The health system continues to be progressive in the ambulatory care field and will have many amazing opportunities available during the residency year.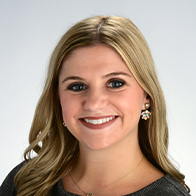 Annie Schwartz, PGY-2: Ambulatory care
Hometown: St. Louis, Missouri
Pharmacy school: University of Missouri-Kansas City
PGY-1: University of Minnesota College of Pharmacy/Avera Marshall Regional Medical Center
Clinical interests: Ambulatory care – specifically primary care, cystic fibrosis and multiple sclerosis
Hobbies: Happy hour, watching Blues hockey games, sleeping, hanging with family and friends
Research project: Analyzing Outcomes of Polypharmacy Referrals to Clinical Pharmacy Services in a Primary Care Setting
Why I chose The University of Kansas Health System: Strong preceptors that are dedicated to the program; a health system that appreciates pharmacists and wants their involvement in patient care; wide range of specialty clinics to gain experience.
Program overview
The PGY2 ambulatory care pharmacy residency is tailored to the interests and career goals of each resident. A variety of practice settings are available.
Required learning experiences
The PGY2 ambulatory care pharmacy residents are required to complete the following learning experiences for the coordinating durations:
Orientation (4 weeks)
Ambulatory leadership (4 weeks)
Research (2 weeks)
Advanced independent practice (AIP) (2 weeks)

The AIP rotation is a 2-week experience in which the resident covers a service independently. The goal is for the resident to gain the confidence and experience of covering a service independently prior to entering the workforce. This is done once the resident has sufficient experience in an area of practice.
Clinic learning experiences
Residents are required to complete 2 comprehensive care rotations and 2 specialty care rotations from the options listed below. All rotations are 6 weeks in length.
Comprehensive care clinic 1 and 2
Primary care
Cystic fibrosis
HIV
Solid organ transplant
Psychiatry
Advanced heart failure
Specialty care clinic 1 and 2
Multiple sclerosis
Rheumatology
Inflammatory bowel disease
Hepatology
Pulmonary (ILD and PAH)
Women's health (infertility)
Movement disorders
Residents will also have a longitudinal clinic experience. The residents will spend their first 6-week rotation in the area where they will continue longitudinally throughout the year. They will then continue their longitudinal rotation 1 day per week throughout the remainder of the year.
Additional elective learning experiences
Additional opportunities may be available based on the schedule and interests of the resident.
Hematology/oncology clinic (4 weeks)
Integrated or specialty care clinic rotations that the resident has not yet completed (6 weeks)
Staffing requirement
The PGY2 ambulatory care resident will work in The University of Kansas Health System outpatient pharmacies one of every 4 weekends (Saturday and Sunday).
Longitudinal experiences
Research
Each resident will complete 2 research projects. The goal is to enhance the personal and professional growth of the resident while benefiting the pharmacy department through pharmacy practice.
Residents will present research findings within the health system and at regional and national meetings. Residents will also prepare a manuscript suitable to submit for publication.
Teaching and precepting
The resident will present two 1-hour seminars.
Residents have experiences precepting students and residents on rotation.
Residents are required to coordinate and present at least one class session for the ambulatory care elective at the University of Kansas School of Pharmacy.
Residents have the option of presenting additional didactic lectures at the University of Kansas School of Pharmacy as available.
Residents will prepare and present drug and/or disease-focused lectures to ambulatory, hospital, pharmacy and multidisciplinary staff.
Residents have the option of completing a teaching certificate program through the University of Kansas School of Pharmacy.
Application information
Requirements
Graduation from an ACPE-accredited PharmD program
Completion of an ASHP-accredited PGY1 residency before the beginning of the PGY2 residency year
Eligibility for licensure in Kansas
Deadlines
Application deadline: January 3, 2020
Must have a valid pharmacy license in the state of Kansas prior to August 15
Checklist for application
Photo
Letter of intent

Topics to consider: Why you want to pursue a residency and career in ambulatory care, why you have chosen The University of Kansas Health System and personal goals that the program would help accomplish

Completion of essay questions
What do you hope to gain from completing this residency program?
Have you ever felt like you were being asked to do work that was below your level of qualification? How did you handle this situation?
How do you fit into your current residency program?
Curriculum vitae
College transcripts
Three letters of recommendation and/or PhORCAS forms
PhORCAS residency program application
ASHP resident matching program registration
Application for Employment: View job postings
The program has had residents since 2017 and is undergoing accreditation. The program is currently under candidate status through ASHP.
National Matching Services (NMS) Code: 752665
Related links