Skip Navigation
Oncology Pharmacy Residency
Oncology Pharmacy Residency
The oncology pharmacy practice residency at The University of Kansas Health System provides residents with the skills and knowledge to become competent oncology/hematology pharmacy practitioners. The focus of the residency program is adult hematology and oncology, with experiences in hematopoietic stem cell transplantation and ambulatory oncology practice settings.
Residency program purpose statement
The purpose of the oncology pharmacy residency program – designed for second-year postgraduates (PGY2) – centers on the development of the knowledge, attitudes and skills needed to become a well-rounded oncology practitioner able to successfully practice in many different settings. It focuses upon development of special competence in applying pharmacotherapeutic intervention in cancer patients. This residency will provide educational and training experiences for pharmacists in the fundamentals of oncology pharmacy practice in an integrated healthcare system. Through various clinical, practice management and pharmaceutical practice training segments, the residency instills a philosophy of practice that embraces the concept that pharmacists must be accountable for optimum drug therapy outcomes and act as leaders in advancing care of patients.
Length of program: 12 months, starting July
Number of positions: 4
Current benefits
Annual salary: $48,000
Benefits include PTO, paid holidays, health/dental/life/liability insurance
Contact us
The University of Kansas Cancer Center
Pharmacy
2330 Shawnee Mission Pkwy., Suite 201N, Mailstop 5028
Westwood, KS 66205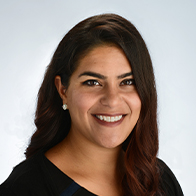 PGY2 Oncology residency director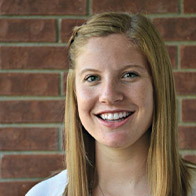 Jordanne Adolphsen, PGY2: Oncology
Hometown: Batesville, Indiana
Pharmacy school: The University of Kansas School of Pharmacy
PGY1: Wesley Medical Center
Clinical interests: Hematology/BMT, pharmacogenomics
Hobbies: Landscaping, playing/watching sports, trying local restaurants
Research project: Analysis of Outcomes Between Patients with Homologous Recombination Deficiency Mutations Receiving Poly (ADP-ribose) Polymerase Inhibitors for Ovarian Cancer
Why I chose The University of Kansas Health System: I chose The University of Kansas Health System for its integration of pharmacy into direct patient care and comprehensive clinical experiences. It offered the opportunity to participate in a learning environment that would not only challenge me clinically, but also support and help me grow as a new practitioner, preceptor and leader.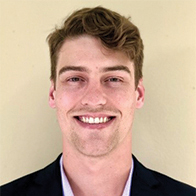 Russell Clark, PGY2: Oncology
Hometown: Houston, Texas
Pharmacy school: Texas A&M University Irma Lerma Rangel College of Pharmacy
PGY1: CHI St. Luke's Health – Baylor St. Luke's Medical Center
Clinical interests: Hematology/Oncology
Hobbies: Basketball, running, reading and astronomy
Research project: Analysis of Lymphocyte Count Association with Response and IRAEs in Patients Receiving Immunotherapy
Why I chose The University of Kansas Health System: I was advised to consider The University of Kansas Health System by mentors and respected hem/onc pharmacists based on their administrative proficiency, organizational structure and training capabilities. Meeting with the pharmacy team during my interview, I saw all 3 of those qualities and more. The "more" is how quickly I felt the fit with the program; I wanted to work with this pharmacy department. This is clearly an excellent program to receive training, with high-quality preceptors and extensive patient populations from which to gain knowledge and experience.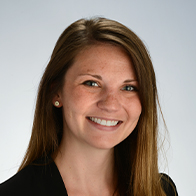 Liz Hazlett, PGY2: Oncology
Pharmacy school: The University of Kansas School of Pharmacy
PGY1: The University of Kansas Health System
Clinical interests: Oncology/Solid tumor
Hobbies: KU basketball, the Chiefs (a.k.a. Superbowl 2020 Champs), cooking, all dogs
Research project: Letermovir for CMV Prevention in Haploidentical Allogeneic Transplant Patients – a Single Center Experience
Why I chose The University of Kansas Health System: The University of Kansas Health System has the most progressive and respected pharmacy department of any institution I have seen, as well as a complex patient population that provides many opportunities for learning and direct patient care. The advanced hematology/oncology program and continual growth of both inpatient and outpatient cancer care services also make this the perfect institution to complete a PGY2.
Michael Weise, PGY2: Oncology
Hometown: Lee's Summit, Missouri
Pharmacy school: Creighton University School of Pharmacy and Health Professions
PGY1: Mosaic Life Care
Clinical interests: Hematology/Oncology
Hobbies: Kayaking, hiking, cooking and watching true crime documentaries
Research project: Incidence of Febrile Neutropenia in Patients with Breast Cancer Receiving Same-Day vs Next-Day Pegfilgrastim
Why I chose The University of Kansas Health System: I chose The University of Kansas Health System because of the people. The entire cancer care team is welcoming and focused on fostering a culture of both professional and personal growth. Additionally, the pharmacists are extremely valued and have prominent roles as members of the patient care team.
The oncology pharmacy residency learning experience
Our cancer center, The University of Kansas Cancer Center, is one of only 71 National Cancer Institute-designated cancer centers in the nation. It has been NCI-designated since 2012. The cancer program has also been recognized each year since 2011 by U.S. News & World Report.
Additional facts about the cancer center include:
More than 45 cancer care clinical pharmacists on staff
Clinical Research Center focuses on early preclinical and phase I trials
Accredited by the American College of Surgeons Commission on Cancer since 1934
QOPI®-certified practice
URAC accredited
More than 300 hematopoietic stem cell transplants performed annually
FACT-accredited (immune effector cell, BMT auto/allo program)
National Marrow Donor Program-accredited
Certified CAR T-cell therapy center for commercial and investigational products
Practice areas
The specialty residency in hematology/oncology is tailored to the interests and career goals of each resident. A variety of practice settings are available. Required rotations are listed below:
Orientation (1 month)
Inpatient/Outpatient adult hematology (6 weeks)
Inpatient/Outpatient adult gynecologic oncology (6 weeks)
Inpatient adult acute leukemia (1 month)
Inpatient adult allogeneic hematopoietic stem cell transplant (1 month)
Outpatient adult hematopoietic stem cell transplant clinic (1 month)
Outpatient infusion cancer pharmacy (1 month)
Outpatient gastrointestinal malignancy clinic (1 month)
Clinical research (1 month)
Inpatient adult hematology advanced independent practice (AIP) (1 month)

The AIP rotation is a 4-week experience in which the resident covers a service independently. The goal is for the resident to gain the confidence and experience of covering a service independently prior to entering the workforce. This is done once the resident has sufficient experience in an area of practice.

Elective (2-3 months)
Longitudinal administration

The resident will participate in a longitudinal administrative rotation beginning in September of the residency year. This rotation will be scheduled for 2 days per month and the resident will be excused from clinical rotation. This rotation is designed to incorporate many aspects of practice leadership in the area of cancer.
Elective rotations
Any of the required rotations may be repeated as elective rotations. Rotations will last for 4-6 weeks unless approved by the residency director.
Elective rotations are designed to provide training in areas of interest. Examples of the options available include:
Oncology administration
Outpatient hematology clinic
Palliative care
Infectious disease
Gynecology/oncology outpatient clinic
Melanoma outpatient clinic
Cancer center community locations
Staffing requirement
The PGY2 oncology resident will staff 1 weekday evening (4-7 p.m.) in the outpatient cancer center pharmacy beginning in October and work every 3 weekends (Saturday and Sunday) in the outpatient cancer center pharmacy, alternating with staff independently with the hematology inpatient rounding service.
Longitudinal experiences
Research

Present results of major research project at the Midwest Pharmacy Residents Conference and prepare a manuscript for publication

Projects and presentations

Formal presentation in September to cancer care pharmacy team
Hematology/Oncology Pharmacy Association in March/April
Midwest Residency Conference in May
Pharmacy grand rounds
Oncology topic discussions (every 4 weeks)

Teaching

Residents will have the opportunity to precept students from both the University of Kansas and University of Missouri – Kansas City schools of pharmacy on clinical rotations. Residents will also have the opportunity to gain teaching experience in classrooms through the hematology/oncology pharmacotherapy lecture series for University of Kansas School of Pharmacy students. An optional teaching certificate program is available for residents with an interest in teaching. The program includes seminars on how to teach, experiential components for didactic and small group teaching, and compiling a teaching portfolio.
Application information
Deadlines
Application deadline: Please refer to residency listing on ASHP website.
Must have a valid pharmacy license in the state of Kansas prior to residency start date or July 15 at latest.
Checklist for application
Letter of intent

Topics you may want to consider: Why you want to pursue this particular residency, why you have chosen our program and personal goals that you feel the program would help you accomplish

Curriculum vitae
College transcripts
3 letters of recommendation and/or PhORCAS form
National matching services (NMS) code: 618660
We are an equal employment opportunity employer without regard to a person's race, color, religion, sex (including pregnancy, gender identity and sexual orientation), national origin, ancestry, age (40 or older), disability, veteran status or genetic information.
Related links